Nicky & Morello's Relationship Is Still Complicated In 'OITNB' S5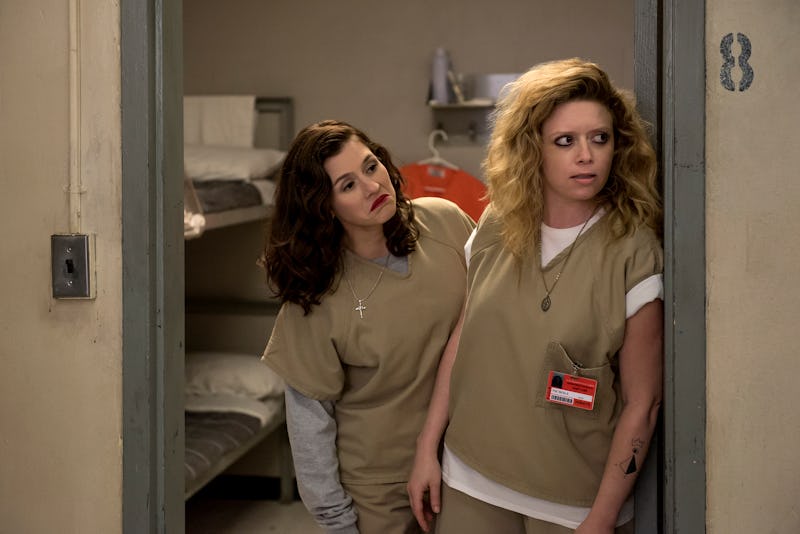 Jojo Whilden/Netflix
Alex and Piper may be the anchoring couple in Orange Is The New Black, but perhaps the most tumultuous is Nicky Nichols and Lorna Morello. They break up and reconcile so frequently that it's often difficult to keep track, and most of the time, their relationship status is largely undefined. So, are Nicky and Morello together in Orange Is The New Black Season 5?
Per usual, there's no clear answer. Having previously been sent to maximum security, Nicky doesn't return to Litchfield until about midway through Season 4, where she discovers Morello has married her pen pal, Vince Muccio. Nicky spends the remaining episodes trying to regain her sobriety and attempting to rekindle her romance with Morello, who rebuffs her advances while struggling to make her marriage work. After being tempted to cheat on Vince with Nicky, Morello begins to suspect that if she considered straying, he could already be cheating on her, and she accuses of him of sleeping with her sister. Obviously, he didn't take too kindly to that, adding tension to their already strained relationship. The last time viewers saw them, they were having a heated argument on the phone.
But Morello and Nicky were also facing problems. They exchanged harsh words during their last encounter, with Morello calling Nicky a "junkie addict liar" and Nicky dubbing Morello a "psycho" and asking what "contortions her brain acrobats" were doing in her "head circus" to make her believe she and Vince could actually make it work. That eventually led to Morello tearfully confessing that she thought she was messing everything up, but wasn't sure how to stop.
And that's where they stand when Season 5 picks up. Based on the trailer, they're on friendly terms at the very least, and back together at most. They're shown together during a number of quick flashes, including a particularly jovial moment where they're seen laughing.
It's clear Morello is conflicted about her feelings for Nicky and that both women care deeply for one another, even if Nicky's feelings are a little bit stronger. And it's hard not to root for them. Morello seems happy enough with Vince, but only a few months into their marriage, he's already started flaking out and not visiting because the drive is too far, whereas Nicky is there for Morello no matter what the circumstances. They both have their own issues, but seem to accept each other for who they are — flaws and all — which seems a hell of a lot stronger than a whirlwind marriage.
That being said, Morello often takes Nicky for granted, and they both have some things to work out for themselves before having a healthy, committed relationship. Hopefully, this will be the season they can finally get it right.