Slip On Rihanna's Bow Sneakers This Spring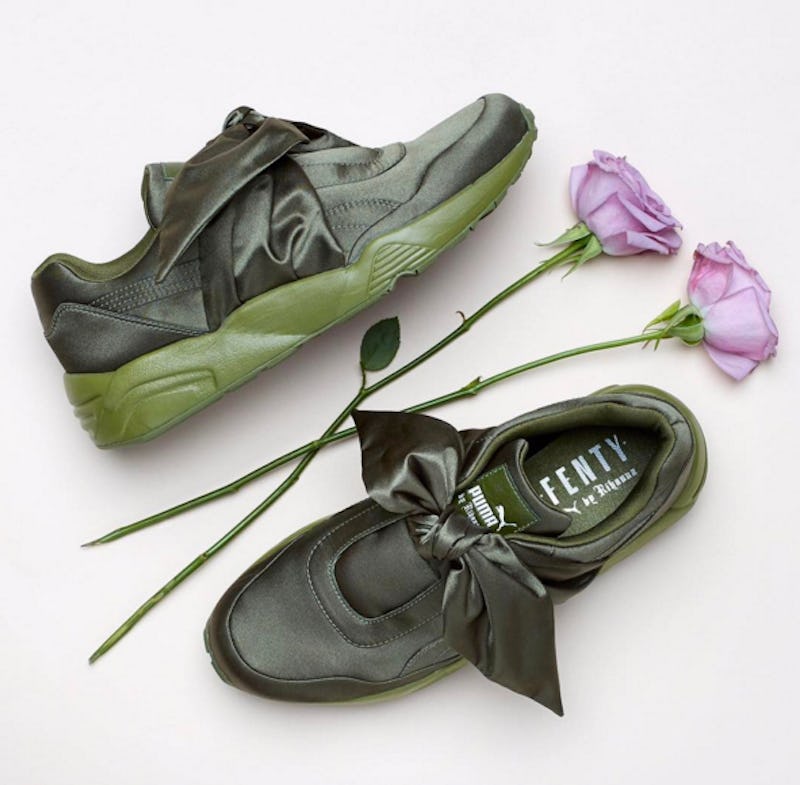 badgalriri/Instagram
Rihanna never disappoints. Whether she's putting out a hit track or designing athleisure wear, you're going to love everything this artist puts her name to. Are Rihanna's Fenty Puma Bow Sneakers sold out? As you might imagine, these kicks are extremely popular.
Rihanna's absolutely slaying with the first drop of her Spring 2017 collection. Not only did she release more sliders, but she's also released the coolest sneakers along with new boots and heels. The tennis shoes are satin and have the same bow detail as the latest slide sandals. So, if you're into all of your shoes having a similar theme, you're going to want to cop one of each.
The sneakers come in two color ways. There's olive green or silver pink to choose from, but at the time of publication, the pink women's version was all sold out on the Puma website. You could still snag the green pair in sizes 5.5, 6.5 and 7.5 on the Puma website. There are other retailers such as Bergdorf Goodman and Nordstrom carrying the footwear, which still had pairs in stock at the time of publication. So, make sure you check at each online location before giving up on ordering some of these sneakers. Because seriously, you've got to get your hands on 'em.
Rihanna's offering up a fresh take on the sneaker, and I couldn't be more here for it.
Bow Women's Sneaker, $160, Puma
$160 isn't exactly cheap, but hey, these shoes are totally worth it.
Fenty by Rihanna Bow Sneaker, $159.95, Nordstrom
The Puma website isn't the only place where you can find these kicks, so be sure you do your research and add these to your personal collection, stat!
Bow Women's Slide Sandals, $90, Puma
Might as well score some satin sliders while you're at it. When it comes to Rihanna footwear, you can never have too many pairs.
Rihanna's giving you the only shoes you'll want to wear all season long, again. She never ceases to amaze.