Here's Every Member Of A Royal Family Who Has A Piercing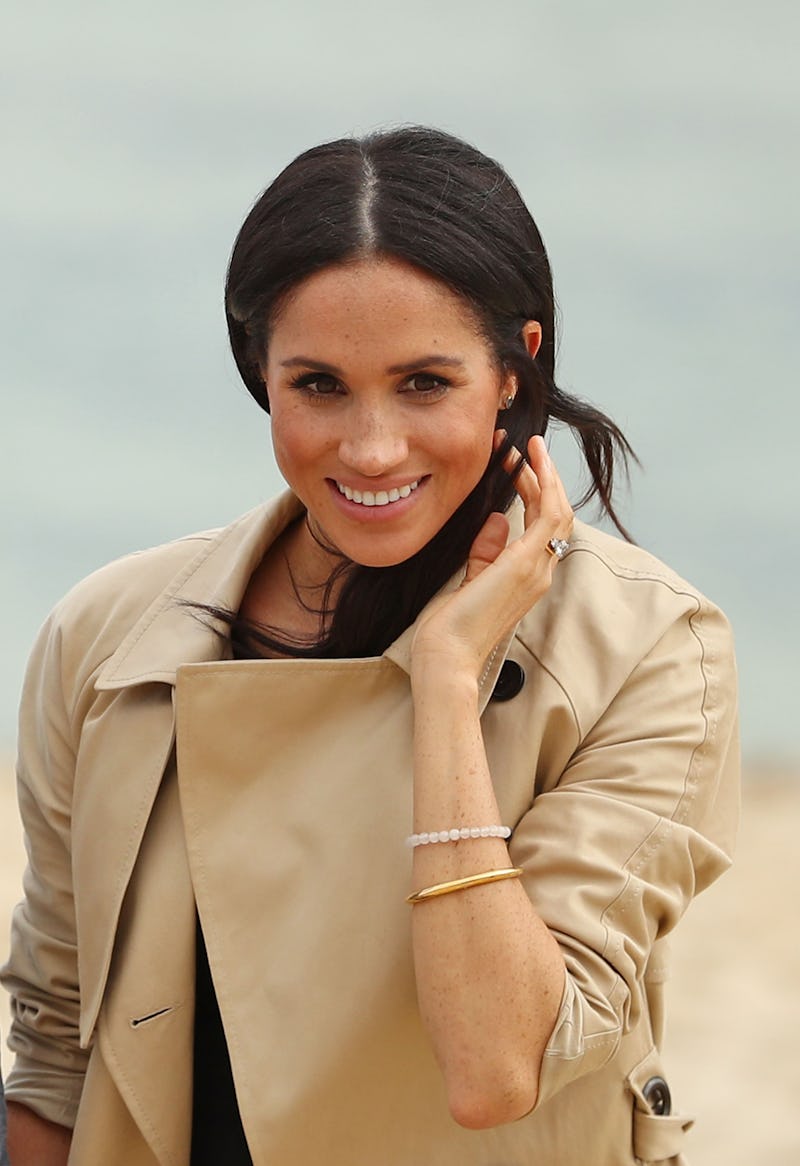 Scott Barbour/Getty Images Entertainment/Getty Images
You might not think that monarchs are allowed more piercings than the ones in their ears to hang tasteful diamond heirlooms that casually cost the same as a suburban home, but it turns out there are more royals with piercings than you think. Queens and Duchesses oftentimes have to follow a strict code of conduct that helps them appear composed and traditional at all times. From rules that require pantyhose to be worn with outfits to the proper time to wear a tiara versus a hat, their fashion routines are well mapped out. There is even a rule that says an aristocrat can't take off their coat in public because it will seem unladylike to struggle out of the garment! But as it turns out, there is no official rule on piercings — though most choose not to push the envelope.
The closer you are to the throne, the less likely you are to push protocol and sport things like piercings and tattoos. For example, when it was discovered that 22-year-old Lady Amelia Windsor, Prince Harry and Prince William's royal cousin, had a series of tattoos, royal etiquette pundits had a simple explanation as to why she was able to get away with it. According to Grant Harrold, The Royal Butler, if you're in line to the throne you mirror the Royal Family on a daily basis and won't feel comfortable taking such style risks.
"Lady Amelia Windsor is not a senior royal or a princess. As we know she is not even in the top 30 in line to the throne, so she will be aware that she can get away with personal choices such as tattoos or modeling for international fashion houses," he told the Daily Mail.
But that's not to say that the royals turn up their noses at body modifications. For example, there has been a new strict dress code put into place for the Royal Ascot — the UK version of the Kentucky Derby — that has banned things like fascinators, bare shoulders, and short skirts, but there are no restrictions for tattoos or piercings.
"Our view on that is there are no policies on tattoos, piercings or anything like that. It's a lifestyle choice," Nick Smith, the Ascot spokesman, told Express. And some aristocrats get away with that lifestyle choice. See the royal rebels below.
Zara Tindall
When she was just 17, Zara Tindall, Queen Elizabeth's granddaughter, went to tattoo parlor near her boarding school and dropped down £35 to get a tongue piercing. She debuted the look in the most dramatic fashion: by flashing it at her uncle Prince Charles's 50th birthday party in 1998. The Royal Family, however, took her teen rebellion in stride. Her mom, Princess Anne, simply asked her if she was able to speak properly with the stud rolling around in her mouth.
Lady Marina-Charlotte Windsor
Lady Marina-Charlotte Windsor, the Duke of Kent's granddaughter, came to the Queen's pre-Christmas lunch in 2012 sporting something quite modern: a tragus piercing. Then 20 years old, she showed up to the royal event with a stud in her ear cartilage, following the likes of Tindall when it came to playing with trendy piercings.
But that doesn't stop her from sporting the look with even more public royal events. She often stands on the balcony at Buckingham Palace for Trooping the Colour, is on the invite list for royal weddings, and is a close friend of the newly married Princess Eugenie. Her and her stud are pretty high-profile.
Doria Ragland
While not a Duchess or Princess, Doria Ragland is the mother of Meghan Markle, and she made waves at the royal wedding when she walked into the chapel wearing an unexpected accessory: a nose ring. After having tea with the Queen, spending the night with her daughter preparing for the wedding, and then escorting her into St. George's Chapel, Ragland stayed true to her aesthetic by not taking out her diamond piercing. This is quite a big deal, because according to Markle, the ring is part of her mother's identity. In a 2014 blog post on The Tig, Markle shared her mom's signature look, writing, "Dreadlocks. Nose ring. Yoga Instructor. Social Worker. Free spirit. Lover of potato chips & lemon tarts," according to Newsweek. Even though her daughter is now a Duchess, she doesn't feel pressured into changing how she looks.
While the immediate Royal Family might not have belly button rings or eyebrow piercings, there are still some members that feel confident enough bending protocol — and the family seems accepting of it!