Stassi Of 'Pump Rules' May Not Be Single On Season 6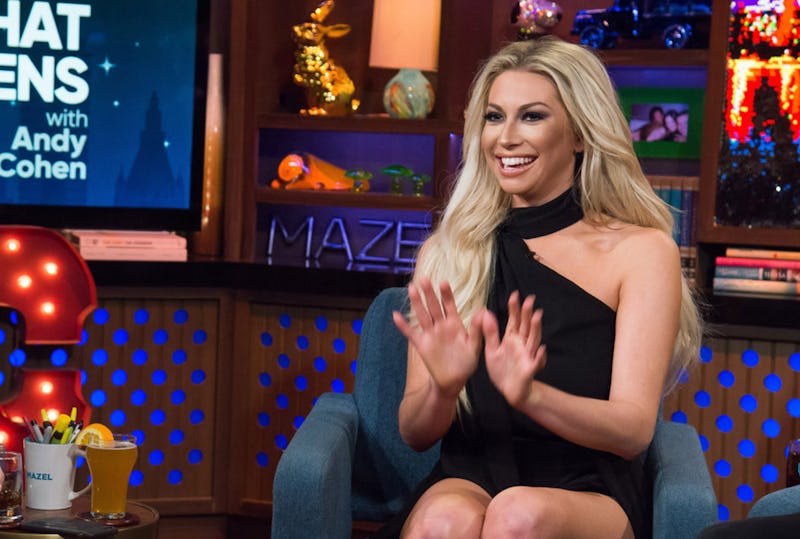 Charles Sykes/Bravo
I've said it before and I'll say it again: As far as giving us gossip to sink our shotski-shaped teeth into goes, the Vanderpump Rules off-season never disappoints. On Friday, Stassi Schroeder's ex-boyfriend Patrick Meagher appeared on the Sklar Brothers' podcast, Sklarbro Country, and casually knocked over a tall glass of news. And yes, it is relevant to Pump viewers' int-SUR-ests. As eagle-eared Twitter user @lisalisayeahhh pointed out, The Wrap host dropped a bomb around the 44-minute mark of the May 19 episode: Apparently, Meagher and Schroeder are together. Cue the podcast equivalent of a record scratch sound effect.
"When I moved to L.A., it was because of a girlfriend that I'm still with," Meagher told Randy and Jason Sklar. "And literally this Saturday, we've been together for four years, I have to start filming Vanderpump Rules, which I've been pushing off for four years." Oh, really?
He continued, "They want me to go dinner, but I don't have drama with anybody. I just love her. So, I'm probably going to be very boring."
Though he does not say Schroeder's name, he doesn't have to; there are plenty of clues that spell "S-T-A-S-S-I." When Twitter user @BoomSparklePop brought this revelation to the Pump Rules star's attention, she replied, "Yep."
Y'all, she did not deny it. She did not clarify. She did not give us a "You'll just have to tune in to find out!" Schroeds said, "Yep."
Schroeder and Meagher, who began dating after Season 2, split once and for all last summer… or so we thought. Meagher refused to actually appear on the show, but his and Schroeder's drama was inevitably a recurring storyline throughout Seasons 3, 4, and 5. In Season 5, we saw Schroeds mourn the end of her relationship, go out to dinner with other dudes, and bemoan singledom. Now, when Meagher told the Sklar Brothers that he and and the reality TV icon have been a thing for the last four years, I assume he meant they've been on and off for the last four years? Otherwise, that would imply Schroeder's been feeding us untruths about her relationship status, and I refuse to believe she'd lie to us like that.
While it's interesting that they've seemingly rekindled their romance and all, here's the true shocker: Meagher is finally down to tape Pump Rules. What a turn of events. What's next? Will Lisa Vanderpump give Kristen Doute her own restaurant?
Schroeder, on the other hand, is not being as candid about their situation. On the May 19 episode of Straight Up with Stassi, Schroeds and Pump co-star Katie Maloney-Schwartz addressed the podcast host's current relationship status. Here is what they said:
Katie: "But you're not [single]."
Stassi: "I mean, I'm trying."
Katie: "You're, like, on the cusp."
Stassi: "I'm on the cusp of things."
Katie: "Your situation is vague and ambiguous, perhaps?"
Stassi: "Yes. Yes. I'm bashful now. I've kept things a little… I learned my lesson. When I started talking about, once Patrick and I broke up last summer and I started dating people and talking about it on my podcast, and then they listened to it, I'm like, 'I'm not going to talk about this sh*t anymore, because all it's doing is getting me in trouble.' And I feel weird."
On the cusp? Four years? Vague? Love? What does it all mean? Season 6, you are already off to a wild start.