Sandy Greenman Speaks Out On Her Relationship With Steven Avery In 2018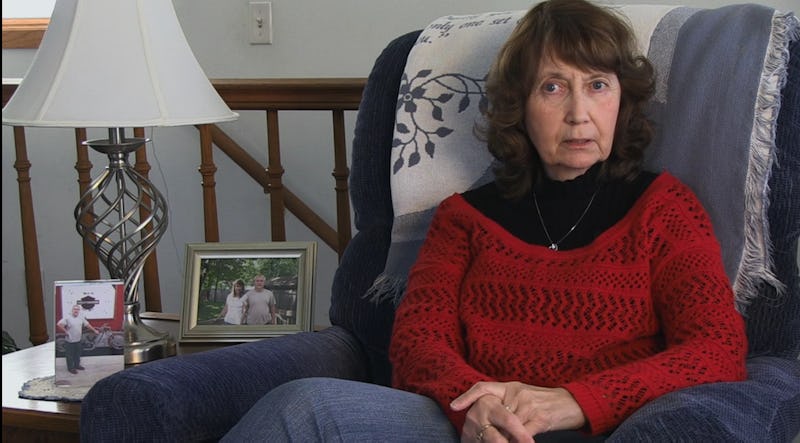 Netflix
Making a Murderer introduced viewers to Sandy Greenman, Steven Avery's then-fiancée. As Bustle previously reported, she'd watched the trial and seen Avery's sentencing of life in prison for murder (he has repeatedly claimed his innocence). She believed him, so she decided to write him a letter saying so. Friendship soon developed into love, and Greenman began visiting her future husband in prison, as depicted on Making A Murderer Part 1. But the first season wrapped filming three years ago, so are Steven Avery and Sandy Greenman together in 2018?
In January 2016, Greenman participated in a few interviews following the show's release and revealed that she and Avery had actually ended their romantic relationship. "Steve and I were engaged to be married and I broke it off," she told the Daily Mail. "It's not that I've ever stopped trying to work for him, but it was a religious thing. I cannot marry someone that's not a Christian." She also acknowledged to People magazine that they'd had "some issues," adding, "A prison relationship is very hard to maintain."
But even though they couldn't make their engagement work, Greenman told the Daily Mail, "It doesn't change anything. I will always be behind him and he's my best friend." And in October 2018, she told Bustle that she remains in contact with Avery to this day. "We have a VERY strong bond and always will. We do not know what the future holds," she said in a Facebook message.
Greenman did tell the Daily Mail that things could change if he ever got out of prison. "I don't know how it's going to end, and, if he gets out, it's a whole different story," she told the outlet. And Greenman has actually been instrumental in helping Avery secure representation to appeal the conviction that he believes should be overturned.
In January 2016, Avery hired Kathleen Zellner to be his lawyer, and she's well known for exonerating the wrongfully convicted. But it was actually Greenman who wrote to Zellner nonstop to try to get her to take Avery's case — long before Making a Murderer came out. "I've been working on her for four years to take the case," Greenman told People of Zellner. "I'm hoping she can uncover new evidence ... I have confidence that if there's anything there, she'll find it."
In the meantime, Greenman will continue to stand by Avery and his claims of innocence. She even stood by his side when he got engaged to another woman in September 2016. According to Inside Edition, Lynn Hartman met Avery very much the same way Greenman did: by writing him a letter to say she believed him. Hartman and Avery corresponded for eight months via letters and phone calls before they got engaged. Ultimately, though, that relationship was also not destined to work out.
According to E! Online, the pair split only a week after news of their engagement hit the media. It was actually Greenman who announced on social media that the relationship had ended, while reporting Avery's alleged side of the story on his behalf. (Greenman confirmed to Bustle that she did make the statement in this screenshot.)
But Hartman claimed to Inside Edition that she was actually the one to end the relationship after she allegedly "saw signs that concerned me."
According to another People magazine article, Avery has now been engaged three times and married once. None of those women still have positive relationships with him except for Greenman. She posts to Twitter regularly about Avery and continues to visit him and talk to him.
No matter what, Greenman told People that she just "can't see him as a guilty person." And she'll continue to support his claims of innocence as a friend, even if not as a romantic partner.