Tessa Virtue & Scott Moir "Dated" A VERY Long Time Ago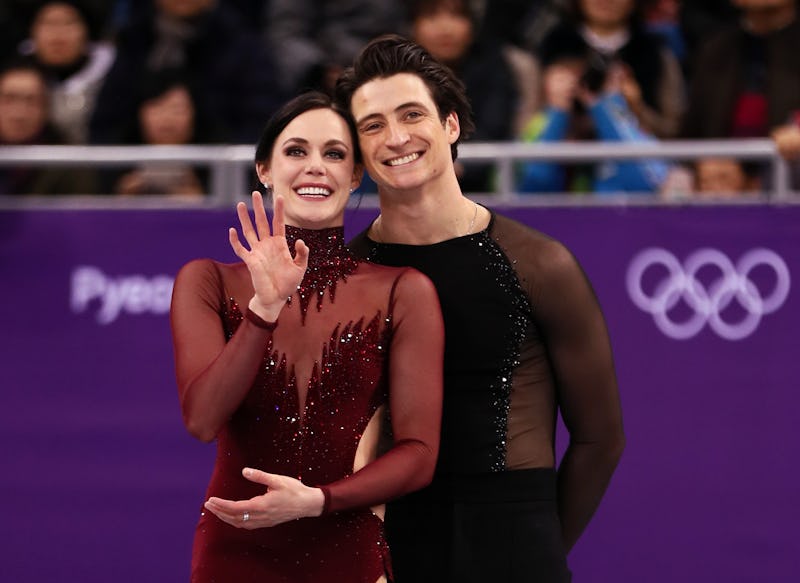 Jamie Squire/Getty Images Sport/Getty Images
The 2018 Winter Olympics figure skating events have brought most fans together in wondering: "Are Tessa Virtue and Scott Moir dating?" The Canadian ice dancing couple won their second individual Olympics gold Monday evening and, once again, there are shippers in dire need of learning the truth about their relationship status. Well, Today's Savannah Guthrie and Hoda Kotb asked Virtue and Moir point blank the 411 on what's going on with them romantically and their answer may not please fans.
After commenting on their "undeniable" chemistry and how Twitter wants them to be a couple so badly, Virtue responded, "Well, that's such a compliment that you feel that when you watch us skate. We love performing together. We love storytelling, especially with Satine and Christian in the Moulin Rouge! program. That was really close to our hearts. We knew we wanted to skate to that music."
OK, so she pretty much avoided the question altogether. Moir had a chance to step in and give a definitive answer, but he only added, "Guess mission accomplished. That was the story we were telling, so I'm happy that you fell in love with that."
Again, they didn't confirm or deny their relationship status — at all. Granted, it's nobody's business if they're dating or not. They don't owe anyone an answer. It's entirely up to them if they want to comment on the nature of their relationship. That said, it would be nice to know, because they are so electric on the ice together and appear to have such a wonderful romantic connection. Who doesn't want to root for them and for them to be in love... with each other?
The way Virtue and Moir skated at this year's Olympics has impacted fans immensely. Their biggest 'shippers are convinced they're in love, whereas others just hope they're a couple. Seeing as they've been skating together for about two decades, it's understandable why they have the amount of chemistry they do. There's no denying it when you watch them skate. They are always on fire and know how to heat up the arena.
They first started skating when Virtue was just seven and Moir was nine. When you're together with someone for that long, well, feelings can evolve and a strong bond forms. In a September 2007 interview with Golden Skate, Virtue admitted she dated Moir — when they were little kids. After being asked if they were a couple, Virtue said, "Let's just say we've been there done that. We dated when I was seven!" Moir added, "Tess and I have a unique relationship, she is like my younger but way more mature sister."
While chatting with The Globe and Mail in November 2010, Moir reflected on their relationship and if it could ever turn romantic. He said, "That option never really happened. We just left it on the sidelines." As for Virtue, she said, It's hard when you've grown up with someone. I've known Scott since I was six or seven."
According to The Globe and Mail, in their 2011 book, Tessa & Scott: Our Journey from Childhood Dream to Gold, they reveal they "dated" for eight months when Virtue was eight and Moir was 10. However, it ended thanks to Moir breaking up with her over the phone after he was teased for their relationship.
In January 2018, they spoke to Sportsnet about how people think they're married. "Maybe that means we're doing our job?" Moir pondered. "We're always telling stories, we're supposed to be reacting, a man and woman on the ice, it's romantic. What we have is such a cool relationship. It's more about a friendship, our working relationship is so strong. We take so much pride in that." Virtue said about being mistaken for a couple, "It comes with the territory and that's part of the storytelling we do on the ice. If that's the by-product of having a great longstanding partnership, then we can deal with it."
It's unclear if either of them are currently dating other people or even if they are actually a couple. But, they have made it clear how close they are and that it's their job is to put on a show and skate a routine filled with chemistry. Who knows what their current status is, but as proven in their Today interview, they're really good at avoiding the dating question, so they can keep intriguing fans with their performances.