Are The Kylie Cosmetics Mini Sets Worth It?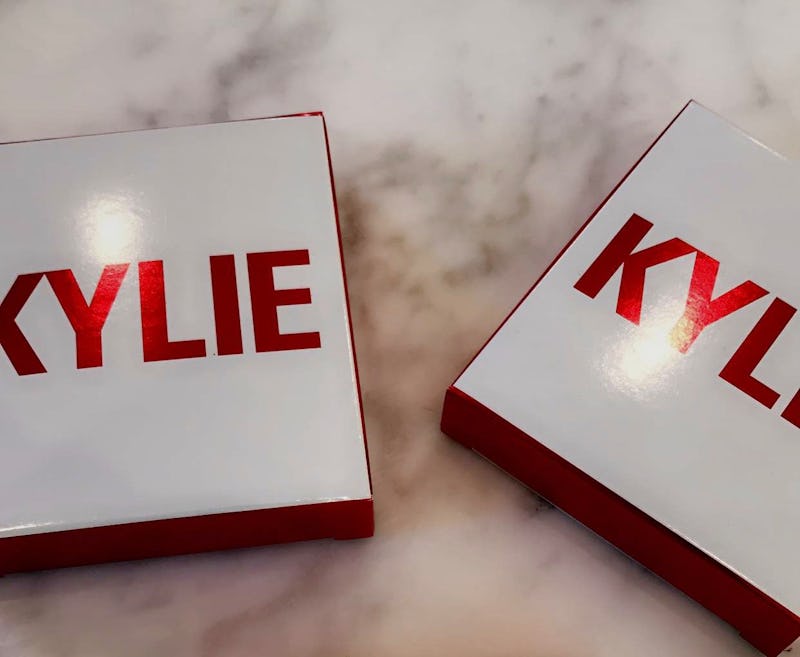 While spending big money on something that's half the size of the original might be annoying, there is something to be said about trying out a mini set. Kylie Jenner just announced a new line of them on Snapchat, and it's possible that the Kylie Cosmetics Mini Sets are worth it, depending on the price. Her reveal includes three different sets, and they come with two lip products and two eyeshadows in each.
And this is why the kit might be worth it: You have options. If you have a ride-or-die lip color or shadow shade you use day in and day out, then of course you wouldn't want to buy a mini version of it. But if you want to test out different shades, play with colors you don't usually try, or like to have a fresh variety you can rotate between while creating your makeup looks, than a mini kit is perfect. You get a wide range of colors for the fraction of the price.
But it's also important to note that a regular LipKit is $29, so if the price is way above that then value factor might waiver. It's cool to have choices, but it's not great to shell out big dollars for sample sizes.
But what's in the new mini kits? As I mentioned, there are three to choose from, and they're all part of a new Valentine collection — you can even write your friends' names on the back and give them as Valentines!
The first one is called the Kiss Me Set, and it includes a matte liquid lipsticks in "Dirty Peach" (a dark peach) and a gloss in "Poppin" (a gold, glittery shade).
The shadows that come with are "Sweet Thing" (brown with pink undertones) and "Main Squeeze" (a glittery pink).
In the Smooch Set you get the matte liquid lipstick called "Gorge" (a berry red) and the "Damn Gina" gloss (a mauve pink). To accompany the lips, you get shadows "Poison Berry" (purplish brown) and "In Love" (a gold pink).
And in the last kit, we're treated to the Sweetheart Set. This once includes the "Dolce K" liquid lipstick, which is a mauve brown, and "Literally" gloss, which is a nude brown. For shadow colors you get "Baby" (pink) and "Love Letter" (a sparkly gold).
If you're already dying to get your hands on these, you won't have to wait very long. The mini set goes on sale on Feb. 2 at 3 p.m. PST. Which gives you just enough time to make sure you have the funds ready to click purchase.
If you like to have a nice selection of different colors in your makeup bag, then these kits might be worth it once we find out the price. The packages might not be huge, but they'll give you a nice variety. As always, Kylie has provided.
Images: Kylie Jenner/ Snapchat