Emma "Baby Spice" Bunton Just Posted A Very Confusing Royal Wedding Update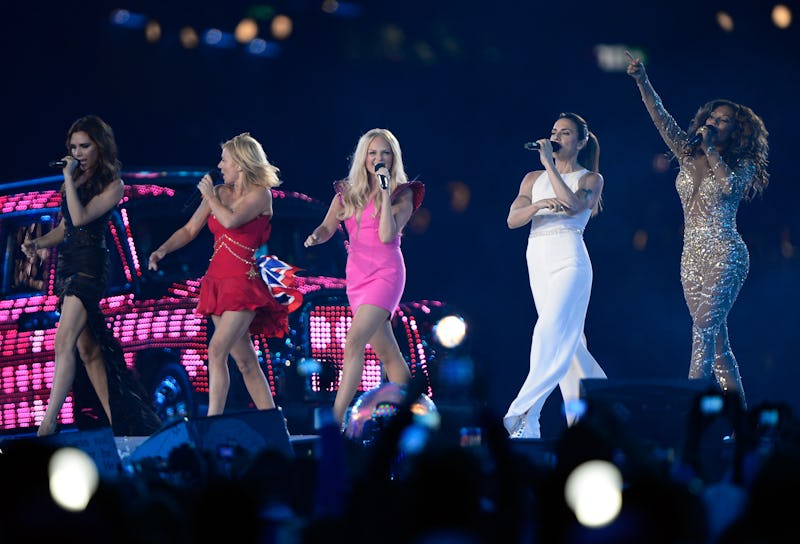 Pascal Le Segretain/Getty Images Sport/Getty Images
There have been rumors on rumors about the Spice Girls recently, and that includes whether or not they would be involved in the wedding of Prince Harry and Meghan Markle. So, now that the day is here, are the Spice Girls at the royal wedding ceremony? Well, at least one of them is there, but there's no performance happening.
On Saturday morning, Victoria Beckham, along with her husband, David Beckham, arrived at St. George's Chapel, with her in a lovely navy dress and him in some sunglasses that were really working for him. It was no surprise that the Beckhams were there; they were also at the Duke and Duchess of Cambridge's wedding. But what fans of the Spice Girls really, really wanted was for the entire '90s girl group to show up, especially since it had been rumored that they would be part of the wedding in some way.
Well, it doesn't seem like anyone from the group besides Beckham is at the ceremony part of the day, and there's definitely no performance at the ceremony happening.
Emma Bunton posted an Instagram a couple of hours before the wedding that sort of made it seem like she would be at least attending, but that doesn't seem to be the case. Along with a photo of herself wearing a fancy pink hat — but also a not-royal-wedding-appropriate leather jacket — she wrote, "Who else is ready for today?? #harryandmeghan #weddinghat #houseparty."
Since Bunton used the hashtag "#houseparty", perhaps she is simply going to a royal wedding viewing party, like anyone else would. Is it before her performance at the reception? Time will tell.
As for the other Spice Girls, on Friday night, Melanie Brown posted about having family time on Instagram, including a photo of her daughters and a video of herself being chased by a goat:
Melanie Chisholm's most recent social media posts were about her music, which is the topic she tends to post about most often. Geri Halliwell most recently posted an inspirational quote.
The rumors about the Spice Girls attending and/or performing at the royal wedding kicked into high gear when Brown appeared on talk show The Real in February. Scary Spice very strongly hinted that she and the other Spice Girls would be involved the wedding in some way:
After this, though, Chisholm told Hello! that the wedding performance talk "might be a little bit of a joke that got out of hand." She added, "There are no plans for that unfortunately."
Chisholm also commented on the rumors when speaking at The Prince's Trust awards in March, according to E! News. "Oh yes there's been quite a lot of press interest there, my invite hasn't turned up yet. It was all that snow. I think the mail's been a bit held up in the snow," she joked. She added, "I think [Mel B] was joking. I think the media ran with it a little bit."
That said, the Spice Girls did reunite recently, although it's still unclear why or what exactly they were working on.
Unless things are being kept very tightly under wraps and the Spice Girls are performing at the evening reception for the newlyweds, it seems like the only member of the group who has anything to do with the royal wedding is Victoria Beckham. Hopefully, though, everyone is just being very secretive and later on Saturday a video will leak of the Duke and Duchess of Sussex dancing to "Spice Up Your Life". Who wouldn't want to do that at their wedding if given the chance?