The Spice Girls' Royal Wedding Performance May Actually Be Just A Joke, According To Mel C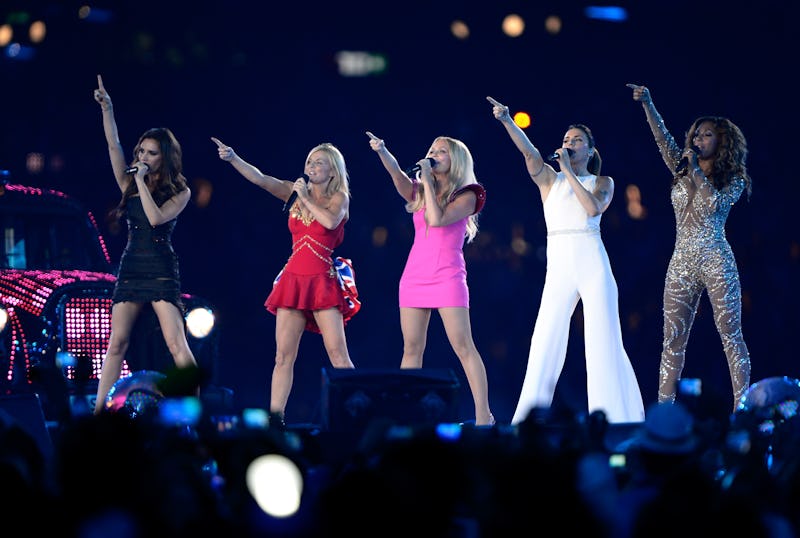 Pascal Le Segretain/Getty Images Sport/Getty Images
Punxsutawney Platform Shoe saw its shadow on Feb. 2, so you know what that means: The Spice Girls reunion chatter isn't going to let up anytime soon. In a recent interview with Hello! magazine, Melanie Chisholm addressed whether or not the Spice Girls will perform at the royal wedding. Not only did she say it isn't happening, but she added that it "might be a little bit of a joke that got out of hand." At this point, it feels like every Spice Girls reunion rumor is a joke that's gotten out of hand.
When Hello! spoke with Sporty Spice at the Prince's Trust Awards on Tuesday, the magazine brought up the current tittle-tattle surrounding the Spice Girls potentially getting back together to play at Prince Harry and Meghan Markle's nuptials in May. After calling it "a joke," Mel C doubled down and said, "There are no plans for that unfortunately." Oh. Bummer.
While a performance at the royal wedding may not be in the tea leaves after all, that doesn't mean the Spice Girls won't reunite in some capacity at some point. Mel C continued,
"We're back together in the sense that we're back with the same management that we had in the nineties, Mr Simon Fuller. We're talking about opportunities for the future. There aren't any plans for us to be performing live any time soon, but there are lots of other things."
Ever since that Feb. 27 episode of The Real where Mel B said all five Spice Girls have received invites to the royal wedding, threw her notecards up in the air, and said, "Let's pretend I never said that," the possibility of the group playing at the reception seemed about as great as it could get.
But then, later that week, TMZ asked Simon Fuller about the Spice Girls and the royal wedding. The group's manager laughed it off and said, "Maybe [Brown] knows something I don't." And now, Sporty Spice says this Spice Girls at the royal wedding thing is not to be taken seriously; the comments may be all in fun. You know, fun. Like, ha ha ha ha... ha.
Who else is looking forward to the day when all five Spices and Fuller finally get on the same page about this reunion stuff?
From the moment the Spice Force Five got back together for the 2012 Summer Olympic Games, fans have been calling for another reunion tour. (Hey, can you blame us? That reunion tour they did a decade ago was incredible.) There has been rumor after rumor regarding reunions, tours, who's on board, who's not on board, a televised contest where the prize is a spot in the group, and so on.
And then, on Friday, Feb. 2, the speculation stew all but boiled over when all five members got together for the first time since the Olympics and hung out at Geri Horner's home. In a statement provided to Entertainment Tonight, the group said,
"We have enjoyed a wonderful afternoon catching-up and reminiscing about the amazing times we have spent together. We are always overwhelmed at how much interest there is across the whole world for The Spice Girls. The time now feels right to explore some incredible new opportunities together. We all agree that there are many exciting possibilities that will once again embrace the original essence of The Spice Girls, while reinforcing our message of female empowerment for future generations."
Before excitement surrounding the possibility of a reunion tour could spiral out of control, Victoria Beckham told British Vogue it wasn't happening. And then, the royal wedding gossip came about, Mel B dropped some relevant morsels about on The Real, Mel C called those morsels jokes, and here we are.
Hey, what if Mel C's comment that it's "a little bit of a joke that got out of hand" is actually the joke? What if she's trying to throw fans off the scent? What if Mel B wasn't kidding after all?
Whether or not a Spice Girls reunion performance actually comes true, it appears as though the rumors will make like track number nine on Spiceworld and viva forever.