Tom Holland & Zendaya Have A Friendly Rivalry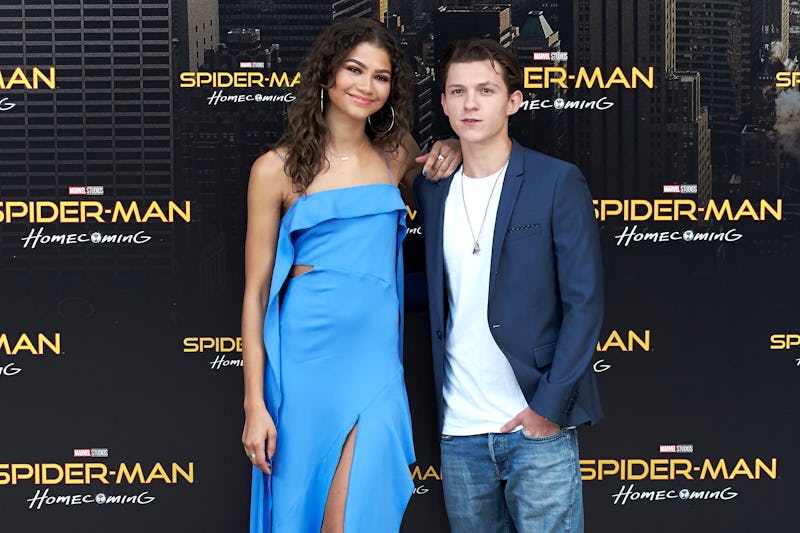 Carlos Alvarez/Getty Images Entertainment/Getty Images
On-screen romances that turn into real deal relationships always get fans buzzing, but co-star friendships are just as cute. Take Spider-Man: Homecoming stars Tom Holland and Zendaya. The powerhouse pair play friends in the new superhero movie that debuts nationwide, Friday, July 7. Although rumors swirled about a relationship brewing between the two, Zendaya confirmed via Twitter that she and Holland are nothing but Hollywood homies.
In June, the 20-year-old was teasing her co-star on Twitter about being a heartbreaker. A fellow tweeter caught wind of their play-fight and chimed in saying, "Zendaya and Tom Holland, someone is cooking some sweet romance on Twitter today." The actor, who plays Michelle in the Spiderman movie, tweeted back, "Right, cause nothing says 'sweet romance' like dragging each other for filth on twitter." Zendaya's sarcasm alone shows that she and Holland have a humorous, fun-filled friendship.
Meanwhile Holland, who plays Peter Parker, told Entertainment Tonight that he and Zendaya are so close that they even shared each other's clothes— particularly a leather jacket.
"I ran out of new clothes and was like, 'Yo mate, can you help me out? I don't have any clothes to wear for this event.' And she was like, 'Oh I have this jacket, do you want to borrow it?' And I tried it on. I still have it. I even saw her in New York like, two days ago, she's like, 'Can I have the jacket back?' And I was like, 'Yeah, I don't I don't know where it is.'"
Holland also told ET that he credits Zendaya as "the one to go to for tips" on red carpet style.
However, the greatest display of their friendship (and friendly rivalry) took place on the stage of Lip Sync Battle. On the July 5 episode, the on and off screen friends went head-to-head performing hits by Gene Kelly, Rihanna, Erykah Badu, and Bruno Mars.
During a pre-show interview, Zendaya acknowledged that Holland was a trained dancer, but noted that his skills did not intimidate her. "You know what, that happened then, okay? This is now. This is about what you can do now."
Meanwhile, Holland really sought to get inside Zendaya's head. "I know you think that you've got this and you've got it all down and you know what's happening. But believe me, you don't. I'm about to throw it down. It's gonna rain. It's literally gonna rain, and you're not going to be ready for it. And I'm Spider-Man so that always helps." After Zendaya hopped off an airplane and gave her best impression of "24K Magic" singer Mars, Holland did in fact sing in the rain to the tune of Rihanna's "Umbrella."
Now your spidey-sense might tell you their fake feud masks a real relationship, but it's all in good fun for Holland and Zendaya. These two are just buddies, on screen and off.