Aretha Franklin's Response To A Writer Saying She Was Too Busty For A Dress Is GOLD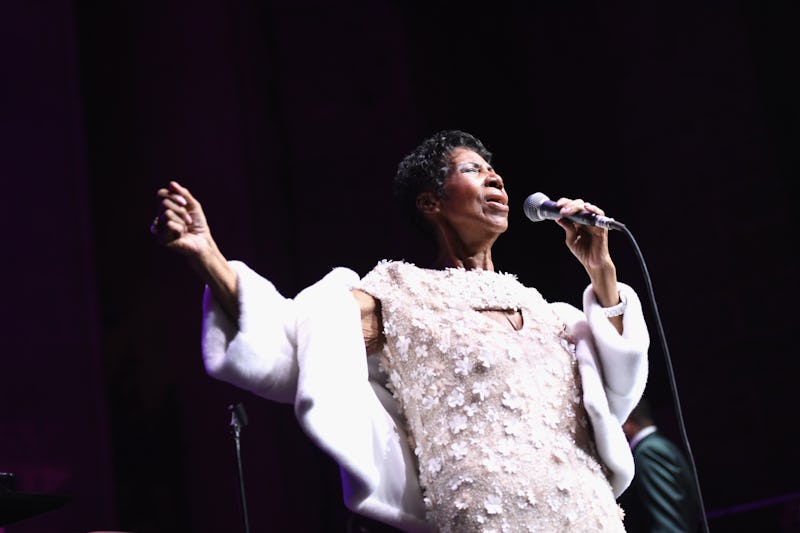 Dimitrios Kambouris/Getty Images Entertainment/Getty Images
There was and never will be anyone quite like Aretha Franklin. The singer — who died of pancreatic cancer on Aug. 16 — might be gone, but she left her fans with a lot of fabulous memories. Like when Aretha Franklin clapped back at a New York Post writer who said she was was too busty for a dress. The message had a whole lot of body positivity — and just the right amount of sass.
According to Huffington Post, Smith wrote, "She must know she's too bosomy to wear such clothing, but clearly she just doesn't care what we think, and that attitude is what separates mere stars from true divas," Smith wrote.
Franklin was not having it. She penned back a letter to let Smith know exactly how she felt about the comment. The singer didn't hold back, either.
"How dare you be so presumptuous," Franklin wrote in the letter. "As to presume you could know my attitudes with respect to anything other than music. Obviously I have enough of what it takes to wear a bustier and I haven't had any complaints, I'm sure if you could you would. When you get to be a noted and respected fashion editor, please let us all know."
Even celebrities are pointing out the wisdom that Franklin left us with. James Corden pointed out the moment on Twitter saying, "This is Aretha Franklins letter to a writer at the N.Y. Post after she wrote she was too bosomy to wear a dress. She will be missed, but my god, what a gift she shared with us."
There's nothing like a woman standing up for her fashion choices to spread some good vibes to all other women out there. Even at her performances towards the end of her life, Franklin was known for wearing gorgeous dresses on stage. So, no, Smith's words did not stop her from wearing what she wanted to wear.
Franklin also had a thing for Swarovski. She had a knack for stepping out in sparkly hats and gowns. Even through all of the glitzy gowns and accessories, her personality always shown through. She took it seriously, too.
"She's been a customer of ours for years," said Luke Song of Detroit-based Mr. Song Millinery in a Glamour interview. "She came in our showroom and pointed out what she liked, what she didn't like…it took us about three round-the-clock days to create them."
Other singers are writing about her big and bold personality on Twitter too. She might have been known for her incredible and iconic songs, but who she was as a person was just as bold as her pitches.
"Let's all take a moment to give thanks for the beautiful life of Aretha Franklin, the Queen of our souls, who inspired us all for many many years, Paul McCartney writes on Twitter. "She will be missed but the memory of her greatness as a musician and a fine human being will live with us forever. Love Paul."
Franklin's words — whether sung or penned — will truly live on forever.