Argentina Could Legalize Abortion Soon & Here's Why That's HUGE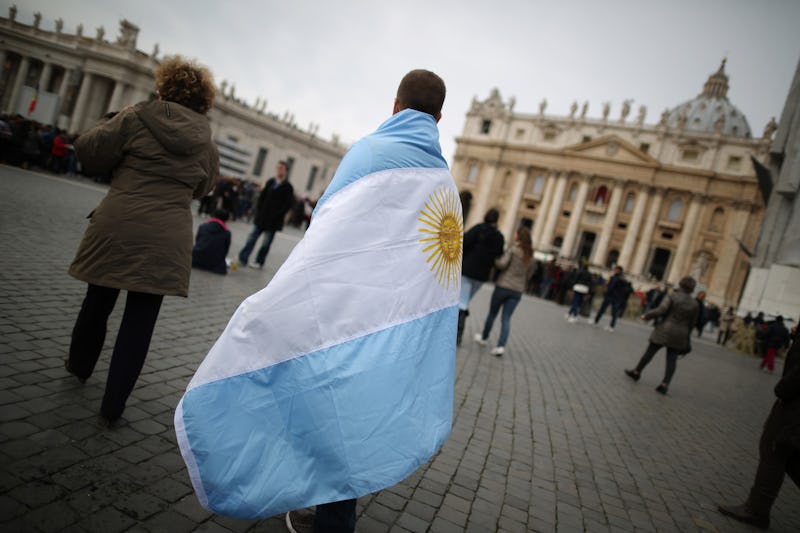 Peter Macdiarmid/Getty Images News/Getty Images
On Tuesday, more than 70 lawmakers from different parties introduced a bill that would legalize abortion in Argentina, in a move that could dramatically change the outlook for reproductive rights in the country. The bill would allow Argentinian women to obtain a legal abortion in the first 14 weeks of her pregnancy.
Argentinian President Mauricio Macri said that he would allow Congress members to vote freely on the matter. Reuters reported that Macri showed interest in holding a debate on the contentious topic, although the president is personally against abortion. Macri's interest comes after Argentinian Congress members presented the bill legalizing abortion, partly as an effort to curb the country's high maternal mortality rate. The bill elicited enthusiastic support from pro-choice activists who frequently carry green handkerchiefs to symbolize their stance on abortion.
According to reports, the bill highlights the dangers that women face while trying to access medical services to terminate unwanted pregnancies, particularly low-income women. According to the Human Rights Watch, nearly 500,000 abortions take place in the country. And because of the restrictions placed on abortion access, maternal mortality in Argentina is disturbingly high; about one third of maternal deaths in Argentina are related to illegal abortions, Reuters reported.
Despite having one of the strictest laws on abortion access in Latin America and the world in general, abortions are still performed in Argentina. In fact, Argentina's abortion rate is higher than that of the United States, according to the Los Angeles Times.
There are a few exceptions when abortion is allowed in Argentina. But they're strictly confined to exceptional circumstances in the predominantly Catholic country. Exemptions for abortion are limited to cases such as a pregnancy resulting after a woman or girl has been raped, a pregnancy that poses a significant danger to the physical safety of a mother, or if the fetus exhibits a critical abnormality.
According to Reuters, activists explain their criticism on limiting cases to specific circumstances. The main opposition against exemption-based access is that it frequently requires a judge's approval. Such a system, according to pro-choice activists, unnecessarily prolongs the waiting period for an abortion. In some cases, it'll even lead to a judge simply denying the woman access to abortion services.
By letting women opt for an abortion in the first 14 weeks of their pregnancy, Argentinian lawmakers say that the social climate of the country could become equal and more nurturing for vulnerable women. Argentinian lawmaker Aracelia Ferreyra, who was at the unveiling of the bill on Tuesday called it "a topic of equality and inequality," according to Reuters, "because those who do not have money pay with their health or their bodies."
According to a World Health Organization and Guttmacher Institute study, the idea that anti-abortion laws or simply restricting abortion will end up decreasing the rate of abortions is false. Outlawing abortion actually doesn't prevent abortions. What it does do, according to the study, is push vulnerable women and girls to opt for illegal and potentially dangerous abortion methods.
The study found that governments should invest in creating and maintaining services that provide women with adequate health care programs and safe access. The report said "ensuring access to sexual and reproductive health care could help millions of women avoid unintended pregnancies and ensure access to safe abortion."
If the bill is turned into law, Argentinian women stand a better chance at accessing safe health care options that don't criminalize and shame them for wanting to terminate an unwanted pregnancy. Even more importantly, legalizing abortion in Argentina could curb its shocking maternal mortality rate.