This "Where Is The Love?" Performance Is Much-Needed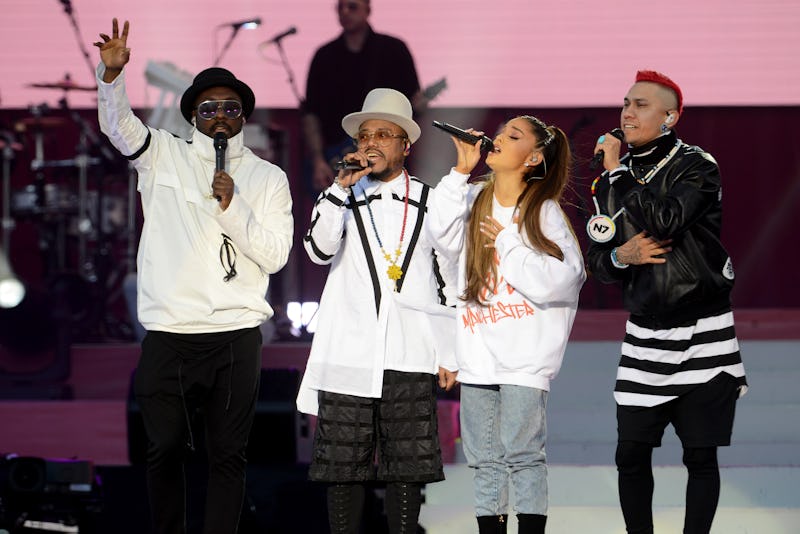 Getty Images/Getty Images Entertainment/Getty Images
When it was announced that Ariana Grande would return to Manchester, nearly two weeks after a devastating terrorist attack at her concert, this sent a strong message: There's power in solidarity. Opting for love over hate, the benefit concert is raising funds for victims of the attack. And emphasizing that message even more, Ariana Grande and the Black Eyed Peas' "Where Is The Love?" performance is one we can all learn from. After Grande sang "Better Days" with Victoria Monet, Grande introduced the Black Eyed Peas band members will.i.am, apl.de.ap and Taboo to the stage. Together, they sang the band's timely hit song "Where Is The Love?" with Ariana taking on Fergie's vocals.
"What's up, London? We're showing love to Manchester and London right now," will.i.am told the crowd as he walked on stage, referencing the recent London attack on June 3. "Put your hands in the air in the name of love." The 2003 hit song emphasizes embracing love over hate and terrorism, which is the perfect message for the One Love Manchester concert. In the middle of the song, will.i.am specifically addressed Manchester, asking, "Where's the love, Manchester?" several times.
At the end of the song, several band members made heart shapes with their hands to signify love. will.i.am told the audience, "Manchester, London: We are here and we are together and we are one. Put one finger in the air if you're about oneness and togetherness." He led the crowd in a chant, "We only got one love."
will.i.am continued to express his love, telling the audience, "We love every single one of you and thank you so much, Ariana, for this." He also took time out to salute the mayors of London and Manchester, the police departments in both cities, and the audience. "We will not be separated," he told the crowd.
As you can see in the video, the message of love is loud and clear.