Ariana Grande Just Defended Pete Davidson While Asking Her Fans To Be Kinder Online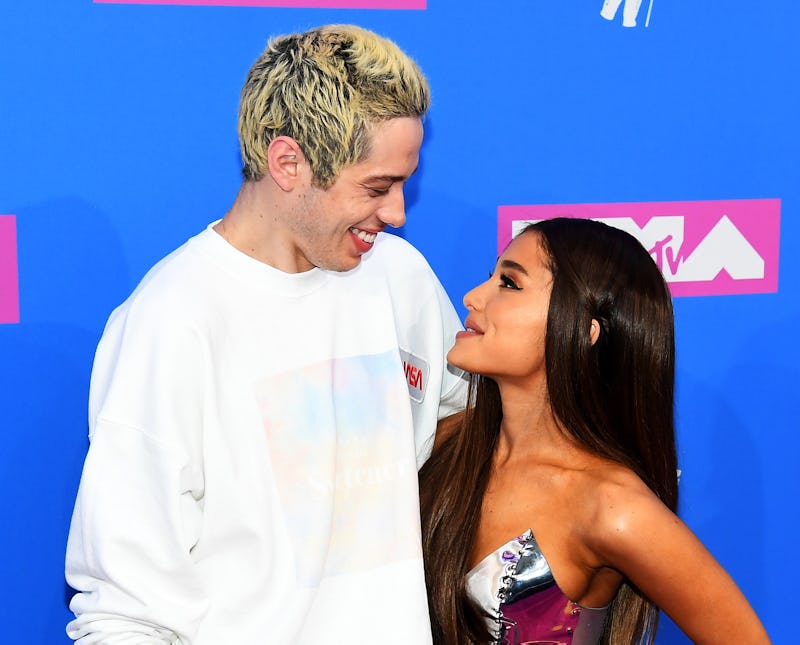 Nicholas Hunt/Getty Images Entertainment/Getty Images
Ariana Grande and Pete Davidson's relationship might be over, but it seems like the respect they have for each other lives on. After he shared an Instagram post about online bullying on Monday, Grande defended Davidson in a post on her own Instagram Story, reminding her fans that no one truly knows what someone else is going through, despite what they may post on social media.
In his post, Davidson acknowledged his mental health struggles, specifically with borderline personality disorder, and how he had hoped that remaining transparent about his struggles would've helped others see that it's never OK to treat others poorly. Instead, Davidson wrote, he's "been getting online bullied and in public by people for 9 months," which would include the time he was still with Grande. He even mentioned that some have gone as far as telling him to kill himself.
And now, it's Grande's turn to speak out. On her Instagram Story, she shared a screenshot of Davidson's post along with her own message to her followers about the importance of being kind to people — and to reiterate the fact that there is no bad blood between her and the Saturday Night Live star. Even though they chose to end their whirlwind engagement, Grande wrote that she "will always have irrevocable love for him."
In her post, Grande started off by saying that she's all about "forgiveness and positivity," and that includes Davidson. She wrote:
"i know u already know this but i feel i need to remind my fans to please be gentler with others. i really don't endorse anything but forgiveness and positivity. i care deeply about pete and his health. i'm asking you to please be gentler with others, even on the internet. i've learned thru my own mistakes not to be reactive on socials so i do understand. but you truly don't know what anybody is experiencing ever. regardless of what they choose to display on social media or how they may appear in public. i can promise u that."
She then went on to talk about how she feels about Davidson himself, adding:
"so please let whatever point you're trying to make go. i will always have irrevocable love for him and if you've gotten any other impression from my recent work, you might have missed the point."
Grande is right — since she and Davidson broke up, any mention she's made of him has been mostly positive, and he's done the same. In the "Thank U Next" music video, she wrote, "I love u always," on his page in her Burn Book, and on a post-breakup episode of SNL, Davidson called Grande "a wonderful, strong person" and said that he wished her "all the happiness in the world." Breakups are never easy, but these two have managed to remain civil, so it makes sense that they'd be frustrated if people outside the situation couldn't do the same.
The message of both Grande and Davidson's posts are so important. Be kind to others, because you have no idea what they're going through — and of course, that includes celebrities, too. They may not be walking down the aisle in 2019, but it's nice to see that this former couple still has each other's backs.
If you or someone you know is experiencing suicidal thoughts, call the National Suicide Prevention Hotline at 1-800-273-8255 or text HOME to the Crisis Text Line at 741741.