Pete Davidson Addressed His Breakup With Ariana Grande On 'SNL's Weekend Update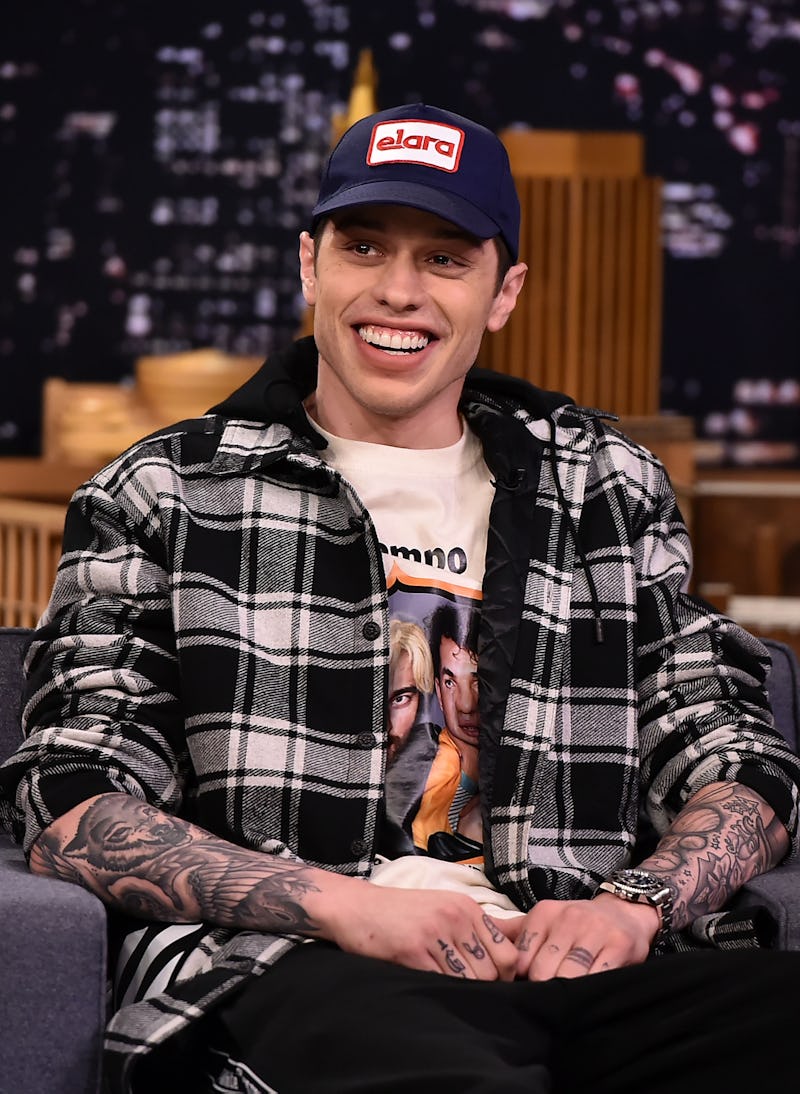 Theo Wargo/Getty Images Entertainment/Getty Images
Though he may have been joking about his engagement on Saturday Night Live only a month prior, Pete Davidson's SNL comments about his Ariana Grande breakup explained that he's ready for everyone else to move on. During the show's Weekend Update segment on the Nov. 3 episode, Davidson said, "I know some of you are curious about the breakup, but the truth is it's nobody's business and sometimes things just don't work out and that's okay. [Ariana is] a wonderful, strong person and I genuinely wish her all the happiness in the world." It seemed to be an earnest plea to encourage people to stop focusing on their split, but Davidson also appeared happy to proclaim, "I still have my song though," referring to Grande's song "pete davidson" from her August album Sweetener.
Davidson's comments come on the heels of a report from TMZ that he had been planning on performing a skit about his breakup with Grande during the show. They also follow an SNL promo that poked fun at he and Grande's whirlwind engagement, in which he proposed to this week's musical guest, Pharrell prodigy Maggie Rogers. Soon after the promo debuted, Grande tweeted, "for somebody who claims to hate relevancy u sure love clinging to it huh" and "thank u, next," but deleted those tweets soon afterward. Then, just a half hour before Saturday night's SNL episode, she released a song called "thank u, next" that name-drops Davidson and proclaims she's "so f*ckin grateful" for her ex. It goes onto mention Grande "even almost got married" and directly says "for Pete, I'm so thankful," as well as shouts out her other exes for teaching her love, patience, and overcoming pain.
However, now that Davidson has two songs from Grande that mention him by name, both coming from very different places, it seems he's ready to remove his name from the spotlight. Only the final few moments of his Weekend Update segment are dedicated to commenting on the breakup, with Davidson spending the majority of his time on the episode making fun of the appearances of various candidates in the Nov. 6 election.
While it seems the two are ready to put to rest any public comments about each other for now, there's no telling if their former relationship will continue to be referenced on the show. As one of the world's biggest pop stars that happens to have a new album on the way, Grande is exactly the kind of celebrity that SNL tends to feature as a host or musical guest; she previously hosted in 2016.
So, if Grande ever appears on SNL again to promote something, will she comment on her place in the show's history? Would Pete Davidson sit out an episode if Grande returns, or would they address their shared history? It's impossible to know what the future holds for the onetime couple, but Davidson made clear on SNL that for now, at least, he's not interested in dwelling on the past.