Pete Davidson's IG Post About Bullying Gives Insight Into What He's Been Going Through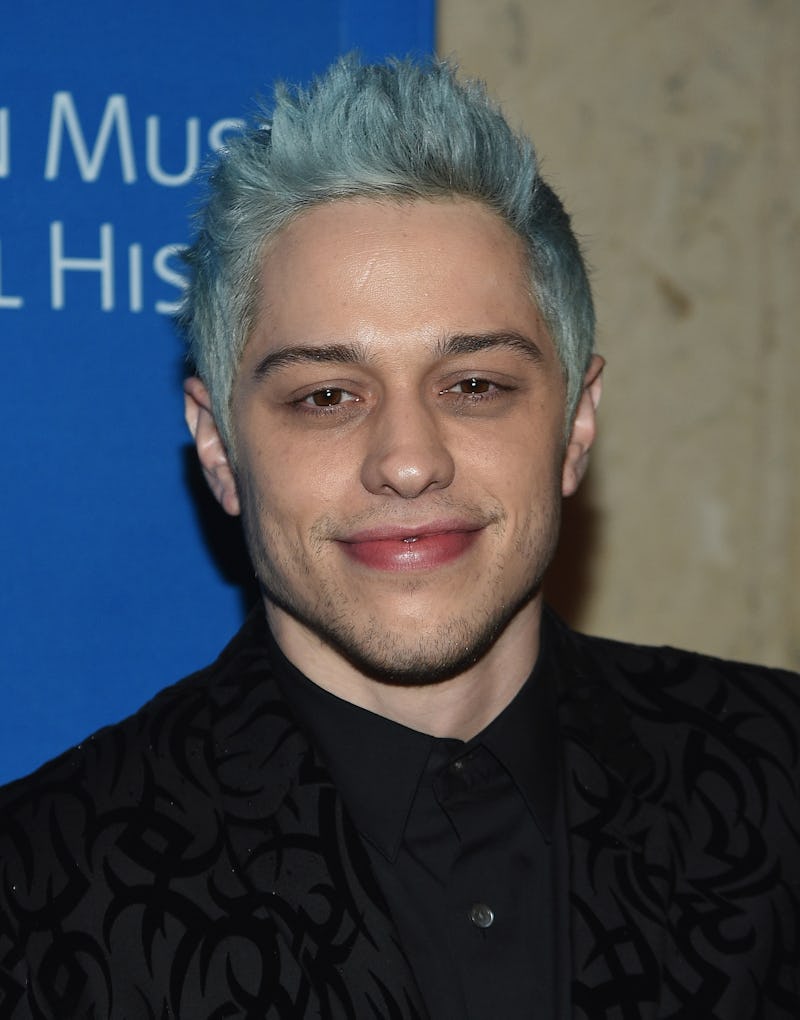 Dimitrios Kambouris/Getty Images Entertainment/Getty Images
Sure, he may star on Saturday Night Live, but that doesn't mean Pete Davidson has to be the butt of every joke. On Monday, Dec. 3, Davidson wrote an Instagram post about online bullying and all he's endured in the spotlight, ever since his very public split from Ariana Grande. While Grande and Davidson have (mostly) remained amicable, the internet is a bit of a different beast, which he touches on in his post.
In a message that doubles as a plea for kindness, Davidson began:
"I've kept my mouth shut. Never mentioned any names, never said a word about anyone or anything. I'm trying to understand how when something happens to a guy the whole entire world just trashes him without any facts or frame of reference. Especially in today's climate where everyone loves to be offended and upset it truly is mind boggling."
Warning: The following section contains mentions of suicidal thoughts, which some may find triggering.
His Instagram continues, by acknowledging his own mental health struggles that he's spoken openly about in the past. He wrote:
"I've been getting online bullied and in public by people for 9 months. I've spoken about BPD and being suicidal publicly only in the hopes that it will bring awareness and help kids like myself who don't want to be on this earth. I just want you guys to know. No matter how hard the internet or anyone tries to make me kill myself. I won't. I'm upset I even have to say this."
Davidson concluded by thanking those who have supported him, writing, "To all those holding me down and seeing this for what it is - I see you and I love you."
As Davidson's post acknowledges ("I'm upset I even have to say this"), it's baffling that he needs to write a message telling people to not be so cruel. Yet this isn't the first time he's dealt with this type of situation. Back in May, Davidson addressed unfair assumptions that his mental health, specifically his borderline personality disorder diagnosis, somehow made him incapable of dating. This was right around when reports first surfaced that he and Grande were together.
On his Instagram Story, Davidson wrote at the time:
"i been hearing a lot of 'people with bpd can't be in relationships' talk. i just wanna let you know that's not true. just because someone has a mental illness does not mean they can't be happy and in a relationship. it also doesn't mean that person makes the relationship toxic. everybody is different and there are a lot of treatments for mentall illnesses and i have done/ am doing all of them. and i encourage those who struggle to seek help as well it has changed my life for the better."
His post from May continued:
"i just think it's f*cked up to stigmatize people as crazy and say that they are unable to do stuff that anyone can do. it's not their fault and it's the wrong way for people to look at things. im simply writing this because i want everyone out there who has an illness to know that it's not true."
While only Grande and Davidson know what really went down with their split, there's no need to bash him over it — especially to such a heart-wrenching level. And regardless of your thoughts on Davidson personally, it's hard not to respect him for opening up about his mental health with the sole purpose of making others not feel alone and speaking out against stigma.
As Davidson said on SNL's Weekend Update in early November, soon after their engagement ended, he's wishing Grande nothing but the best:
"I know some of you are curious about the breakup, but the truth is it's nobody's business and sometimes things just don't work out and that's OK. [Ariana is] a wonderful, strong person and I genuinely wish her all the happiness in the world."
If Davidson and Grande can spread positivity in this situation, there's absolutely no reason the internet can't follow suit. And hopefully his latest post is a wake-up call to anyone who thinks it's alright to wish another harm online — even if it's disguised as a (very not funny) joke.
If you or someone you know is experiencing suicidal thoughts, call the National Suicide Prevention Hotline at 1-800-273-8255 or text HOME to the Crisis Text Line at 741741. You can also reach out to the Trans Lifeline at 877-565-8860 or the Trevor Lifeline at 1-866-488-7386, or to your local suicide crisis center.