Ariana Grande Jumped In To Defend Pete Davidson After His Appearance Was Mocked Online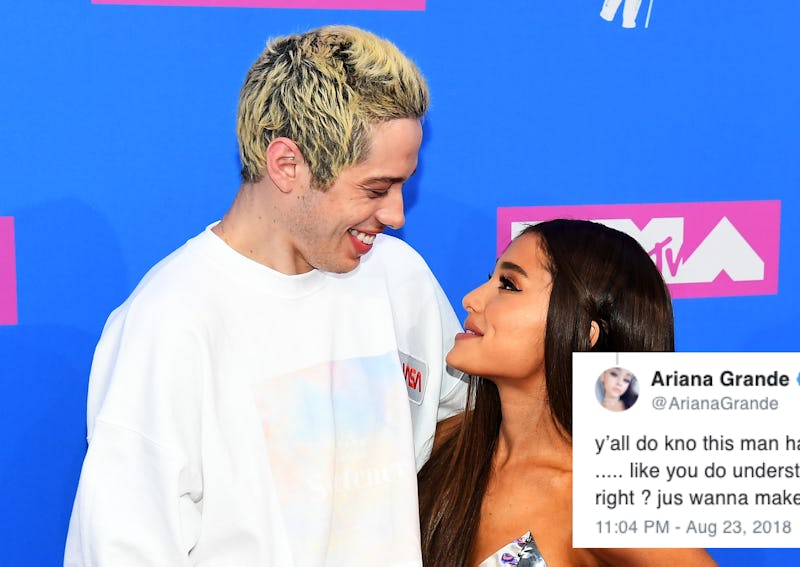 Nicholas Hunt/Getty Images Entertainment/Getty Images; Ariana Grande/Twitter
Ariana Grande doesn't take nonsense from anybody, and she's made that clear on more than one occasion. The 25-year-old pop star came to her fiancé Pete Davidson's defense on Thursday night when Barstool Sports mocked his looks. The site published an article about how Davidson has "butthole eyes." In response, Grande tweeted back that Davidson has an autoimmune disease — specifically Crohn's, a chronic inflammatory bowel disease. This is just one more way that Grande is being her absolutely real self online and off, and fans are loving that she stands up for herself and the people she cares about.
To rewind, Barstool Sports published a story about Davidson, comparing the dark pigmentation around his eyes to a certain part of the human anatomy (no need to repeat that again). Grande, who doesn't stand for anyone dissing her boyfriend, tweeted back directly:
"y'all do kno this man has an auto immune disease ...... right ? ..... like you do understand what you're doing when u do this right ? jus wanna make sure"
Davidson has talked about his struggle with Crohn's disease before, and Grande's tweet was a reminder that it's not something anyone should be making fun of. As the Mayo Clinic points out, there's no cure for Crohn's, and while there are a range of symptoms (mostly tied to the digestive track), people with the condition also sometimes experience, "inflammation of skin, eyes and joints." But even that fact aside, the joke seems out of place.
And Grande wasn't the only one taking issue with the crassness. As usual, Grande's fans had her back, as they quickly jumped into the replies to support the singer and Davidson.
Whether sharing memes or setting the record straight, Grande is always very on top of internet culture, which is the norm for any 25-year-old, but it's even more impressive as she's one of the biggest stars in music right now. She comes across totally authentic (and hilarious), and she makes an effort to be her true self IRL and URL and in her music.
In a new Paper interview with one of her best friends and collaborators Troye Sivan, Grande discussed her online presence and how seriously she takes her connection with fans:
"It's hard because I have to walk this line between being 100% myself and authentic with my fans, and being real, upfront and truthful with them. Because they, to me, are my friends, like I have grown up with them, I know their faces and names, I know stories about them, I know conversations we've had. And that's a really real thing to me. I take our relationship super seriously and I cherish them."
To anyone that follows Grande on Twitter or Instagram, it really is clear how much she adores her fans and how much they adore her back. And because of that connection, she feels a responsibility to be as real as possible with them.
"There are people who try to twist it, and then my fans get upset at that and it's just this chain of things," she told Sivan about trolls. "I have to be careful, but I would say that what you see is what you get, I'm pretty honest, I'm pretty authentic. I try to keep it real, because who the f*ck cares?"
That's the attitude that she deserves to have after experience such a rollercoaster in the past year. In the same Paper interview, Grande said that right now she's the happiest she's ever been and she's unconcerned with a wedding date, because she is over the moon.
As she sings on her new album Sweetener, it feels so good to be so young and have that fun and be successful. And as for Davidson, he's so lucky to have Grande in his corner.