Ariana Grande's "Pete Davidson" Lyrics Confirm That Yep, They're Definitely Soulmates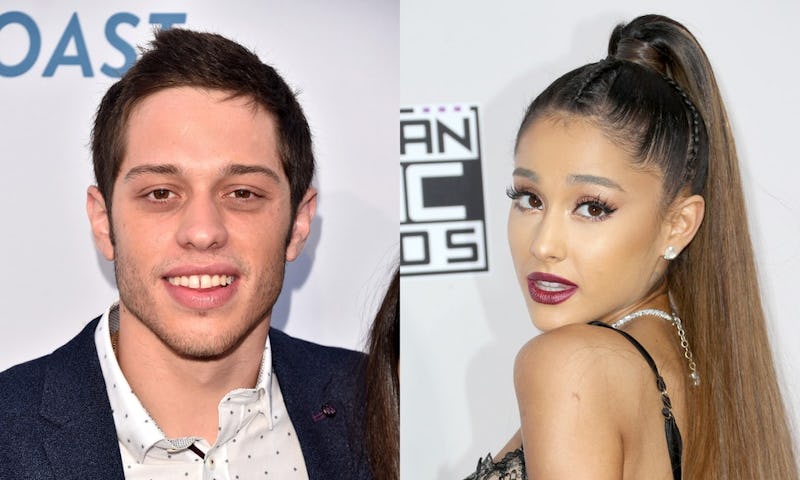 Alberto E. Rodriguez; Frederick M. Brown/Getty Images Entertainment/Getty Images
Fans are going wild over Ariana Grande's latest album, Sweetener, released at the stroke of midnight Friday morning. One song on the album shares its name with Grande's fiance, and the lyrics of "Pete Davidson" literally announce that they're soulmates.
"I know you know that you're my soulmate and all that," the 25-year-old pop star sings. Then, later, "Won't get no crying from me, yeah/Gonna be happy, happy/I'ma be happy, happy."
Grande and Davidson publicly announced their relationship in May of this year, captivating their fans as they shared cute couple photos on social media. In every picture, they seem just as happy as Grande sings.
Their first photo, which announced their relationship, is the two of them dressed in Hogwarts robes, to the delight of Harry Potter fans everywhere. From there, their relationship escalated quickly, according to the public eye. But Grande and Davidson were engaged by June — with a huge 3-carat diamond ring worth nearly $100,000 to prove it. Grande and Davidson got an apartment together shortly after getting engaged, and there were even rumors of matching cloud tattoos.
In an Instagram post at the end of May, Grande actually hinted at lyrics for "Pete Davidson." In the caption of an endearing photo, where Davidson is kissing Grande's cheek, the pop star wrote, "i thought u into my life 💭 woah ! look at my mind 💡⚡️🙈" These are direct lyrics of the now-released song.
With all the cute social media posts and the giant diamond ring, fans got very caught up in the timeline of the Grande-Davidson relationship, trying to figure out when the two got together exactly. But regardless of when that was, their love seems to be made by the gods. As Grande sings of their love, "Universe must have my back/Fell from the sky into my lap."
When she released the titles of three Sweetener tracks via the album's Instagram account in July, the artist faced some criticism for naming a song after her fiancé. Being so young, critics thought it impossible their love could lead to artistic inspiration. But they were wrong.
Grande responded to the criticism with her usual positivity and charm, writing, "He's my fiancé. This is my album. I'm an honest and emotional artist and human being and if my openness in my work isn't for you, that's OK, I won't be offended. Still wishing y'all all the love in the world."
The two have remained publicly in love with one another, and Grande's song only reaffirms it.
I thought you into my life, woah/Look in my mind, yeah/No better place or a time/Look how they align/Universe must have my back/Fell from the sky into my lap/And I know you know that you're my soulmate and all that/I'm like ooh, ooh/My whole life got me ready for you/Ooh, ooh/Got me happy, happy/I'ma be happy, happy, yeah
Young, in love, with successful careers and strong futures ahead of each of them, I'd say yeah, Grande and Davidson have reason to be "happy, happy."