Guess Who's Singing 'Beauty & The Beast's Theme?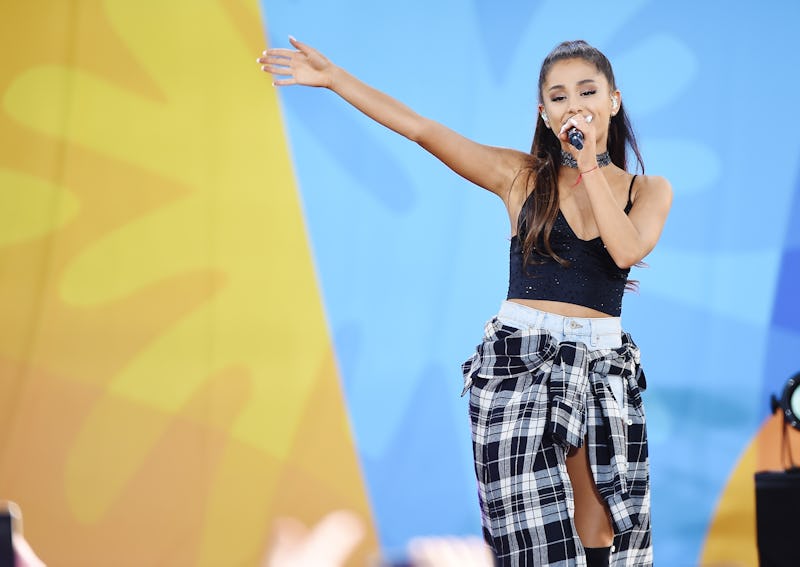 Nicholas Hunt/Getty Images Entertainment/Getty Images
Beauty and the Beast is a tale as old as time, but its theme song is getting a very appropriate upgrade. Disney announced that the title track for the upcoming live-action Beauty and the Beast will be performed by Ariana Grande and John Legend. The two will be putting their own spin on the Celine Dion and Peabo Bryson duet. According to a statement from the song's producer Ron Fair, "Stepping into the shoes of an Oscar and GRAMMY Award-winning classic is not small potatoes," but this certainly isn't the first time Grande's channeled Dion. Of course, usually she's usually doing it in the name of comedy.
Two years ago, Grande sat down with Jimmy Fallon on The Tonight Show for her first late-night interview. She admitted she was nervous about speaking. "I've never spoken on a talk show," she told him. Perhaps, to make her feel more at ease, he asked her to do an impression of Dion by singing a song of his choosing. The song? "Beauty and the Beast."
At the time, Grande didn't know the words, but she still managed to do a spot-on impression of the Canadian chanteuse. What makes it so good is that Grande's voice is strong enough to mimic Dion's incredible range. If someone's going to be able to keep up with Dion, it's certainly going to be Grande. She's the logical 2017 choice if I've ever heard one.
It's not just Grande that seems like a fitting choice to redo this song, but her partner Legend is totally a Bryson type. Let's look at the facts here, shall we? Bryson was known for his softer R&B ballads like "Tonight I Celebrate My Love" with Roberta Flack, perfect for any first dance in 1983. It's a space that Legend occupies now with songs like "All Of Me," which has become a modern wedding staple. In fact, in 2015 Spotify named "All Of Me" as the most popular wedding song globally — two years after its release.
That's not the only similarity between these two, which may not be what Bryson wants to hear. As Rolling Stone reported in 2006, Bryson once said that Legend "is never going to be doing what I can do." But, the truth is, he has been. Both have become know for their soundtrack work. Bryson didn't only sing "Beauty and the Beast," but also performed "A Whole New World" with Regina Belle for the Aladdin soundtrack. Legend has performed songs for Django Unchained and La La Land. In 2015, he earned an Oscar for the song "Glory" from Selma.
It's why you can't help but believe Fair when he says Grande and Legend are going to give the classic song a "new school-old school fresh treatment that shows the soulfulness and power of what a great melody and lyric can inspire."
Grande and Legend are basically a new-school take on the old-school Beauty and the Beast performers Dion and Bryson. They offer just a little change, small to say the least. One that will be interesting to hear when the soundtrack drops on March 10 — and when the movie premieres a week later on March 17.