Ariana Grande Can't Handle Mark Hamill's "Thank U, Next" Tweet & Fans Won't Be Able To Either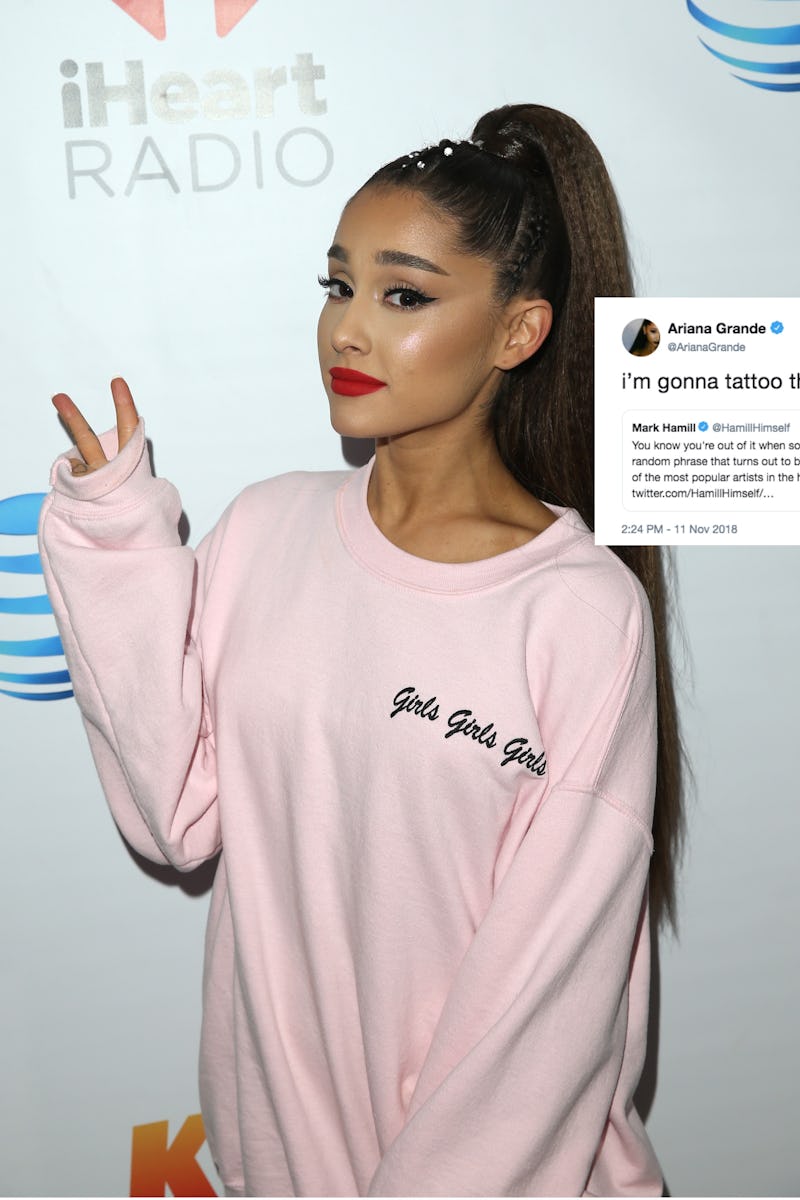 Jesse Grant/Getty Images Entertainment/Getty Images; Ariana Grande, Mark Hamill/Twitter
It's been more than a week since Ariana Grande unexpectedly dropped her single, "Thank U Next," but people still can't stop talking about it — including a Star Wars legend, apparently. On Sunday, Grande and Mark Hamill had a Twitter exchange that will definitely make fans of both so excited. Because yes, those two fandoms can intersect, and Grande herself is freaking out about it, too.
It all started when Hamill tweeted, "Thank you, next," accompanied by the hashtag "TwitterTest4Twits." Of course, people immediately assumed he was referencing the Grande song of the same name, because let's face it: A lot of people have been tweeting those three words lately. But as it turns out, he actually didn't know he was talking about one of the biggest songs that has been released this year; apparently, someone else told him to tweet it when he asked what to post, and in his explanation, he even corrected the spelling of "you" to "u."
"You know you're out of it when someone suggests you tweet what you think is just a random phrase that turns out to be the title of the new album by @ArianaGrande, one of the most popular artists in the history of showbiz," Hamill tweeted, adding, "#ImSorryAri #ItsUnotYou."
Obviously, as a fan of Star Wars and Hamill, Grande freaked out accordingly after she saw this tweet. She retweeted Hamill's messages, sincerely fangirling the way one does when the main character of the Star Wars franchise tweets about you.
First, she noted that she could not breathe:
Then, when Hamill shared his explanation for tweeting "thank you, next," Grande said, "I'm gonna tattoo this to my forehead," which seems totally appropriate after an interaction like this one:
And then, when a fan tweeted her saying "Imagine getting called 'one of the most popular artists in the history of showbiz' by Luke Skywalker," Grande replied with "honest to god i'm not okay rn."
Really, would anyone be OK after an exchange like that one? Yes, Mark Hamill is a legend, but so is Grande in her own right. Put them together, and any fan's brain would probably explode.
Grande has been open about her Star Wars love in the past. Back in 2014, her "Break Free" lyric video was modeled after the iconic Star Wars scrolling text introduction that takes place at the beginning of each film:
And then, in 2015, she attempted to end the famous "Who shot first?" debate with a video that featured her talking to aliens about whether Han Solo or Greedo shot first... and then, she killed them both, because she had to get the last word.
Maybe now that Hamill has made himself aware of Grande's new song, he'll actually listen to it... and become as obsessed with it as everyone else is. Wouldn't it be amazing if he shared his own Star Wars themed version of the "one taught me love, one taught me patience, one taught me pain" meme? Spoiler: Poe Dameron fits all three.