Ariana Grande & Pete Davidson's Red Carpet Appearance At The VMAs Was Also A Major Milestone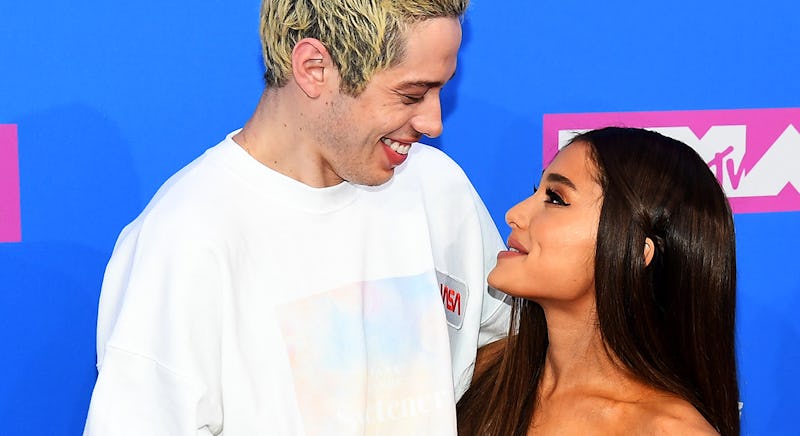 Nicholas Hunt/Getty Images Entertainment/Getty Images
It's official: the couple known as Grandson has arrived at the VMAs. Ariana Grande and Pete Davidson are at the 2018 VMAs and they made their first red carpet appearance together. Fans are freaking out because in true Grandson style, the duo are taking on this relationship milestone with a bang. Not only can the engaged couple barely keep their hands off each other, but they're causing an uproar among the paparazzi, and even left fans with a little hidden message to dissect on Twitter. Oh, you two.
In the photos, they gaze into each other's eyes, while Grande lovingly puts her hands to Davidson's face, wraps her arms around his neck, and whispers into his ear. It's a big night for the couple, largely because Grande will perform "God Is a Woman" from her new album Sweetener and her beau will be in the audience cheering her on for all the world to shamelessly watch. But of course, they had a red carpet to dominate first.
Besides Grande's very large engagement ring, another piece of jewelry the two wanted to be seen was a beaded bracelet around Davidson's wrists with the letters "AGD," AKA Grande's future initials, Ariana Grande Davidson. If there's anything these two are experts at, it's being discrete. Right, guys?
Speaking of being discrete, after making the internet swoon with their sweet photos, Grande and Davidson quickly dodged photographers on the red carpet, causing them to get yelled at by the paparazzi.
The two, both experts at demanding attention, have the internet entertained and obsessed with their first red carpet photos together. Fans have tweeted responses like, "Here to confirm that my heart just exploded over this picture," "I'm dying it's so cute," and "Find someone who looks at you the way Ariana looks at Pete." Yep, Twitter is obsessed and in the presence of true love.
Also on the VMAs red carpet was Grande's brother Frankie, who revealed what he hopes his sister's big wedding day will be like. "I want it to be a reflection of her," he told Variety on the carpet. "As Ariana as humanly possible. Probably very lavender, a lot of lavender tones and a lot of clouds." He further revealed that he and Grande's crew are wearing clouds on their fingernails in support of the singer and her big, heavenly performance.
As for the highly-anticipated nuptials, Grande recently discussed marriage and a potential date with Beats 1, saying she wants the wedding to be more than five months away, but less than five years from now. She also revealed she plans on hyphenated her last name to Grande-Davidson and would ideally have three kids with the SNL actor. Clearly, they've been planning.
While the romance seems like a whirlwind to most fans, Grande said she predicted marrying Davidson when they met years ago, in a recent interview with Jimmy Fallon. "I had a biggest crush in the whole world on him the whole time, like forever," she said.
Yes, it's certainly a big night for Grande, but not just because of Davidson.
What a night.