Ariana Grande's Response To Performing At The VMAs Proves She's Just As Excited As Her Fans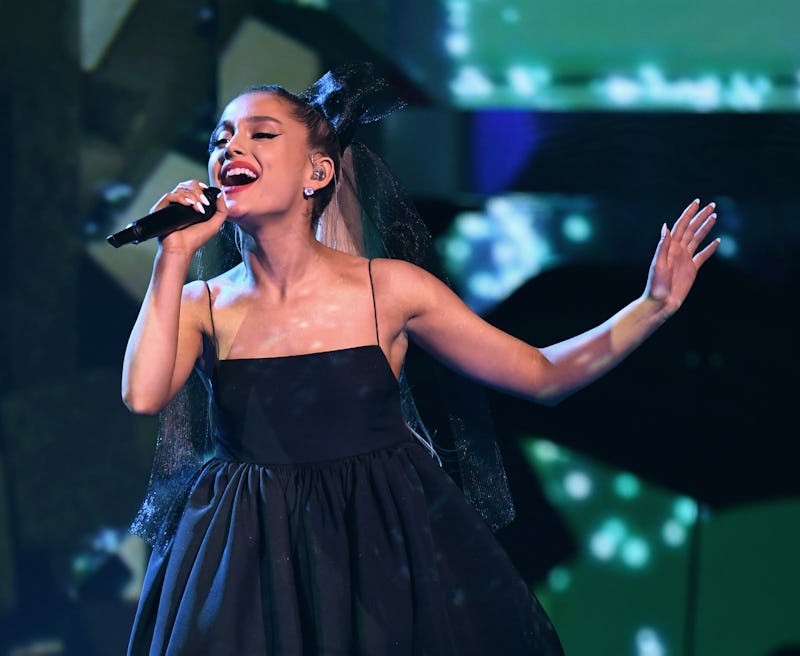 Kevin Winter/Getty Images Entertainment/Getty Images
Attention Arianators: Please take a seat, as this news may be too much for you to handle standing up. On August 2, MTV announced that none other than she who you stan, Ariana Grande, will be performing at the 2018 Video Music Awards. Are you okay? Did anyone faint? Catch your breath, because there's more. Grande will take the stage at the VMAs on Monday, August 20, and — as if that weren't already enough to make your day/week/life — MTV revealed that she's going to be performing "God Is A Woman" from her forthcoming album, Sweetener. Permission to freak out granted.
Grande confirmed the news herself in a series of tweets Thursday afternoon, first by re-tweeting the VMAs' official performer announcement. Minutes later, Grande wrote, "see. u. soon. @vmas !!," followed by yet another tweet — this one featuring a short promo clip from MTV, which reiterated the good news and rolled a few seconds from her "God Is A Woman" video. It's all too much. So very exciting.
Grande didn't stop there, though. After the VMAs account re-tweeted one of the singer's previous posts about performing at the show and added the comment, "WE. CAN'T. WAIT," Grande was swift to reply yet again. "nah i'm so f*cking excited," she wrote. "love u. thank u sm for having me !" No, Ariana. Thank *you*!
Grande is clearly excited, as evidenced by her back-to-back VMAs tweets. If she's at all nervous, though, she's certainly not showing it. Why would she be nervous anyway? At this point, she's pretty much an old pro at live performances, which has included a fair share of live performances at the VMAs specifically.
In 2014, Grande opened the show solo with her very own "Break Free," and immediately passed the main show torch to Nicki Minaj for "Anaconda." Grande then made a surprise return to the stage, and joined both Minaj and Jessie J for the trio's smash pop summer hit, "Bang Bang." The crowd. Went. Wild. Grande and Minaj teamed up at the VMAs yet again in 2016, with both ladies singing "Side to Side" while performing a choreographed routine on spin-class-inspired bikes. It was ... suggestive, and obviously really great. And fans couldn't be more excited for her return to the VMAs stage.
Grande's recent tweets display a reasonable degree of excitement about performing at the 2018 VMAS (even though she's probably jumping up and down on the inside), but her fans — the Arianators — have shown zero chill in the wake of this monumental news. Not that you can blame them, of course. Grande released the music video for "God Is A Woman" on July 13, and this will mark the first time she's performed the song live.
"ariana will be performing giaw at the vmas god has answered my prayers," @bcbiebergomez wrote. "ARIANA OH MY GOD," @cosiestariana, another fan exclaimed. "I'm BUZZING for ariana to do a performance of giaw at the vmas it's gonna be iconic," a third fan, @cluedupbutera, chimed in. Excitement level: High. Very, very high. And that's just a *tiny* sampling of the excitement on social media.
There's no telling what, exactly, Grande's performance will entail, but given Madonna's cameo in the "God Is A Woman" music video, it's not hard to imagine Madonna joining Grande for her performance, though. Could fans handle it? Could the world handle it? Wigs would be snatched, for sure. Only time will tell. The 2018 MTV Video Music Awards will air live on Monday, August 20, at 9PM EST.