Ariana Grande Responds To Las Vegas Shooting With A Demand To "Call This What It Is"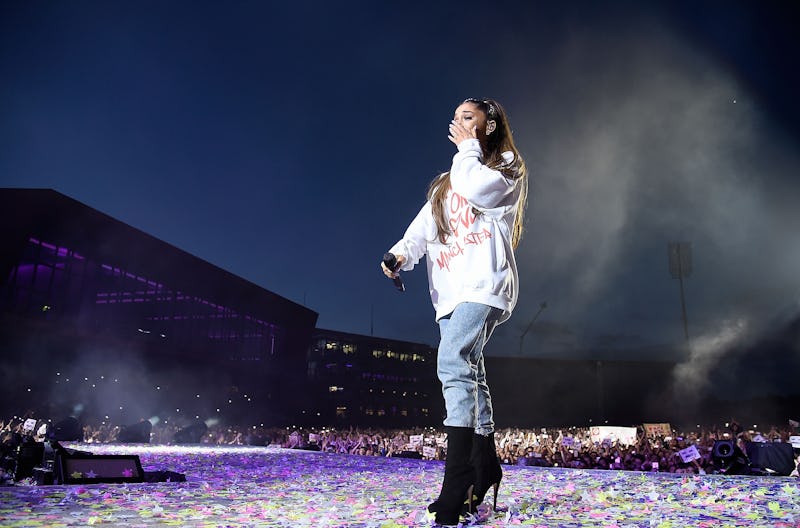 Kevin Mazur/One Love Manchester/Getty Images Entertainment/Getty Images
After more than 50 people were killed and more than 500 were injured during a mass shooting at a country music festival in Las Vegas, one pop star had had enough. In a response to the Las Vegas shooting, Ariana Grande tweeted that "people need to call this what it is = terrorism."
On Sunday night, a shooter stationed in the Mandalay Bay Resort & Casino opened fire on a crowd of 22,000 country music fans who were watching Jason Aldean perform at the Route 91 Harvest Festival. Because he was sheltered in a room, the gunfire went on for a number of minutes. Videos from the performance show Aldean continuing to sing until people realize that the "pops" they're hearing are, in fact, gunshots. The festival attendees began running and screaming, and Aldean runs off stage as well.
In May of this year, Grande experienced a similar tragedy. She was finishing a performance at the Manchester Arena in the United Kingdom when an explosion killed 23 people and injured around 250. Many of the concertgoers at her performance were young teens. Not long after the devastating attack, Grande held a "One Love Manchester" benefit concert, which raised $13 million for the victims and their families.
Her tweet about the shooting in Las Vegas echoes a statement she made while performing at the One Love Manchester benefit. On stage this past June, Grande said:
I want to thank you for coming together and being so loving and strong and unified.
I love you guys so much, and I think that the kind of love and unity that you're displaying is the medicine that the world really needs right now.
She again called for love and unity in her message about the Las Vegas attack, but she was also a lot more pointed in making clear what actions people need to be taking to prevent this kind of tragedy from happening again. By specifically calling out the need for gun control and the need for people to call this kind of attack terrorism, Grande is making clear that "love and unity" aren't enough.
Officials have declined to call the incident terrorism, stating that there are no connections to terrorist groups or activity, despite ISIS having tried to claim responsibility for the attack. The FBI said there is no evidence that ISIS had any links to the Las Vegas shooting.
In a speech on Monday in the hours after the attack, President Trump called the massacre an "act of pure evil" and also mentioned love and unity in his response.
We call upon the bonds that unite us — our faith, our family, and our shared values. We call upon the bonds of citizenship, the ties of community, and the comfort of our common humanity. Our unity cannot be shattered by evil, our bonds cannot be broken by violence, and though we feel such great anger at the senseless murder of our fellow citizens, it is our love that defines us today and always will, forever.
Trump also called for the American flag to be flown at half-staff and said he would visit Las Vegas on Wednesday after his visit to Puerto Rico on Tuesday. "He brutally murdered more than 50 people and wounded hundreds more," he said of the shooter.
While Grande and Trump both sent messages of unity to the nation Monday, there was one key difference between their statements. While Grande called for gun control and recognition that the act is terroristic in nature, Trump has yet to mention either.