Ariana Grande Skipped The Grammys For Good Reason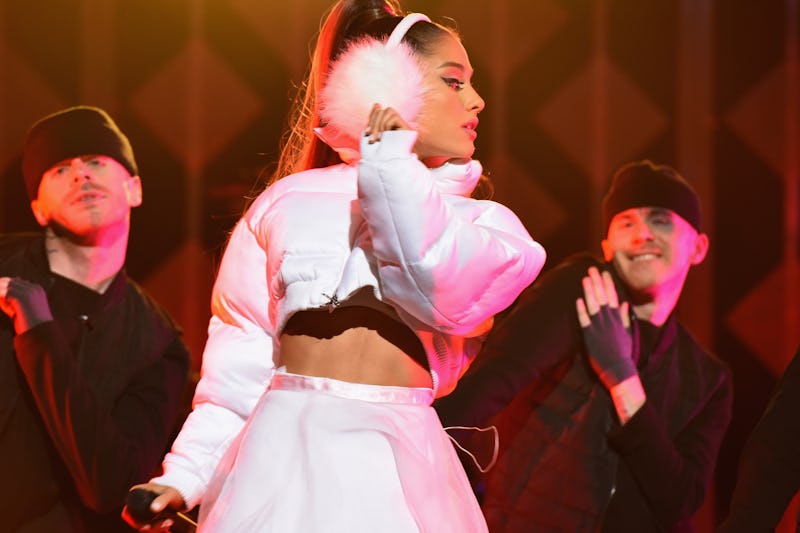 Dave Kotinsky/Getty Images Entertainment/Getty Images
Ariana Grande's jazzy pop deliciousness Dangerous Woman was nominated twice at the 2017 Grammys, scoring nods in both Best Pop Vocal Album and Best Pop Solo Performance. Fans hoped for a red carpet look as sizzling as her album, but Grande skipped the awards show, and here's why we think she decided not to attend.
Grande's Dangerous Woman tour kicks off on Valentine's Day, with a show in Nashville, TN. She'll be on tour from Feb. 14 to June 17, traveling everywhere from Columbus, OH, to Lodz in Poland, to Rome. With such a lengthy tour in both time and travel, it's no surprise the star was likely too busy prepping to attend the Grammys.
Fans missed out, because Grande has a much-loved eclectic style, from her tendency to wear puffy earmuffs onstage to her unique strapless pieces to her love for wide-legged red carpet pants. Grande has also been known to wear figure skater-esque dresses which flare out into cute, short skirts that, when coupled with a pair of super-tall heels, make her look totally killer.
Dangerous Woman hit platinum status in the U.S., and dominated airwaves from the moment it released to — well, it hasn't stop dominating yet. And though Grande is pretty platinum herself, she's down-to-earth, too. Her response to Dangerous Woman's noms was a succinct "my heart is falling out of my ass."
On Feb. 12, Grande Instagrammed her nominations with the caption, "thank you @therecordingacademy for acknowledging our work last year! 🙏🏼Best of luck and lots of love to everybody there tonight," suggesting the star planned not to attend.
Though fans may be disappointed at the lack of Grande at the 2017 Grammys, they know Grande is a dangerous woman when it comes to snagging noms and awards, and on her tour, they'll have a chance to see her in all her glory.
I'm sure fans can't wait!