Ariana Grande's Song Choice Is Powerful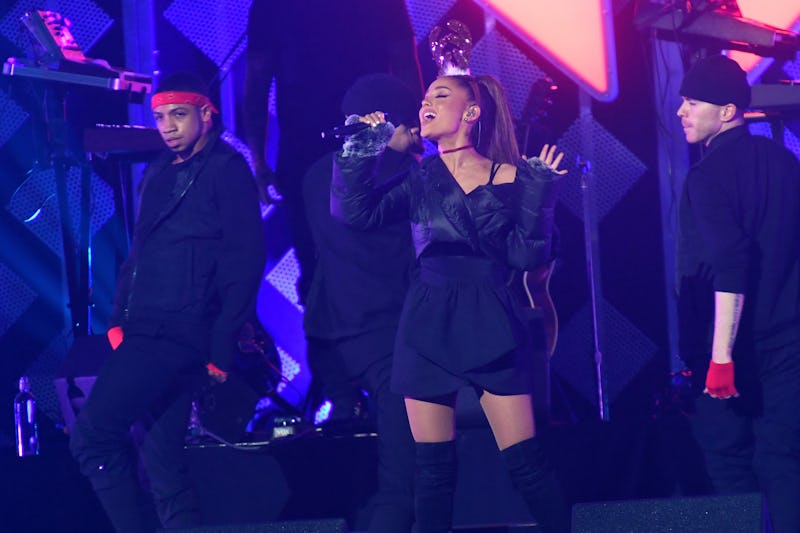 Paras Griffin/Getty Images Entertainment/Getty Images
As promised, Ariana Grande has returned to Manchester. Nearly two weeks after a terrorist attack at her show, the singer was joined by fellow artists to prove that hate can't win. Grande's performance of "Be Alright" at the Manchester benefit concert only furthers that message. The artist's song choice was absolutely perfect. While things are tough right now, Manchester and the rest of the United Kingdom will prevail, because love and art will always overcome hate.
Before Grande came out onstage, her manager Scooter Braun came out and gave a rousing speech about how strong Manchester is. He also revealed just how passionate she was about doing something to help in the aftermath of the attack. It seems the city has a special place in her heart for more reasons than one — according to Braun, Manchester was the first place she held a live performance when her career was just beginning.
It seemed apparent when Grande came out onstage that she was determined to give the crowd everything she had. Her performance of "Be Alright" was at once uplifting and emotional. The song's refrain of "we're gonna be alright" is so positive and hopeful — it's exactly what the crowd and everyone watching around the world needs to hear.
As for the performance itself, it likely only made fans appreciate Grande all the more. After the tragedy that occurred at her concert, no one could have blamed her for pre-taping a speech, but instead she went out onto the stage with boundless energy and no fear. She's not letting an act of hate stop her from being there for her devoted fanbase. Not only is she raising money for the victims, she's also giving so much of herself by using her voice to tell the world it's all going to be alright, no matter how dark things may seem right now.
Grande is a class act, and her first performance is a reminder of just how powerful her music can be.