Ariana Grande's Tweet About The Manchester Bombing Anniversary Is So Touching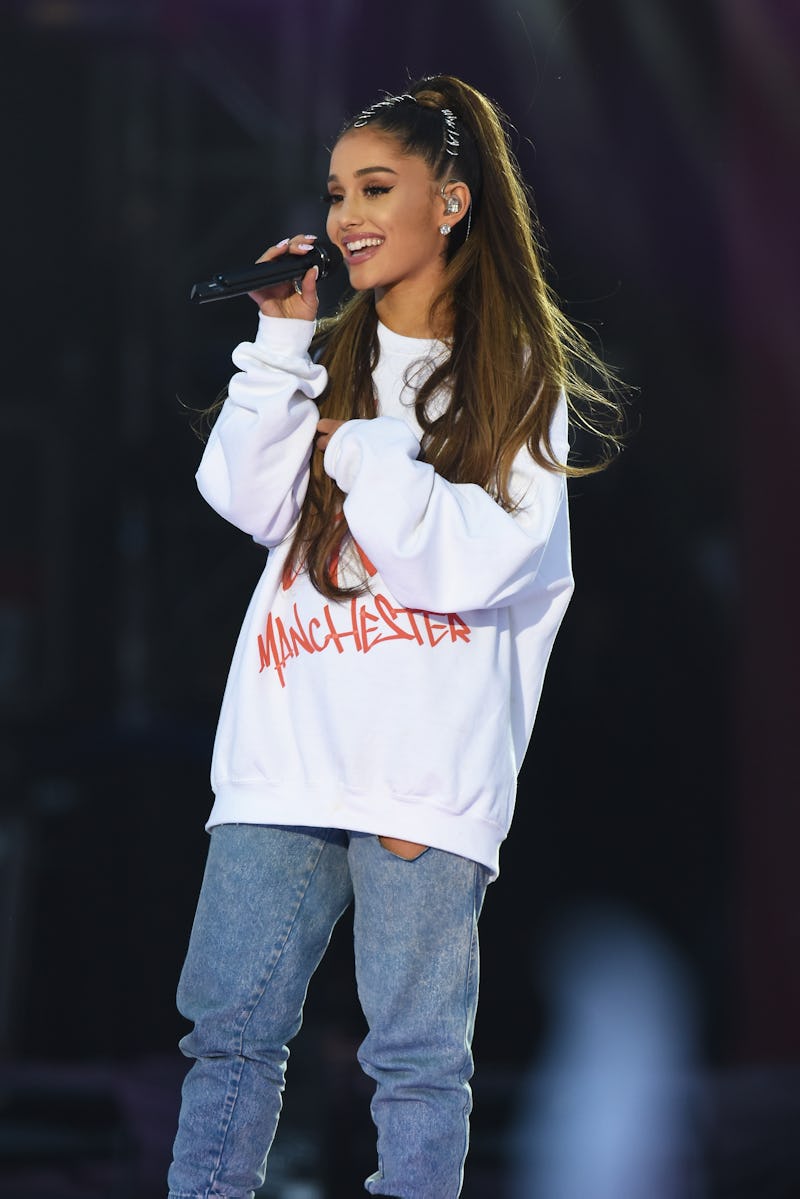 Getty Images/Getty Images Entertainment/Getty Images
It's hard to believe it's already been a year since the bombing in Manchester that left 22 dead and many more injured. But in honor of the anniversary of this horrific event, Ariana Grande tweeted a tribute to the Manchester bombing victims, showing once again the impact that this event continues to have on her life. And in the past 365 days, it's been clear that this event is something that is often on her mind.
"Thinking of you all today and every day," she wrote shortly after midnight on Tuesday, along with a bee emoji, since the worker bee is one of the symbols of Manchester in the United Kingdom. "I love you with all of me and am sending you all of the light and warmth I have to offer on this challenging day."
On May 22 of last year, an explosion took place at the end of Grande's concert at the Manchester Arena as concertgoers were leaving the show. Later, the attack was confirmed to be a suicide bombing, and several of the victims were children or teenagers. Days after the attack took place, Grande shared a letter to fans on Twitter, expressing her sympathy to the victims and offering her help as she encouraged people not to "let hate win."
Considering how many people's lives were changed that day, including Grande's, it's almost impossible to comprehend the impact that the bombing has had and continues to have on the people of Manchester, even a year later. But in the months that have passed, Grande has not only spoken out about the ways the bombing has affected her personally in her own life, but she's also taken action to help fans who were at her concert that night.
In the weeks after the attack, Grande visited injured fans in the hospital, and less than a month later held the One Love Manchester benefit concert. Several musicians joined Grande in her efforts, including Miley Cyrus and Katy Perry, and the concert managed to raise over £10 million ($13 million in US dollars) including both ticket sales and donations made through the British Red Cross during the concert.
And then, in April, Grande released her first single since the attack, "No Tears Left To Cry," including the worker bee symbol in the music video as a tribute.
In an interview Grande did with Time earlier this month, she talked about how she feels about the attacks a year later, and it's obvious that thinking about that day still carries a lot of emotion for her.
"There are so many people who have suffered such loss and pain," she told the magazine. "The processing part is going to take forever. I don't want to give [the attack] that much power. Something so negative. It's the absolute worst of humanity. That's why I did my best to react the way I did. The last thing I would ever want is for my fans to see something like that happen and think it won."
She added:
"Music is supposed to be the safest thing in the world. I think that's why it's still so heavy on my heart every single day. I wish there was more that I could fix. You think with time it'll become easier to talk about. Or you'll make peace with it. But every day I wait for that peace to come and it's still very painful."
The idea of making peace with such a horrific tragedy has to be incredibly difficult for Grande, but she's never hesitated to reach out to the people who were affected that day. Nothing can ever change what happened last year, but so far, Grande's efforts in honor of the victims have certainly helped.