Ariana Grande Just Revealed Her Next Album's Title, But You Knew It All Along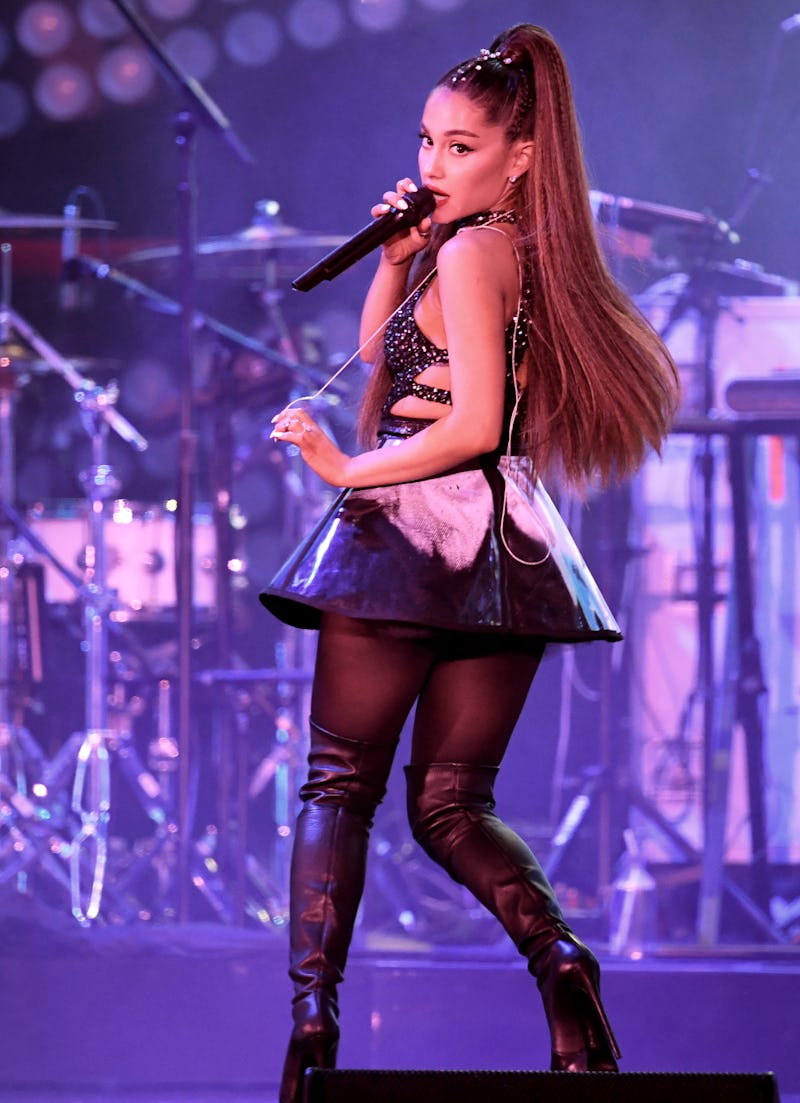 Kevin Winter/Getty Images Entertainment/Getty Images
On the morning of Saturday, Nov. 3, Ariana Grande confirmed her new album will be titled thank u, next on Twitter. But that's not all — Grande's tweet also said there will also be a song on her fifth album (formerly known by fans as "AG5") called "thank u, next." In the tweet, Grande confirmed the info as she responded to a fan who asked, "song or album?"
Grande quoted the tweet and wrote:
issa song and an album .... you'll get the song first
This confirmed speculation from fans earlier in the week, in which Arianators theorized that Grande may have previewed some lyrics in her tweets for a song that may or may not be titled "Thank U, Next."
"thank u, next" has become something of a mantra for Grande in the past week. She famously used the phrase in now-deleted tweets that may have been in response to an engagement joke made by her ex-fiancé Pete Davidson in a recent SNL promo. (For fans that stanned the relationship enough to think the breakup was faked so the press would leave them alone, this probably should put an end to that. Sorry!)
Still, Grande pressed on on Twitter, using the precious Saturday morning hours to reveal her next single after the Sweetener hits, her next album, and even some collaborators she may (or may not) be working with for it.
Arianators are freaking out.
"why r we awake sitting in my kitchen revealing so much information rn", the musician joked, tagging fellow singers Victoria Monet, Njomza, and Tayla Park — all of whom tweeted some variation of "Thank you, next" the same morning. This should come as a relief to longtime Arianators. After all, she only just announced her world tour for Sweetener; tickets are hardly even on sale yet. And after all the time spent agonizing on when AG4 (now know as Sweetener!) would finally come after AG3, now they know they won't have to go through that again. Confirmation of a follow-up album, plus a title, and a title track it sure seems like Grande wants to release soon? November 3 might end up being a holiday for the singer's truest fans.
Later in the morning, Grande tweeted an image from her phone that indicated a demo of "thank u, next" already existed. She used a strategic heart to block out any more identifying information. Still, this could mean that Grande is preparing to surprise-drop a brand-new track, one that could possibly serve as a new breakup album. Fewer than three months after her most recent LP, no less!
Per Grande herself, she's planning on an album that's entirely solo work: No collaborations, no featured verses, no duets, nada. That means that her singer pals tweeting out the name of the album was purely an act of support — not an announcement of some unstoppable super-group being on the way.
If anyone was worried about how Grande was doing in the wake of a high-profile breakup, she's obviously come away from it just fine. Come out on top, even! If she's already hard at work on thank u, next — currently saved on her phone as "ag5 lmao" — Ariana Grande has no tears left to cry.