Ariana Grande Shared A Sweet Twitter Update To All Of Her Fans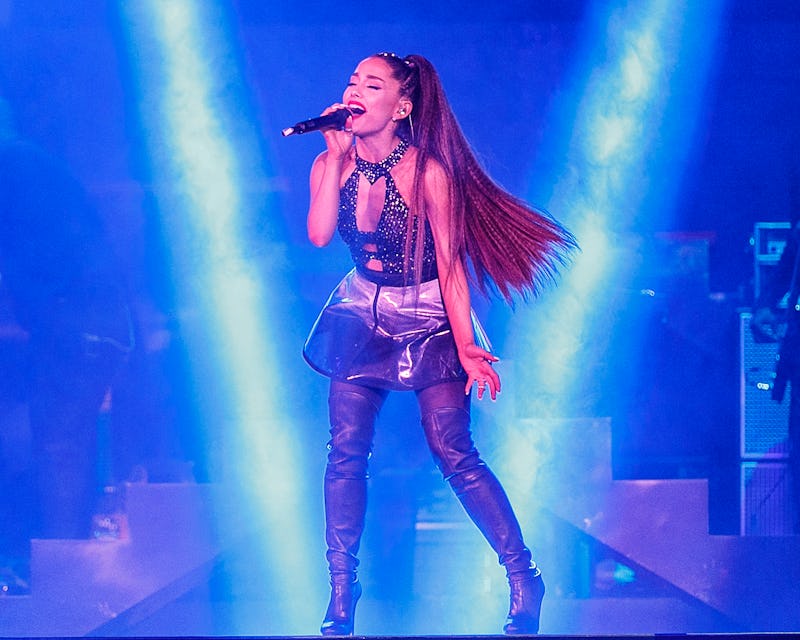 Rich Polk/Getty Images Entertainment/Getty Images
There's no denying that Ariana Grande has been through a lot lately. Not only was May the one-year anniversary of the horrific tragedy at her Manchester concert, but her ex-boyfriend and close friend Mac Miller passed away in September and the world seemed intent on blaming her for it (even though it wasn't her fault whatsoever). As a result, Grande's team recently announced she needs to take a step back "to heal." But the 25-year-old pop star is loyal to her Arianators no matter what. On Thursday, Ariana Grande tweeted a sweet message to her fans, letting them know they are on her mind more than ever.
Though she tends to be super active and engaged with her fans, Grande is taking a step back from the spotlight to focus on her well-being. Usually she's all about Twitter and Instagram, but hadn't posted much recently until Thursday, when Grande tweeted out, "love u I'm thinking of u," as a follow-up to a post about her new album Sweetener reaching 1 billion streams on Spotify (no surprise, as it's a banger from beginning to end).
She posted the same thing on Instagram, thanking her fans in the caption. But it's a pretty bitter-sweetener; her Instagram comments are still disabled following a barrage of online hate she suffered following Miller's death, with trolls cruelly blaming her for his passing.
Grande's tweet on Thursday is receiving a lot of love, though, with 49,000 retweets and 275,000 likes at the time of reporting. Her mentions are full of love and sweet sentiments from her very supportive fans, with kind words letting her know that they will always be there for her.
"Get well soon princess," one fan wrote, and another replied: "We love you bby. Take your time." That's probably exactly what she needs to hear after such an emotional rollercoaster of a year.
Grande was initially reported to be attending the Emmys on Sept. 17 with fiancé Pete Davidson, after a picture of the tentative seating chart was tweeted out. Her reps quashed the rumor quickly, though, putting out a statement to People:
"Given the events of the past couple of years, Ariana is going to take some much needed time to heal and mend. She will be staying close to home and using this period to spend time with her loved ones and work on new music without deadline. She thanks her fans for their understanding."
Grande is already working on new music? Wow, she's truly dedicated to her fans and her art. In the same statement, her team also mentioned Davidson, a member of the Saturday Night Live cast, would not be attending the awards show: "he also opted to not attend to be with her in New York."
Speaking of the SNL star, Davidson took a two-month Instagram break and returned on Thursday as well, with a tongue-in-cheek video of the paparazzi. The caption announced that his show is returning soon. Oh, and he also added, "f*ck the internet tho."
After the way people have treated him and Grande online, who can blame him? Say what you will about their love, but it's a relief to know that Grande is surrounded by so much support as she takes her time to heal. And it sounds like she really appreciates fans giving her the space to do so.