Blaming Ariana Grande For Mac Miller's Death Is Just Wrong & Fans Need To Stop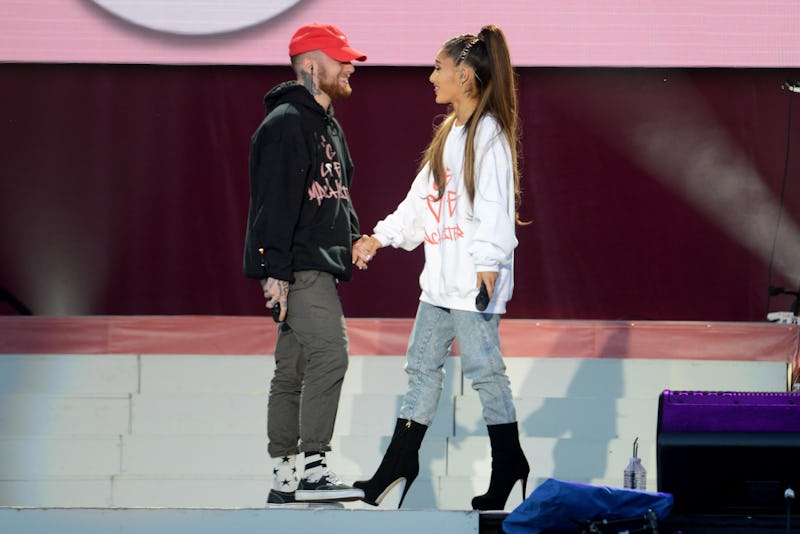 Getty Images/Getty Images Entertainment/Getty Images
TMZ and other media outlets reported on Sept. 7 that rapper Mac Miller died at age 26. Since the news broke, some fans have been blaming Ariana Grande for Mac Miller's death — and that's just wrong. It has shifted the focus from mourning Miller in the wake of his death. It's not her fault. Period. (Bustle reached out to reps for Miller for comment, but did not receive an immediate response. Bustle also reached out to the Los Angeles Police Department.)
Miller's family issued the following statement to E! News later on Sept. 7:
"Malcolm McCormick, known and adored by fans as Mac Miller, has tragically passed away at the age of 26. He was a bright light in this world for his family, friends and fans. Thank you for your prayers. Please respect our privacy. There are no further details as to the cause of his death at this time."
After the news of Miller's death was reported, many media outlets reported that Grande reportedly turned off the comments on her Instagram, but at the time of publication, they have since been turned back on — and the hateful comments have since resumed. (Bustle reached out to Grande's rep for comment on the unfair backlash against her, but did not receive an immediate response.)
Comments on her Instagram ranged from, "Hope you're happy now he's out of your life cause now he can't continue being in our's," to "she's a ducking heart breaker and now someone is gone because of it say wtf you want hopefully she learns from this," to "Girl that boy was there for u when your fans got bombed and look what u did."
Not long after Miller and Grande broke up in May, TMZ reported Miller was arrested on charges of driving under the influence (DUI) and a hit-and-run. Fans of the rapper began to blame Grande for the situation via social media. At the time, several fans had tweeted that they believed his split from Grande was the cause of his behavior.
After one fan on Twitter, in particular, seemingly pointed the finger at Grande for Miller's struggles, the singer responded,
"How absurd that you minimize female self-respect and self-worth by saying someone should stay in a toxic relationship because he wrote an album about them. I am not a babysitter or a mother and no woman should feel that they need to be. I have cared for him and tried to support his sobriety & prayed for his balance for years (and always will of course) but shaming/blaming women for a man's inability to keep his shit together is a very major problem. let's please stop doing that."
Despite her level-headed and heartfelt admission about being supportive of Miller in his sobriety, fans of the rapper are now blaming Grande via Twitter in the wake of his death.
On the other hand, plenty of Grande's fans have been standing up for the singer, like one particularly poignant tweet from @TheFiiitch that read,
"Anybody blaming Ariana must have had the luxury of not having a loved one struggle with addiction in their life. After so many attempts to help and so much pain they've caused you, sometimes it's easier to just walk away and let em go. Girl needs some love more than any of us rn."
Along with all of Miller's family and friends, Grande needs love too right now. He was an important person in her life for several years, and — regardless of whether or not they remained in contact after breaking up — losing someone is devastating no matter what.
If you or someone you know is seeking help for substance use, call the SAMHSA National Helpline at 1-800-662-HELP(4357).