Arie Defended His Break Up With Becca On 'The Bachelor' But Fans Aren't Having It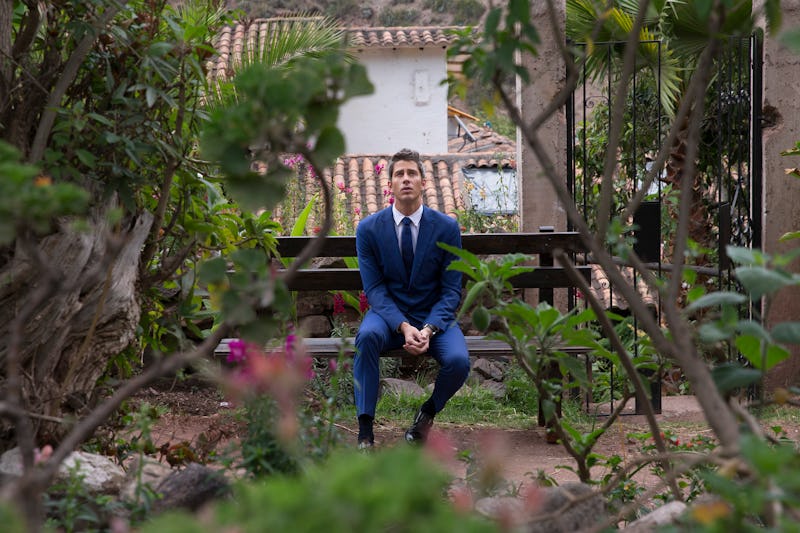 ABC
No matter how egregious his offenses, Arie Luyendyk, Jr. still thinks he can sway some more people to his side. The man who will go down in Bachelor history as the one who bombarded his unsuspecting wife-to-be with a camera ready breakup, has apologized, but still wants people to understand his situation, even after all is said and done. Arie defended himself and his decisions on After The Final Rose, saying that he was under an intense pressure as the Bachelor to propose even if he wasn't necessarily ready.
"I do regret proposing that day because I wasn't fully ready," he told Becca when they reunited. "I think [it was] the pressure of this — the pressure of being the Bachelor, knowing there's a timeline and having to make that decision on that day."
He also addressed the manner in which he blindsided Becca — having cameras arrive along with him to film the breakup rather than doing it off camera. Many fans took issue with the fact that the show tagged along for this moment, accusing him the show of cornering Becca in a bad situation. "I wanted everyone here and at home to know that this was on me, and it wasn't on [Becca]," he said. "I think there's a lot of questions why I did it the way I did it, and that's why."
When Becca pressed him on what exactly went wrong between them, Arie continued to deflect to the pressure he felt over the proposal. "I think as the Bachelor you have a timeline — and that's no excuse, I should not have proposed. I think I was conflicted and I needed more time, but I didn't have any more time," he told her. "I should've seen where it went after this and taken more time with us just to be in a relationship to sort that out. And I apologize for that. I can't take that back. So when we did get engaged, I gave it as much effort as I could without ... I was so conflicted, my heart was conflicted."
He also maintained hroughout the show that he knew from the get-go that feelings weren't solid between he and Becca, at least on his end — again, maybe a sign he shouldn't have proposed, but I digress — and said that the uncertainty dated all the way back to the weeks immediately following Peru. "I think from the time we got back from Peru there was this emptiness that I felt and I feel like I expressed that to you," Arie told Becca. "I did express the fact that I was till mourning that relationship [with Lauren]. I think that for the people who haven't gone through this, you go through this intense breakup and you go through a proposal, and there's nothing normal about that. I was working through those emotions and I was confiding in you about that."
No matter how much Arie thinks he confided in Becca, it was clear that she wasn't thrilled with his level of transparency. And, neither were fans. Not only did people take issue with Arie's initial treatment of Becca, but a huge chunk of them also refused to buy his excuse of proposal pressure, and were incredibly unimpressed with his emotions — or lack thereof — on After The Final Rose.
There is some truth to Arie's defenses — there is definitely an expectation of a proposal as The Bachelor comes to an end, but it's certainly not required by law. It's not easy being caught between two people, but is a grown man who had a choice, and he, by most accounts, handled that choice poorly. Bachelor fans will likely hold this grudge for a long time if the support that's rallied behind Becca over the past 48 hours is any indication, but hopefully as she embarks as her journey on The Bachelorette, she'll soon leave that drama in her rear view mirror.