Someone Pretended To Be Interested In Arie's Real Estate To Get 'Bachelor' Spoilers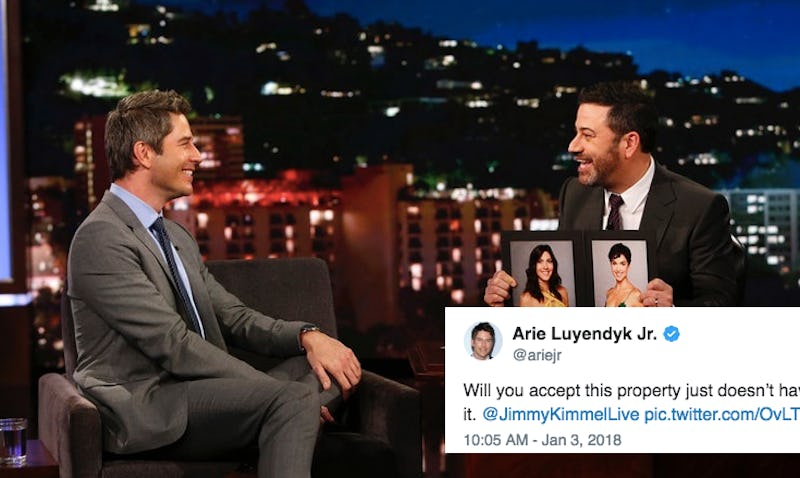 ABC/Randy Holmes/Bustle
Now that this season of The Bachelor is officially in full swing, everyone is paying attention to the leading man's every move. Bachelor star Arie Luyendyk Jr. tweeted a text he received from someone who said they were interested in one of the properties he had listed, and it makes it that he isn't be able to keep his reality TV gig and his real estate career as completely separate entities.
The text Arie shared started out innocent enough. Someone wrote him, "Hi - I saw your listing for the condo at plaza lofts at kierland commons. Possible to get more info?" Arie responded asking, "What would you like to know?" And this person just skipped the real estate chatter and said, "Who's your fiancé?" That is certainly bold. Arie replied with "Okay" and an eye roll emoji.
Wow. He or she didn't even pretend to be intrigued by the property for more than one text message. This is definitely an amateur level investigation considering how much information is easily accessible on the internet. Also, Arie's real phone number is actually on the listing? How long is that going to last? If Arie is getting more text messages like this one, probably not for too much longer.
At least Arie has a good sense of humor about it all. When he posted the screen shot, he added, "Will you accept this property just doesn't have the same ring to it."
Just on its own, this text message exchange is entertaining enough to be worth a tweet. However, there is actually a little more to the story of why Arie shared this. The tweet was in response to an article People tweeted about Arie's interview with Jimmy Kimmel during the January 2 episode of Jimmy Kimmel Live.
While discussing his return to real estate after filming his Bachelor season, Arie admitted, "It's a little awkward actually." This because there are some "potential clients" who really just want to talk about The Bachelor, get some inside scoop, or just get some quality time with Arie.
"I drove somebody around, and we looked at houses and then I realized, she's not buying a house. She just wanted to hang out," he revealed. "So I think this might be creating a problem for me." Yeah, it might be, but it's sort of a good problem to have, especially since there have been mixed reviews about Arie even being the Bachelor this year.
Fast forward to the 1:46 mark of the video to catch Arie talking about the effect of The Bachelor on his real estate career.
At least people care enough about him as the Bachelor to pretend to be interested in a real estate property, right? Or at least that's a "glass half full" way to look at the situation.
That's really nothing new for Arie. The man is very much aware that he wasn't the first choice to take on the lead this season and he has posted some pretty hilarious things about that and other aspects of being the Bachelor.
One Twitter user told Arie, "you suck & I'm disappointed." He said, "I'm sorry. That sucks that I suck."
He even live tweeted the premiere episode and called himself out for his own awkward moments. Yes, this includes that very awkward conversation he had with Bekah in the backseat of her car. She asked him to name "three things that make him excited about life" and the first word out of his mouth was "excitement."
The beginning of the episode included a five-minute montage of Arie's time on Emily Maynard's season of The Bachelorette and it was full of some heavy make-outs and some heartache-induced crying. Arie added some comedic relief to the situation with this tweet about his breakup outfit:
Arie may just be the Bachelor that the fandom didn't know it needed. He's on the older side, he's stayed out of the spotlight, and he has some funny tweets and interviews about the show.