Arie Is Live Tweeting 'The Bachelor' Premiere & He's Got Jokes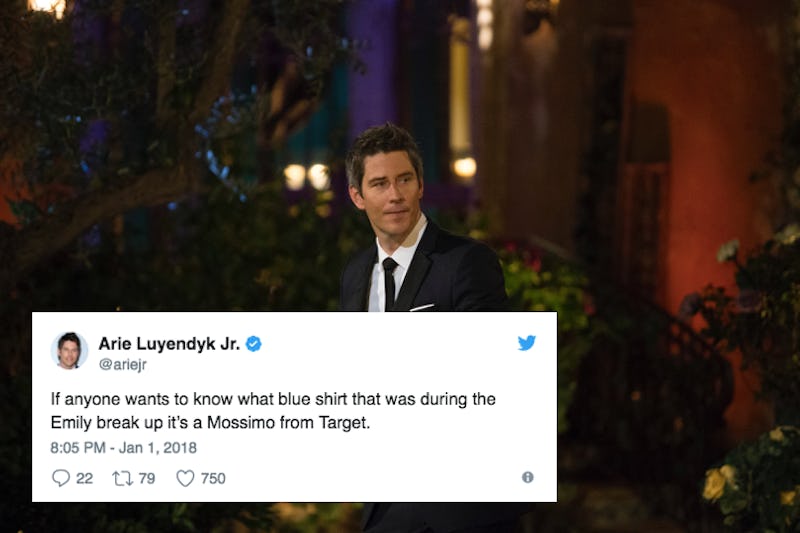 Paul Hebert/ABC
After 21 seasons of The Bachelor, the show has become pretty formulaic. It just can't help itself — Chris Harrison claims drama, someone cries, there's a flash of ambulance lights and sirens signaling a faux emergency. But like that box of macaroni and cheese we reach for, it's comforting. We know what's going to happen. It's best at this point to go in with a sense of humor, even if you're on the show. That's actually exactly what new Bachelor Arie is doing — Arie's live-tweeting The Bachelor premiere, and he's pretty funny.
After so many seasons of the show, it's nice to make it fun. It's going to be a long 12 weeks of watching The Bachelor if we don't, and Arie sure seems dead-set on getting those laugh-out-loud retweets. Since he's already been through The Bachelor machine before (he got his start on Emily Maynard's season of The Bachelorette, where he was brutally broken up with), this is all easy street for him. He's the star of the show. He's the man in charge. He's the one with the blue eyes and kissable lips that America is swooning over. And his tweets show that he's taking this all (and his 15 extra minutes of fame) with a dose of wit and whimsy.
He's So Pun-ny
At least he let us know up front.
Fashion Forward
Don't knock Target, folks.
Chris Harrison Fill-In
Ah, the infamous wet driveway. He's just doing his part to help out.
Behind-The-Scenes Dirt
It's sort of like getting the director's commentary, right?
Auditions For The Next Job
You can't fault a man for looking to the future. The Bachelor only goes on for so long, and Arie has to have a plan — Dancing With The Stars could be it.
Dating Advice
This will help millions, if not billions, of people find love. Just you wait.
Contestant Shade
It's nice that Arie also knows just how ridiculous the first night of The Bachelor is.
When it comes down to it, Arie is going to be (and already is, to be fair) the subject of much commentary and probably ridicule. Social media exists to talk about shows like The Bachelor, and Arie's taking the bull by the horns is smart. He's giving insight into his own personality and shedding some light on the process that is filming a show like The Bachelor. In an interview with USA Today, Arie joked about his new social media prowess, saying, "I won't be selling products [on Instagram] after this. So that's pretty much a guarantee."
But he also recognized the fact that a lot of America may not remember who he is, which is a blessing in disguise in his quest for love. "It gives me an opportunity to reintroduce myself," Arie said. "For the women here, a lot of them didn't watch my season, so we're building relationships more organically. And I love not going in with a preconceived notion of who I am." That's helpful, because it's hard to love or hate Arie off the bat. When Nick Viall was cast as The Bachelor, he had been both loved and hated by Bachelor Nation. That has to be exhausting, and it's really hard to get people on your side once they've made up their minds.
Arie says he "might not have a six-pack, and I have some grey hair, but I feel like I deserve this." "This" could be the whole, tailor-made Bachelor experience. By live-tweeting his Bachelor episodes, Arie is controlling his own narrative. He's showing that he's funny and personable and ready for love, so America will fall in love with him just as the woman he (hopefully) brings home from the show.