Arie & Lauren's Wedding Update Proves That Bachelor Nation Is Still Close To Their Hearts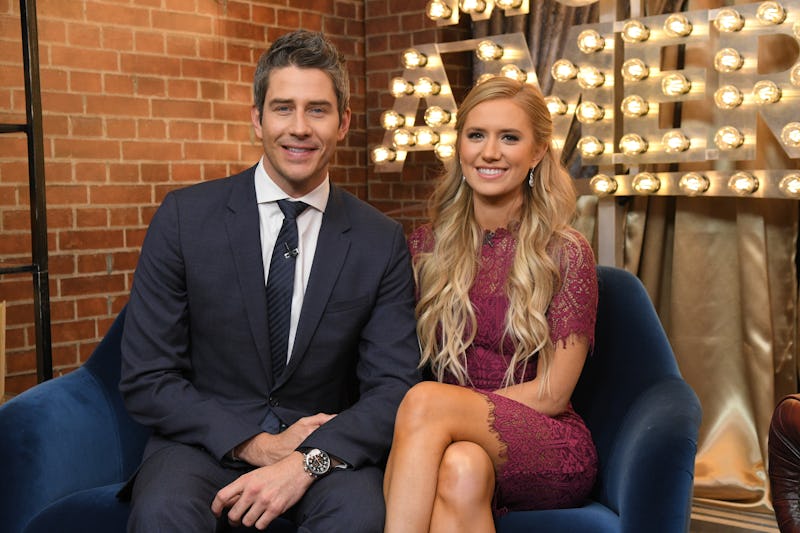 ABC/Lorenzo Bevilaqua
Back in March, former Bachelor Arie Luyendyk, Jr., got down on one knee during last season's "Tell All" episode to to provide Lauren Burnham — his original runner-up — with the joyous onscreen proposal she should have received during the finale. Now, according to People, it looks like Arie and Lauren want Bachelor Nation to see their wedding, too. And they appear to be taking steps during the planning process to make sure that happens.
For the record, the newly-engaged pair hasn't set a date yet, as far as their upcoming nuptials are concerned. But, speaking to People during Long Beach's Grand Prix race-car event on Friday, April 13, the couple revealed that they'd like to accommodate The Bachelor's current filming schedule in planning their wedding ceremony, even if they decide to do it "privately." Why? So that "the producers that were filming The Bachelor could still be there," Arie told the news outlet. For all the Bachelor enthusiasts currently wondering if his semi-vague comment was intended to hint at some sort of televised wedding ceremony, it seems the jury is still out on that one. Which is to say that at this point, it's basically anyone's guess. Either way, it sounds like the couple plans on sending the producers an invite.
Buzz over a potential onscreen wedding between Arie and Lauren kicked up at the beginning of the month, when E! News reported (per the testimony of two unidentified sources) that the couple was reportedly "heavily pushing" for an ABC-helmed television special chronicling their nuptials. At the time, the anonymous source said nothing had been confirmed, though E! followed up with a second unidentified "insider" who corroborated the claims. "Lauren and Arie are moving fast," the second source told E! News. "They want everything to happen quickly and show the world how real their love is."
Still, angling for a televised wedding seems a bit strange considering the fierce backlash levied upon the former Bachelor in the aftermath of his notoriously "controversial" post-finale decision earlier this year. After all, Arie chose to film his heartbreaking onscreen breakup from then-fiancée Becca Kufrin so that the likes of Bachelor Nation could witness it. He explained to Good Morning America that he really wanted fans to know the breakup was his fault, and he claims that he thought filming it was the best way to convey that. That being said, asking those same fans to watch him marry another woman just a few months later feels like a move probably best described as "too soon," among other things.
Then again, in some ways, it would make sense: following the history-making engagement reversal that rocked Bachelor Nation just over a month ago, it seems like Arie has quite a bit of making up to do. And what better way to show scorned Bachelor fans that he's not a total monster than to allow them to bear witness to his and Lauren's special day? (Even diehard #TeamBecca supporters would probably have to admit that, as far as their public appearances go anyway, Arie and Lauren do look pretty happy together.)
Either way, it certainly sounds like Arie made a pointed effort to mention that he and Lauren are considering The Bachelor producers' availabilities in their wedding plans during their conversation with People. So, in lieu of any confirmation on ABC's end, it seems pretty safe to say that the couple is interested — at least — in tying the knot on-camera.
If the Bachelor-made couple really does decide to televise their upcoming nuptials, Arie told People that the ceremony would probably take place sometime this fall. "It would either [be] in September, or after they get done filming, which is in the middle of November," the 36-year-old race car driver said, adding that he and Lauren "are bouncing around ideas and dates, and [Lauren's] mom has been super helpful with venues."
As for Lauren? "I don't want to put a lot of planning into it or a lot of effort, because I think it will stress me out," she told People of her current approach to wedding planning. In his comments to the news outlet, Arie echoed his fiancée's sentiment, to a certain extent. "We would definitely want to just escape and elope," Arie said, "but we know that our parents wouldn't want that."
Despite its logistical drawbacks, that does seem like a missed opportunity for the likes of Bachelor Nation — an elopement, for what it's worth, seems to have all the makings of a gripping TV special.