Arie Liked This 'Bach' Star's Old Instagram Post & It Raises A Lot Of Questions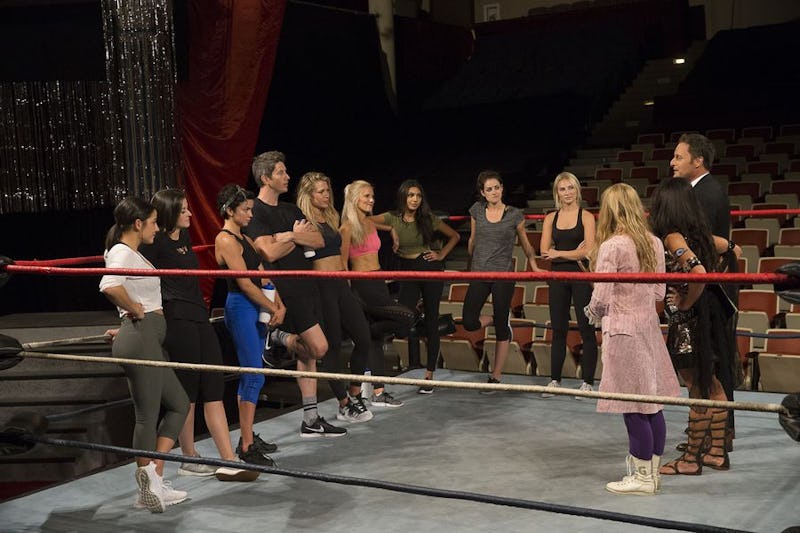 ABC/Paul Hebert
At this point on The Bachelor, it is all about the love story. The dramatic contestants and funny gimmicks are gone and now it's just a guessing game about who will get that final rose. There are plenty of clues though, including that the Bachelor himself, Arie, liked one of Lauren B.'s Instagram posts — from a long time ago. It's not even a promotional photo about the show. It's a photo of Lauren and her dog from November 2016. Clearly, Arie was lurking hard to go back that far, but is this a hint at who Arie ended up with?
It could be. It also might not be. Unfortunately, there is no way to know for certain until the finale airs, Arie shares updates on his life during the After the Final Rose special, or if Lauren gets eliminated beforehand. Either way, it's pretty wild that Arie liked such an old post (and still hasn't un-liked it). He either liked her post and it's an indication that they are together or he liked it while he's dating someone else from the show. (Or he's just already single again now.) Either way, Arie's "like" definitely stands out.
It's especially odd since Lauren has shared three posts about the show that she even tagged Arie in and he didn't acknowledge any of those with a "like" or comment. For the record, after some very thorough (and somewhat pathetic) social media sleuthing, Arie did not like any other photos on Lauren's Instagram page. Out of 159 posts, he just liked that one photo of Lauren with her dog.
At this point in the season, Arie is an episode away from hometown dates with his final four. There are seven women left in the competition and they all have Instagram pages. Unfortunately, this social media investigation didn't involve checking out every photo on all those accounts, but the remaining ladies did tag Arie in some photos to promote this season. Arie did not like any photos that he was tagged in on Becca Kufrin, Seinne Fleming, Kendall Long, Bekah Martinez, Jacqueline Trumbull, or Tia Booth's pages.
The fandom was buzzing about the long silences and excessive "wow's" on their date, but obviously he has a stronger connection with Lauren than that awkwardness that was portrayed with the editing. Sure, she got her first one-on-one date late in the season and she hasn't had a ton of screen time, but they ended up getting very personal during the dinner portion of that date. Oh, and she did get that rose.
Lauren talked about her trust issues from her parents' marriage and her broken engagement, and Arie opened up more than he ever has on the show before. He revealed that one of his previous girlfriends was pregnant with his child, but she lost the baby and broke up with him immediately after. Why would Arie discuss something so personal with someone who he didn't have a serious interest in? That alone is evidence enough that there really is at least some greater depth to Arie and Lauren's interaction.
So, it really isn't that surprising that Arie would be lurking around Lauren's page. She's either an ex who he has a strong connection with or they are currently dating. Either way it's logical — in real life. However, in reality TV with so many people watching Arie and the final seven ladies on social media, it is a pretty hasty move to make. Obviously, Arie enjoyed the picture, but did he just not realize that everyone would be able to see that?
This Bachelor season still has a long way to go, and there will be no answers right away. Arie and the ladies are headed to Tuscany in the next episode. Then it's hometown dates, followed by fantasy suite dates, and then the final rose ceremony. It's going to be a few weeks until there are some solid conclusions about this season. In the meantime, there's no sure way of knowing what that "like" actually meant, but it was definitely a pretty public faux pas.