Arie Just Trolled Former 'Bachelor' Stars On Twitter & You'll Laugh Out Loud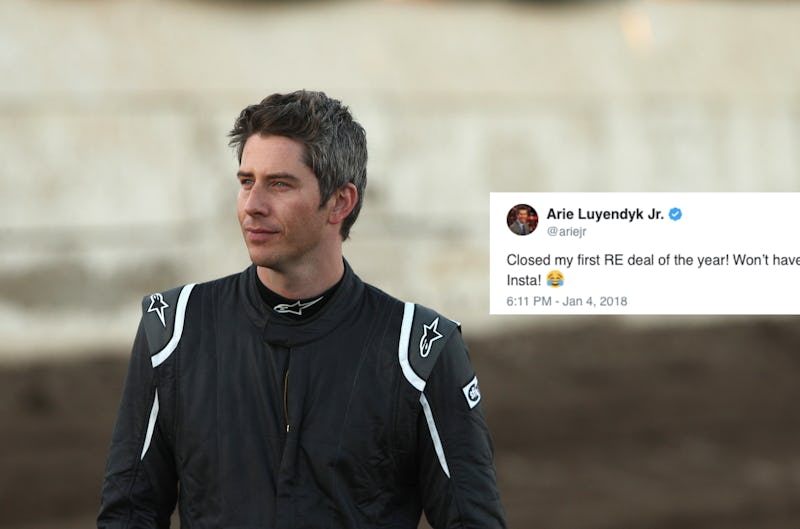 ABC; Arie Luyendyk Jr./Twitter
Bachelor alums are often known to parlay their TV fame into Instagram gigs, and Arie's latest tweet trolls former Bachelor contestants for just that. The real estate agent turned newest lead on The Bachelor (producer: Nikki Lazaran) took to Twitter on Thursday to write, "Closed my first [real estate] deal of the year! Won't have to sell fit tea on Insta!" alongside a picture of the presumed home that he sold. Arie's Twitter joke is a clear (though lighthearted) jab at the kinds of Insta-popular products former Bachelor stars have been known to sell, including things like Sugar Bear Hair vitamins, Smile Direct Club invisible braces, and yes, Fit Tea detox kits.
But while Arie's career might still be going steady, his Bachelor status has, at least, granted his business more attention — even if it's not helping him close the deal. On Wednesday, he tweeted a screen grab from a prospective buyer that turned out only to be interested in Bachelor spoilers. When he asked what information the person wanted on the listing, they asked only, "Who's your fiancé?" To which he replied, "Okay," with an eye roll emoji, then tweeted at Jimmy Kimmel. "Will you accept this property just doesn't have the same ring to it," Arie wrote.
And earlier this week, Arie shared a few stories while on Jimmy Kimmel Live! about how being the Bachelor has derailed his sales back home. One client walked into an open house only to realize their realtor was the Bachelor, throwing their conversation into a tangent. Meanwhile, another drove around with Arie to look at houses only for him to realize, "She's not buying a house. She just wanted to hang out. So I think this might be creating a problem for me."
If things keep going at that rate, he might actually need a Fit Tea contract. Word to the wise, Arie: Don't start counting your chickens before they hatch.
Kidding aside, it's not all that far-fetched that Arie might consider a career change after The Bachelor (supervising producer: Deborah Read). Not only has it become common practice for former contestants (they're not just Instagram promoters — they also have podcasts), but he's also switched directions once before. When he first appeared on Emily Maynard's season of The Bachelorette back in 2012, he was a race care driver. He'd followed in the footsteps of his father, two-time Indy 500 race winner and Indy speed record holder, Arie Luyendyk, and become an Indy Lights winner, X-games medalist, and Indy 500 competitor, according to his Twitter bio.
After getting his heart broken on national TV, he went back to racing, but apparently, that wasn't enough for the multi-hyphenate, and he announced that he'd become a licensed real estate agent in August 2016. (In a 2013 interview with The Show Rock 105.3, he revealed he was at one point traveling roughly 250 days a year, so it's also possible he wanted a little more stability.) He's now a broker in Scottsdale, Arizona, but he's still racing and refers to real estate as his "winter career." If you count reality TV star, he's got three titles on his résumé. Why not add brand ambassador to the mix?
Whatever Arie ends up doing, it's nice that he maintains a sense of humor. During The Bachelor Season 22 premiere last Monday, he poked fun at himself all night on Twitter. "Ever have a conversation with a very attractive woman and totally lose your mind and talk in half sentences. 'Excitement excites me, oh and pizza too.' Kill. Me. Now," he quipped.
So don't worry, former Bach contestants, Arie's not just coming for you — he's coming for himself, too. And it should make for another entertaining season of The Bachelor.