These Are All Of Arie's 'Bachelor' Contestants' Instagrams You Can Still Visit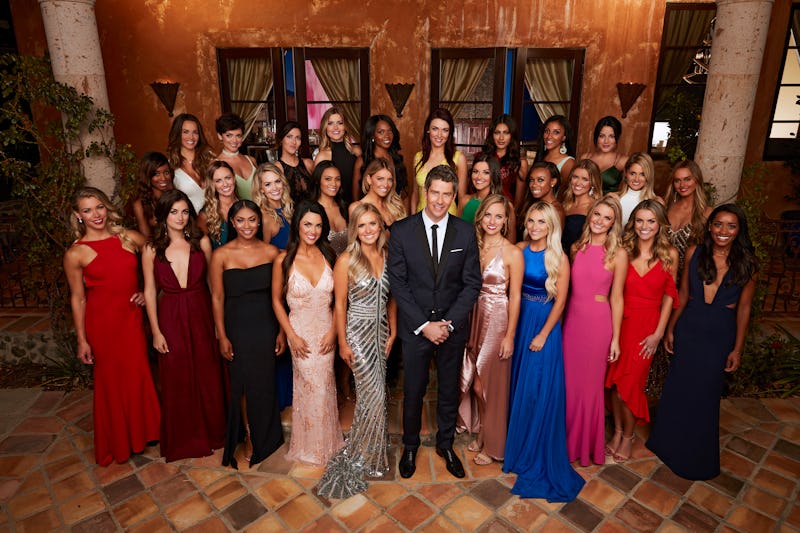 ABC/Craig Sjodin
It's about that time, Bachelor Nation. You may have already heard the news that the full list of the contestants of Season 22 of The Bachelor was officially announced on Friday, which means a few things. For one, you can start following the new Bachelor contestants on Instagram to get a small glimpse into the lives of the women who will be living in the mansion. For another, before Arie Luyendyk Jr. starts handing out roses when the new season finally airs in 2018, Bach fans have some early predictions to make. Of course, there's no better way to predict what type of energy each lady might bring to the table this season than to casually analyze their social media pages and attempt to find out all there is to know about these 29 girls.
But if you're trying to be an Instagram detective, it appears that several of them have deactivated their accounts ahead of the Bachelor premiere, according to Reality Steve. That's kind of a bummer, but the good news is that there are a number of Bachelor contestants whose Instagram accounts you can still visit. And for the ladies whose accounts aren't currently active, there's still the possibility that you'll be able to follow them on the app closer to when the show finally airs on Jan. 1.
Until then, here are all the contestants whose accounts are currently public.
1. Lauren S.
Lauren is a 31-year-old social media manager living in Dallas, TX. A quick look at her Instagram will show that she's not one to say no to having a good time with her close friends and family. With only 147 posts dating back to 2012, she doesn't appear to be a super frequent poster, and her most recent photo was posted on July 31. It's possible that Lauren may have taken a break from posting when she found out she'd be heading to the Bachelor mansion.
2. Tia
Tia's account is still up and running, and she even posted a photo earlier on Saturday revealing to her followers that they can catch on the show come January. Even though she's active on Instagram, it's probably still important to know that her other social accounts — LinkedIn, Twitter, and Facebook — are currently deactivated.
3. Caroline
Before Friday, Caroline's last post was dated back to September. Not saying anything about her near three-month absence, she returned to the 'gram and posted a photo of herself holding a glass of wine and sitting in front of a bunch of roses, possibly alluding to the news of the fact that she'd be joining 28 other women on the show.
4. Rebecca
Rebecca's pretty active on Instagram as well, though you won't catch her on Twitter since she deactivated her account back in September.
5. Marikh
Marikh doesn't appear to have taken any super long social media breaks in the last few months. Following the news of the announcement, she also took to Instagram to post her Bachelor portrait.
6. Lauren B.
You can find Lauren B. on Instagram, although she hasn't posted anything since August. Considering the news, it's only a matter of time before she returns to the 'gram.
7. Jenny
According to Reality Steve, Jenny set her account to private back in September. However, as of Saturday, her posts are public again.
8. Bri
As a sports reporter from Oregon, Brianna is on Instagram a lot. Aside from her personal posts from the last few days, she also posted her Bachelor portrait earlier on Saturday.
9. Jacqueline
Reality Steve reported that Jacqueline also deactivated her Instagram account at some point, though it appears to be back up and running now.
10. Bekah
The youngest of the group, Bekah can be found on Instagram at @whats_ur_sign.
11. Brittany
The South Carolina native works for Google and currently lives in Austin, TX. Brittany can be found on Instagram at @ohhaybtay.
12. Lauren J.
Lauren took to the 'gram to officially make her Bachelor announcement earlier on Saturday morning.
13. Amber
Amber's Instagram account is still up and running, which isn't very surprising considering the fact that she's a style blogger.
14. Annaliese
Annaliese's account was apparently deactivated at some point, though it appears that she's active on the app again.
15. Ali
A budding fashion and beauty influencer herself, Ali can be found on Instagram at @ali_harrington_.
16. Ashley
Ashley is a real estate agent in West Palm Beach, FL. She currently has two Instagram accounts — one for work, and one personal account.
17. Nysha
The 30-year-old South Carolina native can be found on the 'gram at @nyshaxoxo.
18. Olivia
Olivia lives in Chicago, and she can be found on Instagram at @oliviagoethals.
19. Chelsea
Chelsea apparently deactivated her account back in September. However, it's back up now.
20. Maquel
Maquel also deactivated her account back in September, but like many of the others, she made her return to the app to announce that she'd be joining the Bachelor cast.
21. Jenna
Jenna has an account devoted to health and fitness. Reality Steve reported that she deactivated her account a while ago, though she's been active on it lately.
22. Valerie
Valerie apparently deactivated her account earlier this year, even though her page still exists. Aside from a post announcing her stint on the Bachelor, the most recent photo dates back to August of last year.
While the 22 women above have Instagram pages that fans can look through before the show, there are still seven other women you'll have to wait for the season premiere to find out more about.