Arie's 'Bachelor' Season Preview Teases An Ex-Boyfriend Arrival & More Exciting Drama Ahead — VIDEO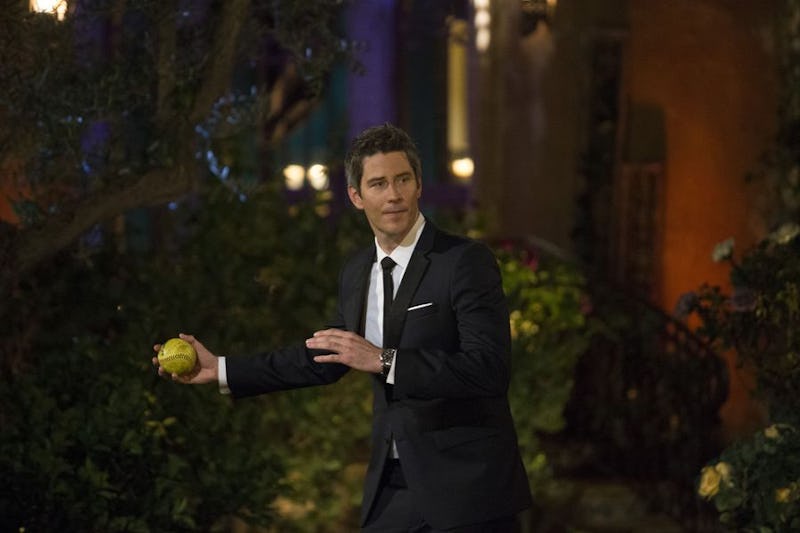 Paul Hebert/ABC
The trees have shed their leaves, the snow has come down, and it's that time again — the time of year in which 25 (or 30, depending on the gimmick) women move to Los Angeles to seek fame, fortune, and the hand of one very special Bachelor. This year, it's 36-year-old Arie Luyendyk Jr., the former Bachelorette contestant and race car driver. He's looking for love in possibly the right place (though time and experience tell me he's in for a long road) — and Arie's Bachelor Season 22 preview shows plenty of drama and a potential ex-boyfriend crasher ahead.
Arie started things off with Emily Maynard's season of The Bachelorette, so he's not walking into this experience totally blind. He and Emily were instantly connected, and things were going really well — they were bonding, making out all over the world, sharing things, yadda yadda, and then one day, Emily unceremoniously dumped Arie before the rose ceremony — which at the time was kind of groundbreaking. The world was shocked, and so was Arie. He even later gave Emily his journal so she could know his feelings and he could try and win her back. Emily didn't read it, but it was the thought that counted. In any case, Arie left The Bachelorette heartbroken, and he's been living his life… that is, until ABC came a-knocking on his door to anchor his very own season of The Bachelor.
The Dec. 11 preview special gave viewers insight into a few of the women who will be gracing our screens for 12 weeks or so, but viewers also learned a little more about Arie. Chris Harrison says he's one of the most "genuine" Bachelors out there, and in the preview Arie laments that "it's been a tough journey" and that he's had "[his] heart broken." He would have done some things differently back then, you know? Take a look at the preview for the season here:
Watched it? Good! Here are the most important plot points we can unpack for the upcoming season of The Bachelor.
Arie Rides A Jet Ski While Making Out
Arie and one of his lovely ladies make out while riding a motorized watercraft, and the woman is backwards and Arie's vision is clearly blocked by his liplocking. That seems dangerous, but I guess kind of death-defying and sexy. Sure. OK.
An Ex-Boyfriend May Show Up
At the end of the clip, another male voice (that's not Arie) says, "I don't want to be on this show… I want my girl. I'm here to tell her that I want to marry her," and then Arie says something about being "mad that he's here." Uh, who is there? Whose ex-boyfriend is back? Why did he choose now to get back together with his ex-girlfriend? National television is not the place, guy.
Arie Wants To Propose
Even if an ex shows up to sweep his gal off her feet, at least Arie has found someone that he wants to love! In the preview, Arie says, "I'm gonna tell this girl that I love her and hopefully get down on one knee." I hope you do get down on one knee, Arie! Find your love!
Many, Many Tears Are Shed
If you're Chris Harrison, every season of The Bachelor is the "most dramatic of all-time," but from the looks of Arie's season, this is one heck of a tearjerker. Most of the women look like they shed at least one set of tears, and Arie's tear-stained face gets a moment, too. Clorox usually sponsors The Bachelor and The Bachelorette (those #BleachableMoments), but maybe Kleenex needs to get in on this Bachelor action, too.
The preview for Arie's season shows that we're all in for a wild ride. The kissing bandit is back, and honestly, that's all that many Bachelor Nation members have ever wanted. See you all Jan. 1 for the premiere!