Emily's More Excited About Arie Being The Bachelor Than Anyone Else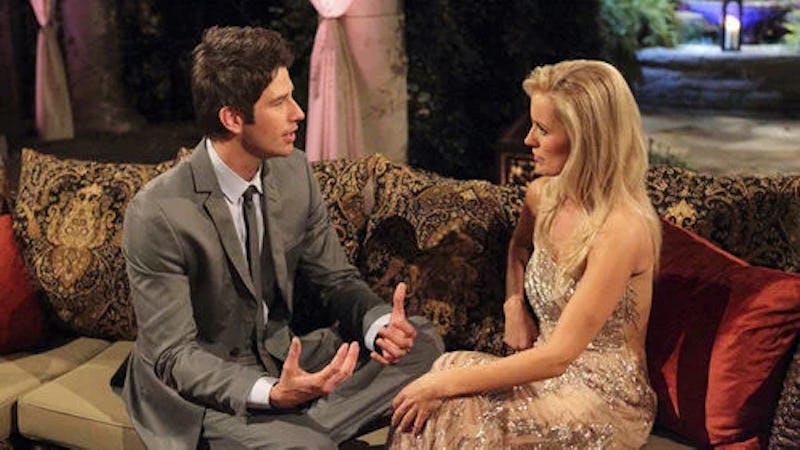 ABC
It's official — Arie Luyendyk Jr. is the new Bachelor. Now that most fans of the show have had time to pick their jaws up off the floor after first hearing the shocking announcement, those who aren't so familiar with Arie are scrambling to find out more about the reality star. What season was he on again? Did he make it to hometowns? The show's next lead came into reality TV fame on Emily Maynard's season of The Bachelorette, and thankfully, Emily has already shared what she thinks of Arie being the Bachelor.
There is clearly no bad blood between the two former flames because it seems like no one is more excited for Arie to be the next Bachelor than Emily. In a statement to Us Weekly, Emily had this to say about her season's runner-up:
"I can't think of a better person to be The Bachelor than Arie and I've been hoping this day would come since Season 8 ended! He's a gentleman through and through and all the girls on his season are lucky to have him."
Emily's affectionate response to Arie being named the next Bachelor shouldn't come as a big surprise to fans. On Season 8 of The Bachelorette, Emily and Arie hit it off immediately — their relationship was marked by upfront honesty, Dollywood dates, and legendary kissing. The season ultimately ended with Emily choosing Jef Holm, sending Arie home in tears, but judging by her kind words about his casting as the new rose-giving hunk, the two are on good terms. In her statement to Us Weekly, Emily further expressed her support saying, "I'll be wishing him nothing but the best because that's absolutely what he deserves!"
The decision to take Arie out of the Bachelor Nation archives was announced Thursday morning on Good Morning America after much speculation and a series of cryptic tweets from Bachelor creator Mike Fleiss. The 35-year-old race car driver sat down with GMA's Michael Strahan and said of being cast: "It was pretty recent and [the show and I] have kept in touch over the last few years but this just fit perfect, the timing of this really fit for me."
It's been five years since we've gotten to see Arie on our screens, which is basically an eternity in Bachelor Nation. Fans the show, and it's new leading man, are counting down the days until January. It won't be long now.