You Missed These Clues From Arie's Twitter That He'd Be The Bachelor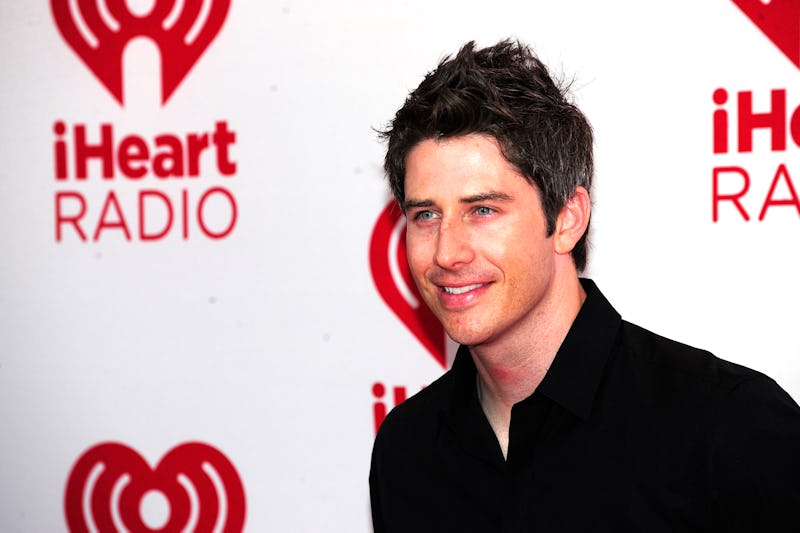 Steven Lawton/Getty Images Entertainment/Getty Images
When ABC announced former Bachelorette contestant Arie Luyendyk, Jr. as the 2018 Bachelor on Thursday morning, fans went wild. It's been years since the viewers last saw the Dutch race car driver on ABC, and the announcement seemed to come out of nowhere. While the "WTF?" feels are still subsiding, it turns out that there were Bachelor clues on Arie's Twitter that we never noticed. Has the former Bachelorette contestant been hinting about being the 2018 Bachelor all along? It kind of looks that way.
After all, Luyendyk, Jr. has kept up with the series and is not afraid to hide it. In between posting racing updates and car selfies, he's shown a lot of love to ABC on his Twitter account. He posts memes and jokes, and he retweets more than a few shady tweets about the show. He flaunts his friendships with former contestants. Arie's even been known to respond to fans on occasion, so Bachelor Nation should definitely keep using the promoted hashtags.
But has he actually been trying to tell Bachelor Nation his secret all along? Let's take a closer look at some of Arie's juiciest Twitter clues that will make you go "duh!" now that you're looking at them with new eyes.
1. A Bachelor With Gray Hair?
Barely one month ago, Arie responded to a fan on Twitter who requested his presence on the show. His enigmatic response was more of a question than an answer, but this has to be a hint of some kind.
2. #ATouchOfGray
Early in the summer, the 2018 Bachelor responded to a fan on Twitter. Unsurprisingly, this is about his hair again, but it's also about snubbed Bachelorette contestant Peter Kraus. Did he know back then? Will #TouchOfGray be the official Arie hashtag?
3. Can't Wait To Let The Cat Out Of The Bag
What did he want to tell us? What did he know? Was he already in negotiations?
4. He Still Throws Shade
Back in May, Arie retweeted a post mocking a Bachelorette contestant who came with his very own catch phrase. Maybe he thought it was funny, maybe he thought it was dumb, or maybe, just maybe, he wanted to let potential applicants know that "Whaboom!" wouldn't fly on his season of The Bachelor.
4. The World's Most Single Guy Tweet
Nothing screams "I need a fairy tale romance!" quite like this post, does it.
5. His Little Brother's Wedding
Arie mentioned this on his Good Morning America appearance Thursday morning. The 2018 Bachelor will turn 36 next year, and attended his 24-year-old brother's wedding over the summer. Between this and the saddest grocery list ever, it's clear that he's looking to wife someone up and fast.
6. It Wasn't Over, It Still Isn't Over
On the 15th anniversary of The Bachelor franchise, Arie retweeted this tribute from host Chris Harrison. Why would a one-time contestant with a flourishing career need to remind fans he was on the show, hmm?
7. He Attended A Former Bachelorette Contestant's Wedding
As it turns out, Arie still rolls squad deep with former Bachelorette contestants. He attended the wedding of Sean Lowe and Catherine Giudici in early 2017, so obviously he's had marriage on the brain.
8. He Can't Stop Saying The Word Bachelor
We get it. He goes to a lot of weddings. But always the bachelor and never The Bachelor, right? Not anymore.
9. He's Still Watching
No matter where he is or what he's up to, Arie has made time to watch the most recent seasons of The Bachelor and The Bachelorette. He's started to live tweet more frequently, and began engaging with fans way more often beginning in this spring. Trying to remind viewers he's still out there and available?
The closer you look at his Twitter, the more likely it seems that Arie was dropping hints about coming back as the 2018 Bachelor all along. There's the possibility that he's just a really big fan of the show, of course. But that these tweets were secret clues about Thursday morning's surprised that we never noticed hiding in plain sight is so much more fun.