Arie Tweeted About The 'Women Tell All' & Well, He REALLY Told All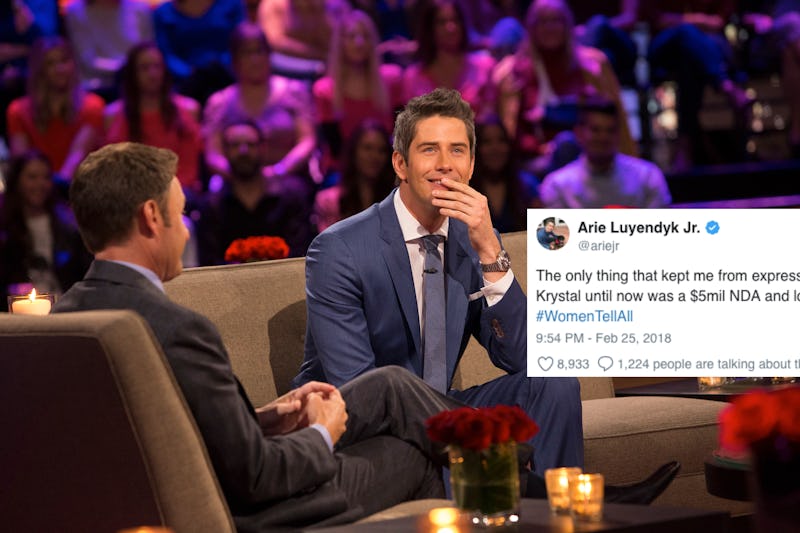 ABC/Paul Hebert
Arie Luyendyk Jr. has caught a lot of flak for his excessive use of "I love that" and "wow" during this season of The Bachelor. But this debatably boring Bachelor who viewers watched all season is in stark contrast to his Twitter persona. Case in point, Arie tweeted about The Bachelor's Women Tell All special and he really put it all out there. He shared his honest opinions, threw hilarious shade, and yes, said more than his signature phrases.
Arie really showed up for the Women Tell All event. He put Krystal in her place and really let his personality shine on stage, but his tweets were even better. Arie always has great live tweets during each episode. It's a little tough to believe thanks to the focus being on him saying repetitive things and making out all the time on his season, but he really does bring it with his live tweets every single week.
He says what viewers are thinking and is even the first one to make a joke at his own expense. Unfortunately, this personality has landed on the cutting room floor this season. For all of the Arie fans, and even the Arie doubters and haters, his tweets are worth checking out. He shared some on point commentary Sunday night.
1. He Was Honest About Krystal
It was so confusing watching Arie keep Krystal around for as long as he did. It was hard to understand how he really felt about her, but this tweet makes it clear how he felt after watching the show. He even referenced Krystal's infamous "glitter" line from the season. Bachelor alum Jasmine Goode tweeted Arie, "Where has this side of you been all season!!!!"
2. He Said More Than His Go-To Short Phrases
Arie has no shame when it comes to making fun of himself. He's watching this show too and he's well-aware that there are a lot of people who have boiled his personality down to a few short phrases. He's in on the joke and he has no problem making fun of his onscreen persona.
3. He Knows That Most Of These Women Want To Be On Bachelor In Paradise
Only one woman can end up with the Bachelor at the end of the season and one woman as the lead on The Bachelorette, but there are plenty of open spots for the next Bachelor in Paradise season. There were a lot of people speaking up — and debatably looking for camera time — during the special. Arie even called out some of the episode's key moments with his hashtags.
4. He Wondered Why Chris Harrison's Wrestling Skills Didn't Make The Cut
Chris Harrison picking up a chair and hitting Kenny King over the head with it was beyond epic. Why didn't that make the cut for the regular episode? Chris tweeted, "Complete and utter rubbish this scene got cut" and Arie agreed. Thank god for the outtakes on Women Tell All.
5. He Joked About His "Kissing Bandit" Nickname
A fan tweeted, "Did anyone else peep the guy in the audience wearing the bandit mask?" In response, Arie joked that it was really him in the audience watching the women argue before he joined them on stage.
6. He Thinks The World Of Seinne
Seinne absolutely killed it. Even as her "ex," Arie couldn't help giving her props. Maybe Seinne will be back on TV with another shot at love in The Bachelor franchise.
7. He Poked Fun At The Plethora Of Promo Codes In Bachelor Nation
Anyone who follows Bachelor contestants on Instagram knows that most of them post promo codes for fit tea, teeth whitening products, hair vitamins, and anything else under the sun. So, why not have a promo code to get those T-shirts in honor of Bekah M's missing person controversy?
8. He Referenced The Needle Dick Comment
Even though Krystal's insult about Arie got cut from the regular season and bleeped out during Women Tell All, everyone found out what she was saying. When the Senior VP of Alternative Programming for ABC, Robert Mills, shared a screen shot showing that Luke Pell blocked him, Arie couldn't help joking about Krystal's "needle dick" comment.
Even though Arie doesn't seem like the most exciting person during this season's Bachelor episodes, there is so much more to his personality. He has a great sense of humor and he really lets that shine with his live tweets.