This Unaired Footage Of Krystal Showed Her At Her Worst While On 'The Bachelor'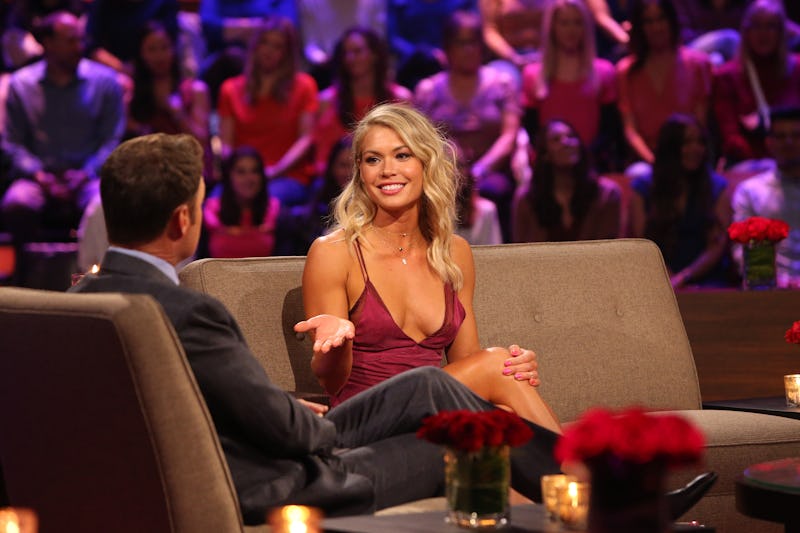 Paul Hebert/ABC
Fans were looking forward to seeing eliminated contestants on Sunday night's edition of The Bachelor: Women Tell All, but nothing could have prepared anyone for what went down with this season's villain. But what did Krystal say in her unaired Bachelor footage? It was a rude comment about Arie, because this lady apparently doesn't take rejection very well. Oh, and then she called all the women a derogatory name too, because why not add insult to injury?
The drama with Krystal began before she even had the chance to take the stage with Chris Harrison... and once she came on stage, it got worse. Chris introduced her as one of the "most polarizing contestants" that The Bachelor has ever seen... and that pretty much described everything that followed — especially when footage of her having what she thought was a private conversation after the bowling date earlier this season.
In the clip, Krystal's talking to some of the other women, venting about being on the show. But while talking to Ashley Iaconetti during an interview with Access Hollywood, she admitted that the bleeped out name she called Arie was, in fact, needle d*ck.
Krystal said this in the footage (with needle d*ck being confirmed by her and c**ts being confirmed by Reality Steve and context clues):
"Did I mention my life is amazing and awesome? That's all on hold for what? Some needle d*ck? We're going to have five people join us so I can make out with the c**ts? I'm sorry, I date men. Not little fancy pants."
There's hardly an excuse for using that kind of language toward anyone, but in her interview with Ashley, Krystal seemed pretty unapologetic about it. All she really did was laugh when Ashley asked her about it, which isn't the behavior of someone who feels bad about calling other people rude names. It doesn't sound like she has many regrets from her time on The Bachelor, and she should have some. Calling the women that word is never OK.
When it comes to the other women, there's still a lot of bad blood there. Caroline was furious that Krystal called them that word, and that's totally understandable. It's not cool.
There also was nonstop fighting between Krystal and everyone else, especially when it came to Bibiana and Bekah, who tried (and failed) to convince her that it's way easier to just be nice to people. Despite the fact that, in various interviews over the last couple of weeks since her elimination, Krystal has been insisting that becoming this season's villain was unintentional, it's hard to believe her when clips like this surface from times on the show when she thought no one was watching (or listening).
Of course, if you watched this season, you already know that it's not like she got away with anything she said; everyone was all too eager to let Arie know that Krystal wasn't who he thought she was, and after that, it didn't take long before he decided to send her home during a two-on-one date in Paris.
Bachelor villains aren't always what they're cracked up to be on the show, but this time, it seems like Krystal is reveling in all the extra attention she's been given thanks to her behavior on the show — and that she's not sorry for what she said and did. If nothing else, maybe the footage getting released will teach her the very, very important lesson that just because she's not mic-ed up doesn't mean the cameras aren't watching. You know, just in case she makes it to Bachelor In Paradise this summer. Would anyone be surprised?