Arizona Judge Overturns "Racist" Bill Banning Students From Learning About Mexican-Americans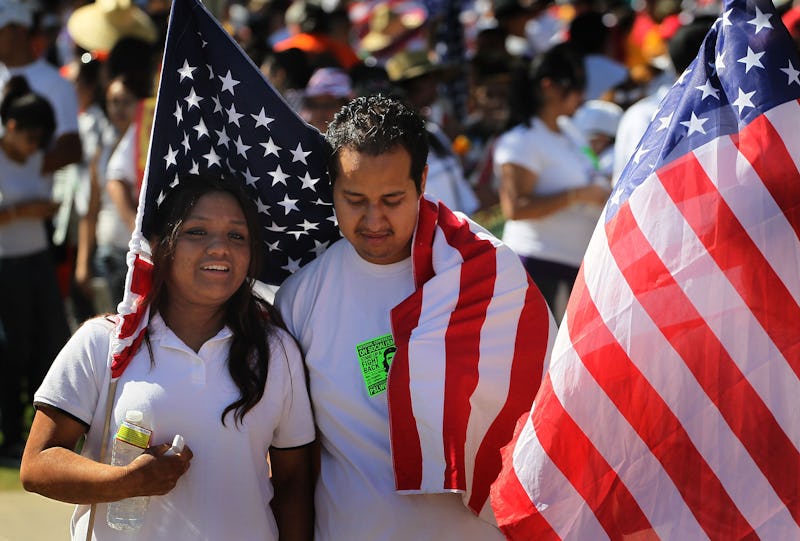 Scott Olson/Getty Images News/Getty Images
On Tuesday, Judge A. Wallace Tashima of the U.S. District Court for the District of Arizona ruled that a bill banning ethnic studies in public schools was unconstitutional and discriminatory, specifically against Latinos.
House Bill 2281, first passed in 2010, resulted in the 2012 dismantling of a Mexican-American studies program for students in kindergarten through 12th grade, which included courses on arts, literature, history, and government. In his Tuesday decision, Tashima wrote that the measure was pushed by politicians "motivated by a desire to advance a political agenda by capitalizing on race-based fears."
Republicans who supported the measure argued that the program fostered anti-white, anti-American sentiments. The bill banned classes that were considered to fall under any of four categories: those promoting "the overthrow of the United States government," promoting "resentment toward a race or class of people," being designed "primarily for pupils of a particular ethnic group," or advocating "ethnic solidarity instead of the treatment of pupils as individuals."
The ban was subsequently challenged by a group of students who filed a federal lawsuit against Diane Douglas, the state superintendent, arguing that their constitutional rights had been violated.
Tashima had previously upheld most portions of the bill, but the case was sent back for another trial in July by a federal appeals court to determine if the law had been drafted with racist and discriminatory intent.
Tashima's decision was primarily driven by the comments and actions of former Superintendent of Public Instruction Tom Horne and John Huppenthal, who filled the same role until 2015. Tashima found that both men had demonstrated resentment against Mexican-Americans repeatedly in the past.
The judge found blog comments Huppenthal had posted under two pseudonyms especially noteworthy. "Huppenthal's blog comments provide the most important and direct evidence that racial animus infected the decision to enact A.R.S. § 15-112," Tashima wrote in his ruling. "Several of his blog comments convey animus toward Mexican-Americans generally."
Tashima went on to list several of the comments Huppenthal made, such as "No Spanish radio stations, no Spanish billboards, no Spanish TV stations, no Spanish newspapers. This is America, speak English," "I don't mind them selling Mexican food as long as the menus are mostly in English," and "The Mexican-American Studies classes use the exact same technique that Hitler used in his rise to power. In Hitler's case it was the Sudetenland. In the Mexican-American Studies case, it's Aztlán."
Opponents of the bill celebrated the news of the ruling. "We won on all points," said Richard Martinez, one of the lawyers representing the students. "It speaks to the importance of the judiciary and protecting everyone against racial discrimination."