As a Queer Person, The Less I Wear to the Beach, The Better I Feel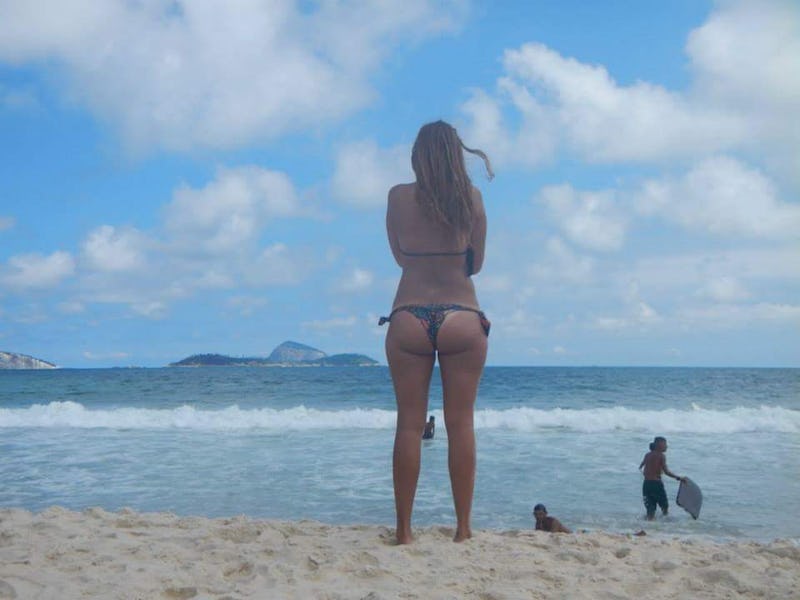 It's a clear, bright, sunny day on Vancouver's Wreck Beach at the edge of the University of British Columbia's campus. I walk down a steep hill of wooden stairs hidden from coastline by pine foliage. When I reach the bottom, the forest opens into a gorgeous, sandy beach filled with naked bodies of all sizes, shapes and colors, many of which are queer. Here, I immediately feel safe, welcome, and comfortable in my body — but it hasn't always been this way, and a lot of that has to do with what I was wearing.
In the past, I shopped for swimsuits to wear to the beach from mass retailers and department stores. I always found the patterns and styles pretty on the mannequin, but wearing them was an entirely different story. The wider butt cut in swimsuits was uncomfortable and frustrating to wear given they would blow up like a water balloon, burst and sag leaving me feeling awkward as I tugged haphazardly at my bottom.
Then there's the matter of the bathing suit tops I used to purchase. As a non-binary person, I've never been one to wear bras because I don't identify with my breasts (but I also don't mind having them). I always felt I'd prefer to have them hanging out at any beach I visit, but that isn't always an option, due in no small part to the fact that in North American society, breasts are seen as sexual. To avoid feeling uncomfortable, I've worn a plethora of different tops, always feeling the most comfortable in ones that were loose and non-restrictive. I've worn every bathing suit imaginable – one pieces, shorts with T-shirts, high-waisted with a crop top, skorts, bikinis, trikinis, you name it. Still, nothing felt right.
In 2015, I traveled to Brazil. One of the first things I did was get a Brazilian wax and purchase a tiny bikini with a skimpy, Brazilian style bottom. A Brazilian bikini bottom has a thinner cut for narrower coverage in comparison to traditional North American bottoms. My initial intention was simply to achieve a well-tanned bum. I tried one on and ended up buying five.
It wasn't just the suit that felt right, either. The beaches of Rio de Janeiro are infamous for being filled with beautiful people, and that's honestly an understatement. While the stereotype goes that these bodies are fit and muscular, I witnessed beautiful people of all ages, body sizes and types basking in the sun in speedos and tiny bikinis. Body positivity was widespread.
It was there that I realized something about myself: The less I wear, the more comfortable I feel. I decided to embrace that feeling at home, too. The first time I went to the nude beach in Vancouver. I'd been egged on by friends. I'd heard whispers of the place for several years but had been terrified to go due to the stigma I previously carried surrounding naked bodies. After making the trek to the beach, I found it incredibly peaceful and open. I felt a new sense of freedom wash over me as I cast off the shame of my naked body and soaked up the rays. Amongst the nudists and the queers, I began to see my body differently. At beaches where clothing is optional and being nude isn't inherently sexual, it feels like people of all genders and sexual orientations can find space to be themselves.
Today, I live in Toronto. I wear my teeny weeny Brazilian bikini to the beach with an optional top. When I'm at home in Canada, you'll find me at the local nude beach half-naked, feeling comfortable in my own skin and safe amidst the nudists and the queers. I've learned that the less I wear, the more at home I feel in my own body and the more excited I am to embrace the sunshine come summer.