Asda Is Selling A £15 Harry Potter Advent Calendar Filled With Yule Ball Accessories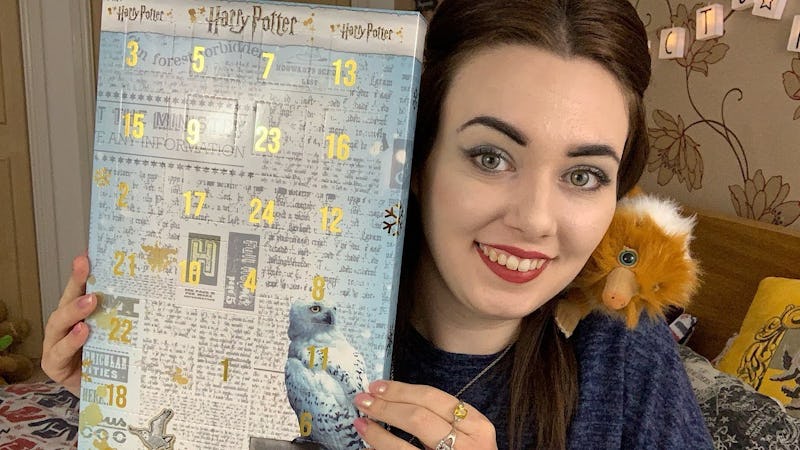 The Hufflepuff Queen/YouTube
Traditional chocolate advent calendars don't quite cut it anymore. Well, they do in the taste sense, but they have been swiftly overtaken by alternative advent calendars. There's beauty ones, wine ones, and even ones for your dog. Oh, and now Asda's Harry Potter advent calendar is here to win the battle with a touch of magic.
Like any other advent calendar, Asda's wizard-themed version has 24 doors. Behind each isn't chocolates or miniature figurines of Harry Potter characters, but instead the tools you'll need to create your very own charm bracelet. You'll find twelve charms, three beads, and nine rings in either silver, gold, or rose gold. Obviously, the silver bracelet itself is included too.
I'm not going to ruin the surprise by listing every single design that is featured in the calendar but you can expect to see all four emblems of the four Harry Potter houses (Gryffindor, Slytherin, Hufflepuff, and Ravenclaw) along with the iconic sorting hat and Deathly Hallows symbol.
The calendar can be yours for just £15. Asda confirmed on Twitter that the advent calendar won't be available to buy online. It also seems to only be available in select stores, if some fans' tweets are anything to go by. I've reached out to Asda to confirm exactly where you can pick one of these babies up, but there's no harm in taking a trip down to your local Asda to see if you can find one in stock.
It seems like Harry Potter fans are going mad for the advent calendar, as several are being auctioned off on eBay for over double the original price. Now that is some serious dedication to the fandom.
If you're wondering whether the investment is worth it, YouTuber The Hufflepuff Queen has taken the time to film an extra special unboxing video, showing what's behind every single door. Her only criticism is that some of the rings may not fit adult fingers. However, some are adjustable so you'll have no problems showing off your Harry Potter love to the world.
This isn't the only off-the-wall advent calendar Asda is selling this year. The supermarket has a £20 beauty advent calendar featuring six long-lasting nail polishes and six gorgeous lipsticks. Luckily, that one's available online. It's also selling a Jack Daniel's calendar full of miniature whiskeys. Available from November 19, it'll set you back £60. There's also a gin and beer option, and a cheese calendar for those who can't get enough fromage during the festive season.
Missed out on Asda's Harry Potter Advent celebration? Well, dry your tears because Funko is selling a calendar containing 24 miniature figures. There's Harry, Hermione, Ron, Dumbledore, Hagrid, and even Dobby and Hedwig. Unfortunately, the company appears to have limited most of its stock to the U.S. However, you can buy a calendar from Amazon for the eye-watering price of £199.95.
Being a Harry Potter fan sure can be expensive, can't it? But remember that it might be worth holding onto your advent calendar if you're lucky enough to find one. You never know if it could end up becoming priceless memorabilia in the years to come.