Elena From 'Vampire Diaries' Was Almost Played By This Early '00s Popstar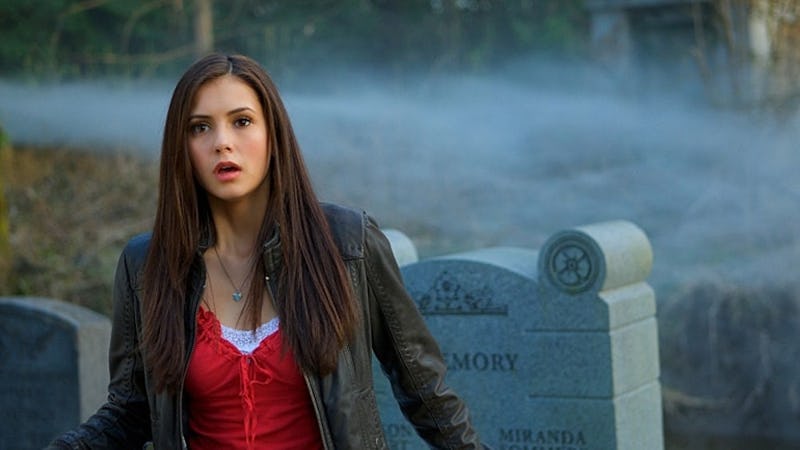 Alan Markfield /The CW
It's been 10 years to the day since The Vampire Diaries made its debut on The CW and while diehard fans may think that they know everything there is to know about Mystic Falls, this series is still full of surprises even to this day — particularly when it comes to casting shakeups that could've been. For instance, Ashlee Simpson almost played Elena on The Vampire Diaries before the network ultimately decided to go in a different direction with Nina Dobrev, according to E! News. This later resulted in Simpson getting cast on the Melrose Place revival.
That's right, a pop star almost found herself in the middle of a vampire love triangle and now you'll never be able to stop wondering what could've been. Granted, now it's hard to think of anyone else playing the iconic role other than Dobrev, but the actor admitted to E! News that the casting was extremely competitive at the time. "Half of Hollywood I think went out for the role, for all our roles," Dobrev explained. "I guess I did something right, here I am. We had to discover and find our characters. Every episode we learned something more and something more, and eventually we created and molded these amazing, awesome characters."
However, Elena wasn't the only character who was almost played by a completely different person. In honor of the show's 10-year anniversary, E! News collected a vast array of TVD secrets, detailing who could've joined the show had things worked out a bit differently...
Pacey Almost Came To Mystic Falls
Dawson's Creek fans may be surprised to learn that series creator Julie Plec really wanted Joshua Jackson to play the villainous Klaus Mikaelson before Joseph Morgan nabbed the part. "I think our show works so well because we don't really stunt cast," Plec said, as per E! News. "That being said, if there's some big hot TV star that's available that we love, then… As I always joke, I have my Joshua Jackson fantasy: Pacey n [sic] Mystic Falls." Morgan's talents proved to be undeniably charming, but seeing Jackson as the show's Big Bad is an idea that's almost too tempting to resist.
Your Favorite Slayer Could've Played A Vampire
Speaking of tempting, TVD co-creator Kevin Williamson once told the New York Post that he had reached out to Buffy the Vampire Slayer star Sarah Michelle Gellar to play the part of Rose, a vampire who served as a brief love interest for Damon. "She was very appreciative but just said no," he recalled. "She was the only stunt casting we'd have ever agreed to." What would Mr. Pointy have to say about that?
Taylor Swift Inspired A Fan Favorite Character
That being said, Williams did admit to E! News back during Season 1 that he was "desperate to have [Swift] come play a vampire." Obviously, that never ended up happening, though Swift did help to inspire the character of Stefan's best friend, Lexi, played by Arielle Kebbel. Look what you made him do, T-Swift!
The Vampire Diaries may no longer be on the air, but it's nice to know that even 10 years later it isn't done surprising us.