Ashley I. & Jared Are Inviting These Two Celebrity 'Bachelor' Fans To Their Wedding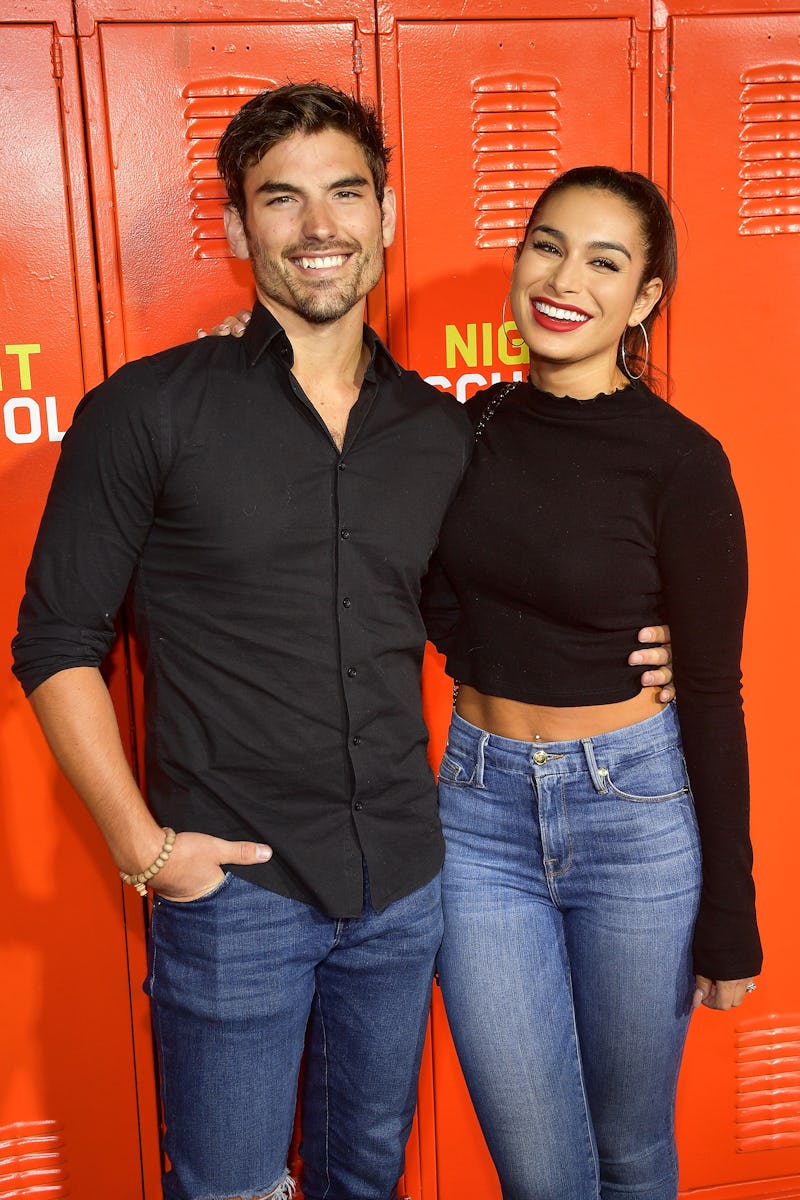 Matt Winkelmeyer/Getty Images Entertainment/Getty Images
For years, there's been chatter that Bachelor in Paradise cast member Jared Haibon is Ashton Kutcher's doppelgänger. The reality star and his fiancée Ashley Iaconetti actually met the actor and his wife Mila Kunis back in August, and it was a long time coming. Now, Jared and Ashley want Ashton Kutcher and Mila Kunis at their wedding, according to a new interview with Us Weekly.
This is a very cool moment for both couples. Obviously, it's amazing that the former BIP castmates have formed enough of a connection with the That '70s Show alums to invite them to their wedding. But it's also worth noting that Kutcher and Kunis are not at all shy about their super fandom for all things Bachelor-related.
After years of mutual fandom, both couples met at a charity event in August. Jared recalled to Us Weekly, "We got to meet Ashton Kutcher and Mila Kunis, which was one of the coolest moments of my life." Ashley told Us Weekly,
"They're Bachelor fans. They've talked about us publicly, personally multiple times. So we knew all we had to do was make eye contact with them. When we did, it was like all our dreams came true. Ashton was like, 'No way!' He got so stoked."
Ashley continued, "Mila was like, 'Don't even tempt us with inviting us to the wedding because we'll actually take you up on the offer.'" Jared added, "We're like, 'Don't you worry, we're inviting you.'"
Are they serious or are they just joking around? That's a little unclear, but the bride-to-be did say she reached out to their wedding planner and said, "We're like, 'OK … you've got to find their address.'" Or they could just slide into the DMs. Any Bachelor viewer would welcome that notification, whether they're famous actors or not.
Not only that, but there are some major parallels between the two relationships. Jared explained, "They're very well known to be best friends and now in a relationship. Very similar to us." This is so true. They do have this major aspect in common.
On one hand, it's surprising that the actors made the cut for the wedding guest list. Then again, during a July interview with People, Ashley shared some insight on the invites. She admitted, "We're both definitely on par with a bigger wedding. We've always imagined that." Why not? Go big or go home, right?
In another interview with Bustle recently, the reality TV couple discussed the possibility of a televised wedding. They admitted that they were open to the idea of filming the nuptials, but it's actually other aspects of the big day that take priority. Ashley insisted that she would never "sacrifice a guest list or locale" just to have a camera crew film the wedding.
In that same interview, the duo explained how the guest list factors into other aspects of their planning, i.e. picking a wedding venue. Ashley revealed, "We've looked at a few places and we're just like 'Oh my gosh, are we gonna be that couple that decides to have a small wedding and puts the wedding money into a down payment for a house?'" Most likely not, considering Kutcher and Kunis made the cut. Then again, that one invitation could be an exception to an otherwise stringent list.
Jared admitted to Bustle, "I know one thing that will give us a headache is the guest list, trying to figure out who we're gonna invite, who not to invite, and get our numbers to about 180. 180 is ideal so figuring out that situation." At least they have one invite figured out: Kunis and Kutcher.
Even though the actors made the cut for the Bachelor in Paradise couple's wedding, there are probably plenty of people from the reality TV franchise who will not receive an invitation. In a September interview with Glamour, Ashley said confirmed they will be inviting "all our friends. A lot of [Bachelor] production."
Nevertheless, they can't invite every single person they've hung out with. In that same Glamour interview, Jared confessed, "When it comes to the guest list, I can guarantee you there'll be times we feel really awkward saying, 'Yeah, you're just not invited.'" Yikes, how awkward. Awkward, yet necessary.
Ashley chimed in, telling Glamour, "There are a lot of people who are like, 'I better be invited to the wedding,' and I'll be like, 'Hmmm. Not.'" That makes perfect sense — it's impossible to invite everyone.
It may initially sound a little random that Ashley and Jared would invite Kutcher and Kunis to their big day, but why not invite another couple with a similar trajectory? Especially since they've very publicly supported their relationship. Who else will make the cut? Only time (and Instagram) will tell.