Ashley & Jared's Wedding-Planning Headaches Aren't Anything The 'Bachelor' Pair Can't Handle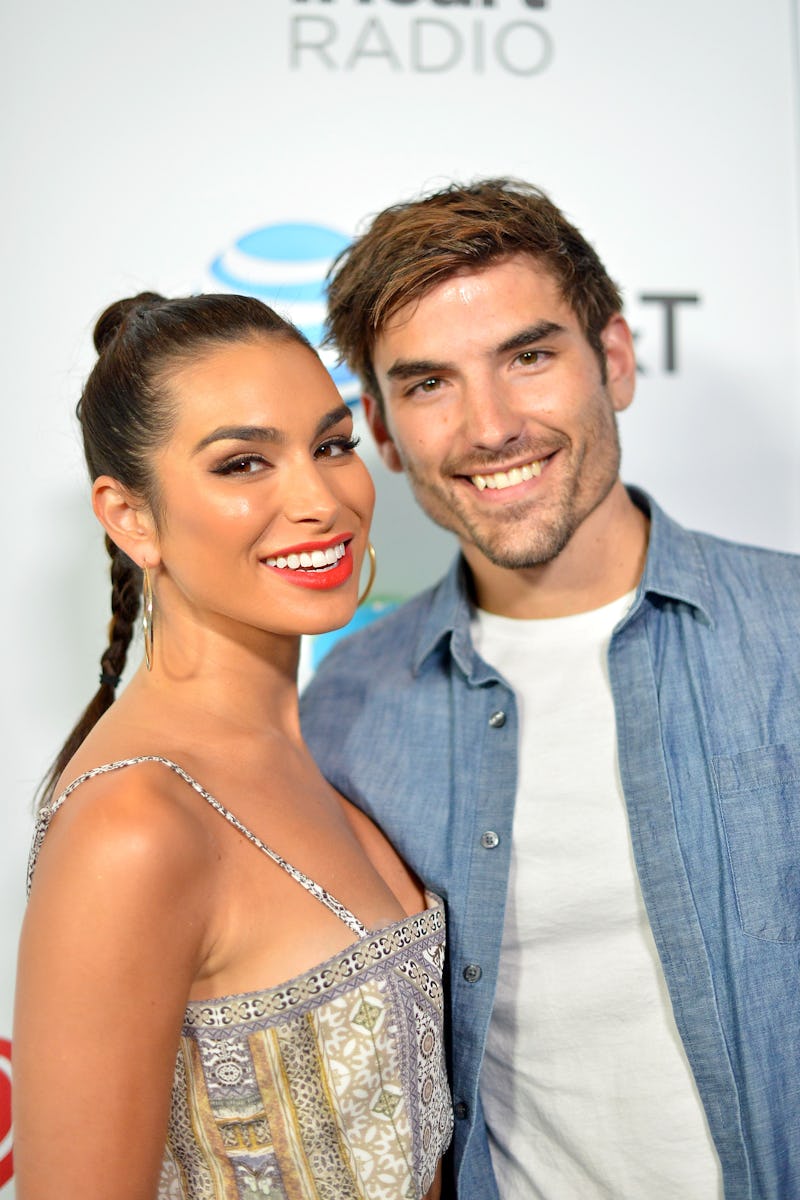 Charley Gallay/Getty Images Entertainment/Getty Images
If you asked Bachelor Nation who they consider the King and Queen of Paradise, fans would most likely say Ashley Iaconetti and Jared Haibon. Bachelor in Paradise's Ashley and Jared got their start on Season 2 of the series, and while they've had a steady friendship over the years, the pair only recently rekindled their romance, which they announced in May. Of course, as Paradise viewers are well aware, the couple is taking the next step in their relationship with a trip down the aisle. Bustle recently caught up with Ashley and Jared, who teased wedding details while promoting a new partnership with Excedrin. Spoiler alert: All the wedding planning brings its fair share of headaches — but it sounds like they'll be just fine and get through it together.
At the moment, Ashley and Jared are trying to figure out one major aspect: whether the ceremony will be televised. While fellow Paradise couples Jade Roper and Tanner Tolbert and then Carly Waddell and Evan Bass had theirs on TV, the future bride and groom aren't sure if that's the exact situation they want. Jared tells Bustle over the phone, "I think right now, we're just trying to figure out the best wedding for us, and whether that be televised or not televised is a secondary option." He adds, "We don't want to compromise for the fact of it just being televised."
Ashley's on the same page, saying they wouldn't "sacrifice a guest list or locale" for the sake of having their big day on-screen. In other words, the couple is determined to do things their own way no matter what.
As for their nuptials, they definitely have some specifics in mind, especially when it comes to location. Right now, it seems like it might take place somewhere in Jared's home state of Rhode Island. Ashley tells Bustle, "All I really cared about was to be somewhere where you could open up the doors and water's right there." Similarly, Jared explains, "I envisioned my wedding at a church. I envisioned it getting married by the water, something with a beautiful view."
However, getting things just right is giving them more of a headache than they originally assumed — which is where their new partnership comes into play. The pair is helping launch Excedrin's Bad Date edition from the company's limited edition line (which is currently out of stock). As seen in their time on the Bachelor franchise, Ashley and Jared had their share of dating blunders — but luckily, now they found love and are dealing with more minor struggles. For example, finding a wedding venue. "The biggest headache has definitely just been the venue shopping right now," Ashley says. "We've looked at a few places and we're just like 'Oh my gosh, are we gonna be that couple that decides to have a small wedding and puts the wedding money into a down payment for a house?'"
Additionally, figuring out their guest list hasn't exactly been a walk in the park either. Jared says, "I know one thing that will give us a headache is the guest list, trying to figure out who we're gonna invite, who not to invite, and get our numbers to about 180. 180 is ideal so figuring out that situation." Clearly they still have a few details to figure out. However, they're still in the beginning stages of planning, so there's plenty of time to craft their picture-perfect day.
While they're still hammering out the details, there's one major relationship decision that Jared, in particular, was sure about. When it came to the couple's engagement, which was featured on BiP's Sept. 3 episode, the former Bachelorette contestant knew he wanted to make the moment special.
With a little help from his good friend and Season 2 Paradise castmate Tanner, who's been down this road before, Jared was able to make the proposal perfect. "Once I had the opportunity to potentially get engaged in Paradise, I called [Tanner] and talked to him about it. And pretty much his advice was that the engagement is for the girl," he says, "you have to try and make the best possible moment for her. And then a Bachelor engagement on Paradise is what Ashley's always wanted." Doesn't that just put a whole new, romantic spin on the already-special moment?
Everything worked out in the end for Jared and Ashley's love story, but that isn't exactly the case for all Paradise couples. Still, the engaged couple understands why the reality show doesn't work out for everyone. "It's just such an abnormal environment to be constantly just scared that somebody else is gonna walk in and then your love interest is gonna be more attracted to them," Ashley says of the show's format. "For some people, it's a great place for love to flourish. For some, it's way more difficult than it'd be outside in the real world."
One pair that Paradise didn't exactly work out for? Ashley and Jared, at least originally. The couple had their fair share of ups and downs during the course of their time on the series. While things worked out in the end, the couple does wish that fans got to see a little more of the positive side of their relationship throughout their time on Seasons 2 and 3 of BiP.
Jared wishes viewers knew "how strong our friendship has been over the past few years." He explains, "Ashley and I were both sad about that nobody really understood how close we were outside of [the] Paradise/Bachelor bubble." Ashley agrees, adding that it was "definitely unfortunate" that fans didn't get to see that side.
While it's definitely a bummer that fans weren't able to see this side of Ashley and Jared's friendship, at least they've been able to witness this new, romantic phase. But as for whether Bachelor Nation gets to watch the two head down the aisle in Paradise, fans will just have to stay tuned to see if they find the couple once again in the place where it all began.