'Bachelor' Nation's Ashley I. & Jared Had A Magical Halloween Costume This Year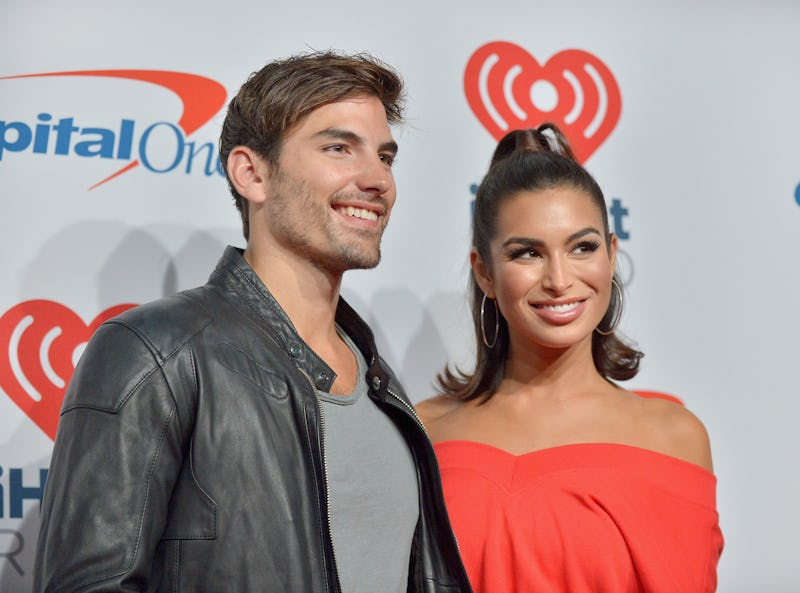 Sam Wasson/Getty Images Entertainment/Getty Images
So many contestants from the Bachelor franchise put on their Halloween best for the holiday. But, Ashley I. and Jared's Halloween costumes may just take the cake for the best in Bachelor Nation. And that's because their Disney-themed costumes will seriously give you all kinds of magical vibes.
Jared Haibon and Ashley Iaconetti are your very own Disney prince and princess with their Halloween looks. Taking a note from Aladdin, Jared wore the titular character's costume while his fiancée donned Jasmine's classic blue outfit. And since they're really committing to the Disney-inspired look, they, of course, posed on their very own magic carpet. The best part about their get-up may just be the incredibly sweet Instagram caption that Ashley wrote alongside a photo of the couple. She said, "I finally have my Aladdin!" Um, how cute is that?
To make the whole Halloween look even cuter, the couple decided to have their adorable dog, Gurgi, get in on the Aladdin fun. As you'll notice in their Instagram pic, the pup is wearing a little tiger-print outfit, in what has to be an homage to Rajah, Jasmine's pet tiger. Doesn't that just bring a whole new level of adorableness to their Halloween costumes?
Naturally, some other alums from the Bachelor franchise showed the couple love on Instagram in regards to their costumes. They also brought the hilarity with their comments.
Fellow Bachelor alum, Jade Roper, was all about Ashley and Jared's couples costume. She also offered up an awesome idea for next year's Halloween festivities, writing, "This is amazing!!! Does that make @tanner.tolbert your Genie?!"
Seeing as though Tanner Tolbert, Jade's husband, did play as a matchmaker for Ashley and Jared, the Genie role would definitely fit. Ashley agreed with her friend's suggestion, "absolutely. One random day we'll dress up with him."
Nick Viall took a fun approach when he commented on the pair's Instagram post. He wrote, "I want a girlfriend so I can dress up for an Instagram post and not go out just like you two." That's kind of relatable, right?
The Bachelorette's Jason Tartick also had to give Jared props for having a killer Aladdin costume. He wrote, "You clobbered my @aladdin costume! @jaredhaibon 1 Jason 0!"
For reference, Jason did post a throwback to his Aladdin costume on Instagram. Both of the reality stars look great as the Disney prince, so I'm just going to call it a tie.
It's so cute to see the newly-engaged couple dressing up as Aladdin and Jasmine, especially since Jasmine actually went Aladdin-less last Halloween. Last October, Ashley dressed up as Jasmine to celebrate the spooky holiday. Seeing as though she donned the blue outfit again this year, it's pretty safe to say that Jasmine may be one of Ashley's favorite Disney character.
In her caption for the Halloween look, she wrote on Instagram, "I don't need no Aladdin." She's not exactly wrong. However, she does have an Aladdin in her life now, in the form of Jared, that is. And by all accounts, things are going pretty well for the reality stars' relationship.
While she may not have needed a Disney prince during last year's celebration, as it turns out, Jasmine got some lovely company in the form of her own Aladdin during this Halloween's magical carpet ride.