Jared & Ashley Want A Bachelor Nation Alum To Officiate Their Wedding, & It's Not Chris Harrison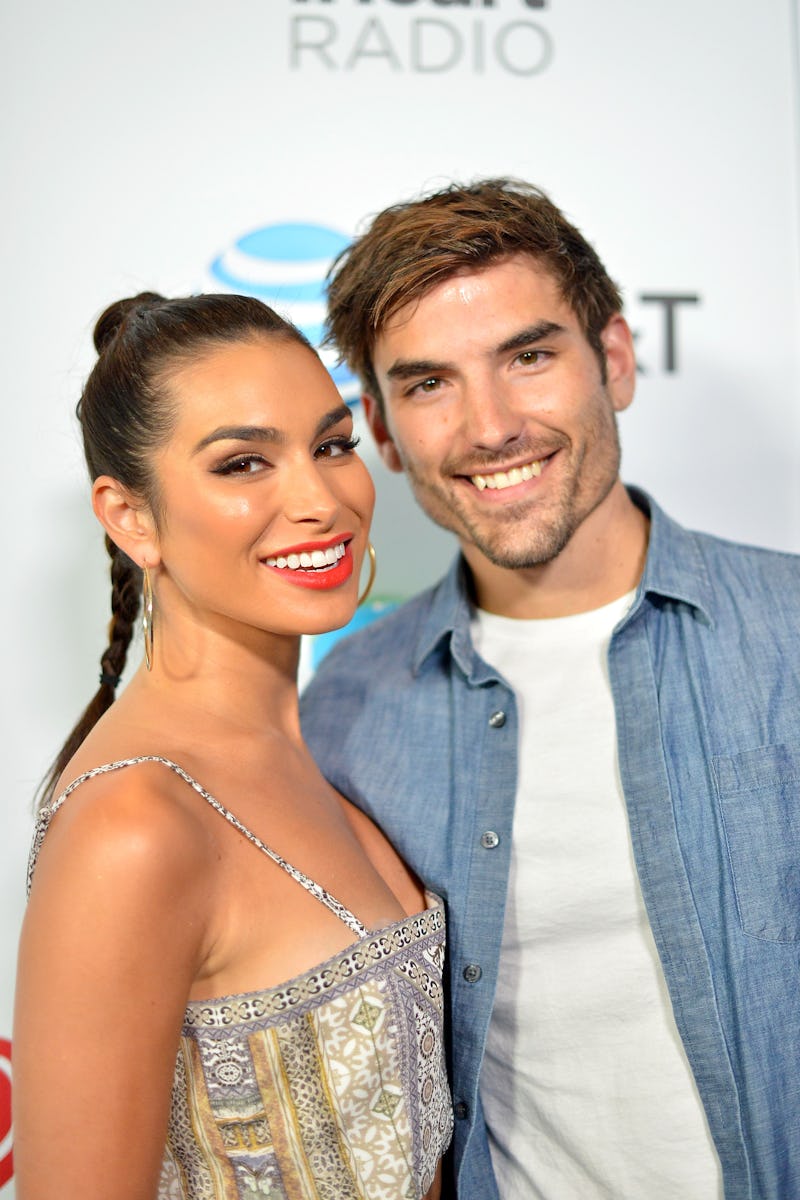 Charley Gallay/Getty Images Entertainment/Getty Images
It may still seem like a whirlwind from the outside, but this romance has been in the works for three years. And there's no better reminder of that than the announcement that Ashley and Jared want Tanner to officiate their wedding. That's Ashley Iaconetti, Jared Haibon, and Tanner Tolbert to those non-citizens of Bachelor Nation, the latter of whom is married to Jade Roper. As fans will remember, all four met on Season 2 of Bachelor in Paradise. That means that Tanner and Jade have known the happy couple since the very beginning, and they watched their relationship unfold over the years, interceding when it needed a nudge in one direction or another. So Tanner's important role at Jared and Ashley's upcoming wedding would be a satisfying end to a long and complicated chapter.
The newly-engaged pair spoke to People for a July 11 article that shares their plans for the upcoming ceremony. And while the BIP alums are still shopping for a venue and hashing out a guest list, there's one detail they're clear on. As Jared told the outlet:
"We want Tanner to officiate the wedding. Tanner and Jade have been the couple that we were closest to within the Bachelor family. Tanner's been so intricate in our relationship the past couple years."
It might sound like an exaggeration, but it doesn't seem to be. Jared and Ashley have both been open about the fact that Tanner and Jade have given them helpful little nudges toward a relationship along the way, particularly during those will-they-won't-they years when signals kept getting crossed.
Jared, a Rhode Island native, was frequently confused about his feelings for Ashley, and often turned to Tanner for advice. As revealed on an episode of Ashley's online show The Story of Us, Jared went straight to Tanner after he realized that he was in love with his longtime friend on an early 2018 trip to St. Lucia with Tanner, Jade, Ashley's sister Lauren Iaconetti, and Jade and Tanner's infant daughter Emerson Avery. In the episode, Jared shared that he realized the depth of his feelings shortly before the trip, back when Ashley was dating Winter Games' Kevin Wendt. But after Tanner and Jade's encouragement, he shared his revelations with Ashley, even kissing her in the airport right before their separate flights out.
Nothing changed right then, but Tanner encouraged Jared to be persistent. As Jared, who co-hosts the Help! I Suck at Dating podcast, told People, "[Tanner] was the one who really supported me." So Jared pressed on, writing an emotional letter to Ashley in which he came clean about his love for her. And the rest is history.
And while it isn't all thanks to Tanner, he was certainly a catalyst in the couple coming together. In fact, there's hardly a better choice for a relationship mentor, since he and Jade are the poster children for a picture-perfect Bachelor in Paradise experience. They matched up almost immediately, kissing on Night One, exchanging roses during every ceremony, and leaving the show an engaged pair.
They married in a televised ceremony in January 2016, announced Jade's pregnancy in March 2017, and welcomed their first child — a daughter named Emerson "Emmy" Avery Tolbert — in August of last year. So with the storybook BIP romance under their belt, they had both the experience and the free time to focus on another couple. Because as we all know by this point, Ashley and Jared had a very different experience. Their path to romance was marked with long periods of friendship, ups and downs, and a lot of public tears shed, but after three years, they're finally on a solid track.
And despite the fact that their serious relationship didn't really start while they were on BiP, Jared actually proposed on the beaches of Paradise Season 5 in June. Jared told People that he'd previously told Iaconetti he wanted to "go back to Paradise and make it right," and that's exactly what he did. Proposing on the same sand where he might have three years ago brings the relationship full circle, and having Tanner as an officiant is the same sort of meaningful gesture.