Ashley Judd Has Foolproof Advice For Any Woman Who Thinks A Situation "Feels Wrong"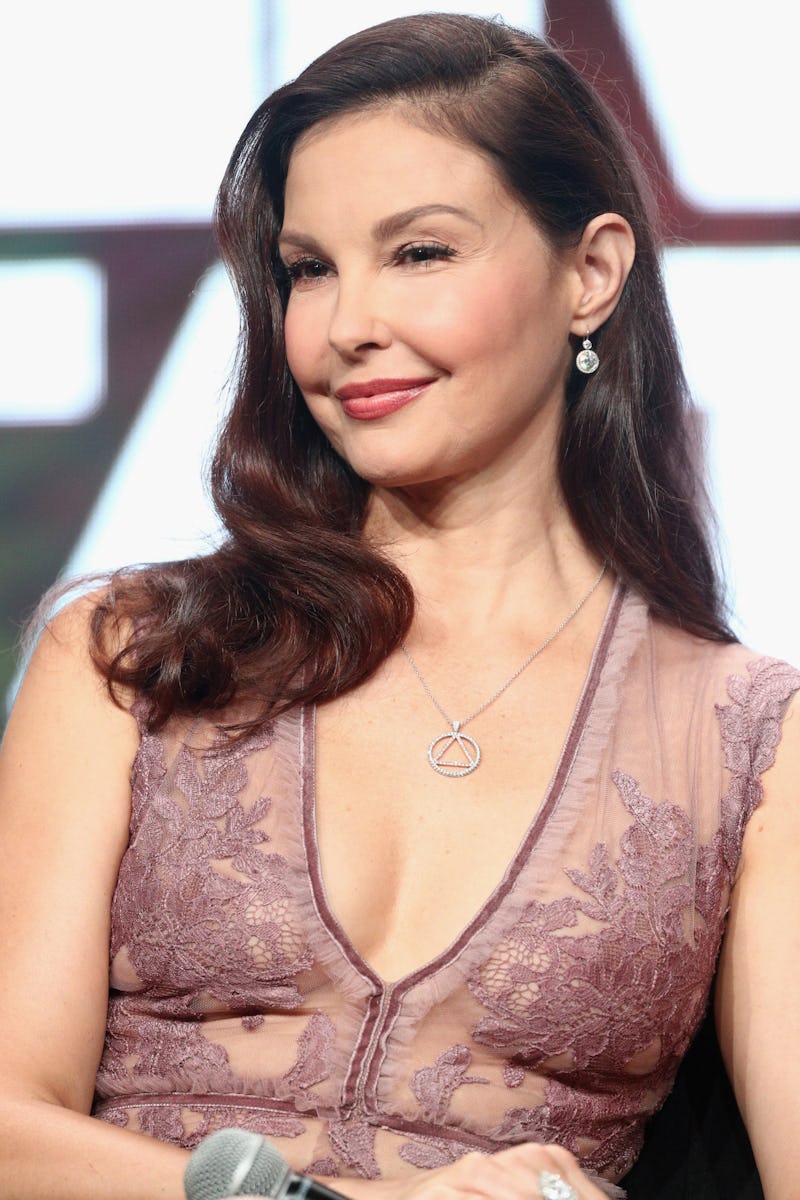 Frederick M. Brown/Getty Images Entertainment/Getty Images
To all the women out there who've spent years biting their tongues, Ashley Judd has advice, courtesy her TIME's Person of the Year interview: If you're in a situation that feels wrong, then it is wrong. Plain and simple. "We need to formalize the whisper network. It's an ingenious way that we've tried to keep ourselves safe," she said, referring to the way in which sexual assault (especially at the hands of powerful men) has, historically, only been spoken about in whispers, behind closed doors. "All those voices can be amplified."
The actor continued, "That's my advice to women. That and if something feels wrong, it is wrong — and it's wrong by my definition and not necessarily someone else's."
Because, even though Judd knows full-well what wrong looks and feels like to her — or any one of the women interviewed as part of TIME's Person of the Year, "The Silence Breakers," knows what it feels like or the millions of other women who experience "wrongs" every day know what it feels like to them — "wrong" not often recognized as such by everyone, especially when it comes to claims of harassment or abuse.
In fact, as Judd sees it, something being "wrong" is often outweighed by the likes of money, power, or a dangerous combination of the two. Still, she insists, when something feels wrong to you, then it's wrong. And that's the beginning and end of it.
Despite her candor, statements like Judd's are not heard often enough — or, as often as they evidently need to be. That's why, in its 2017 iteration, TIME didn't just recognize one "Person of the Year". This year's recipient is the intangible #MeToo Movement, the social media-fueled firestorm that inspired women from across industries to speak up about sexual assault in the workplace — and actually manage to take down some powerful wrongdoing men in the process.
Judd is on the magazine's cover, alongside an impressively stacked group of women who, despite their conceivable differences, have collectively been dubbed "The Silence Breakers." The particularly stately cover portrait sees Judd, a famous movie star, standing beside Adama Iwu, a lobbyist; a woman going by the pseudonym Isabel Pascual, who is a strawberry picker; Fowler, a former Uber engineer; and Swift, whose reputation probably precedes her. And TIME's actual spread includes the voices and stories of a whole medley of women and men who have either publicly voiced their own allegations of sexual assault or otherwise spoken out against assault and harassment.
For Judd, "breaking the silence," meant voicing her claims against Harvey Weinstein. She claims that after the movie mogul allegedly sexually harassed her 20 years ago, she "told everybody." (Weinstein has denied to Judd's allegation, according to TIME. He has also denied via his rep any allegations of non-consensual sex.)
"I started talking about Harvey the minute that it happened," Judd claimed to TIME. "Literally, I exited that hotel room at the Peninsula Hotel in 1997 and came straight downstairs to the lobby, where my dad was waiting for me, because he happened to be in Los Angeles from Kentucky, visiting me on the set. And he could tell by my face — to use his words — that something devastating had happened to me. I told him. I told everyone."
But, as Judd goes on to explain, there is no real route to pursue any sort of justice for offenses like the one she alleges. "Were we supposed to call some fantasy attorney general of moviedom?" Judd said. "There wasn't a place for us to report these experiences."
The revelation, it would seem, came only when people started to listen to accusers.
This past October, in an interview with the New York Times, for the first time Judd publicly voiced her allegations against Weinstein. She was the first star to come forward in such a public way and her claims sparked a wave of similar accusations against him. Now, Judd believes the best thing women can do is ride out the momentum of large-scale visibility like #MeToo, and use it as a means of harnessing their collective power.
If you or someone you know has been sexually assaulted, call the National Sexual Assault Telephone Hotline at 800-656-HOPE (4673) or visit online.rainn.org.